RV interior design and technology have made plenty of advances over the years, but just because you have an aging RV doesn't necessarily mean you need to trade it in for a new model. There's plenty of steps you can take to modernize your rig and make it feel like new.
Here are five ways you can spruce up your current RV and make it look and feel showroom-ready.
Get New Furniture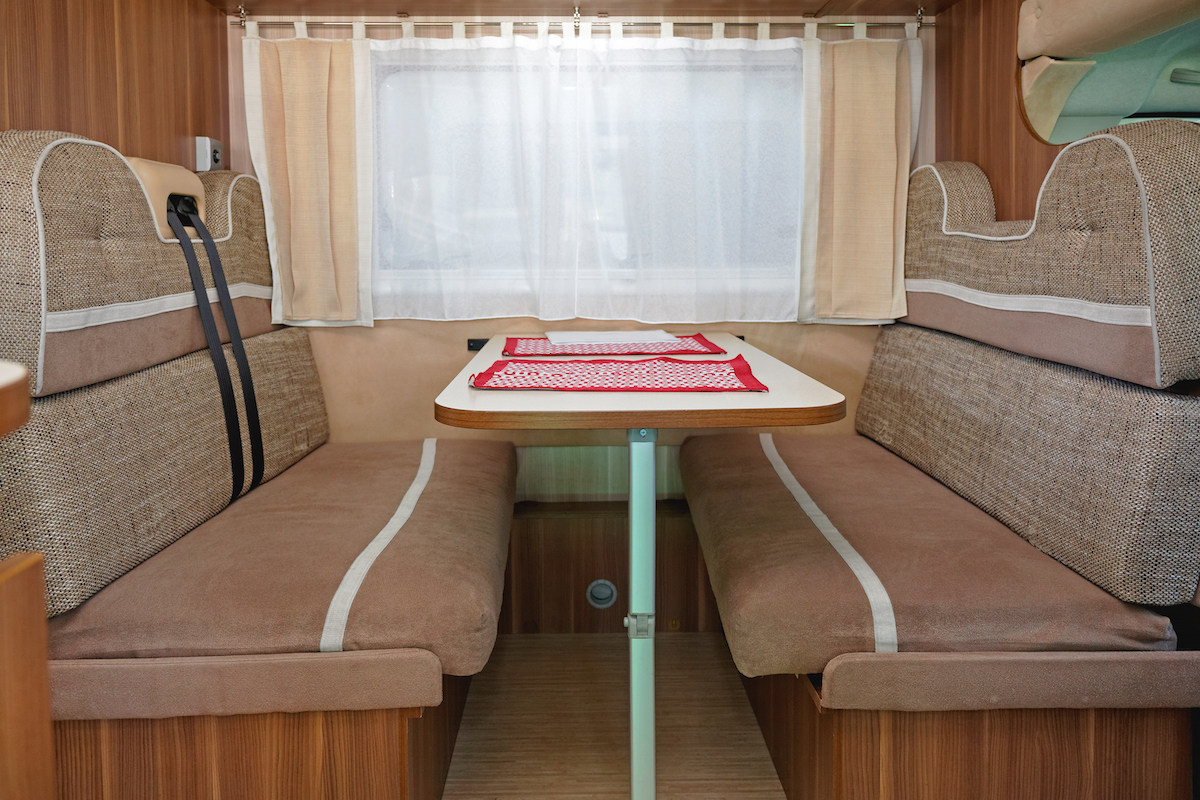 Furniture is one of the key items that you should look at when thinking of updating your rig's interior. If it looks something like the picture above, you should be able to do some updating or altering to give your RV a more modern, brightly colored, and homier feel.
The couch, chairs, and table are the first things you may want to turn to. Adding in more modern furniture is a surefire way to change the way you feel about your old rig.
Even if your RV isn't too old, changing up the furniture to better fit your needs can make the whole space feel new. If you have a single large couch, consider replacing it with a couple of comfy recliners. Try updating the seating around the kitchen table or even replacing the table with something more functional or better looking.
You don't have to replace every piece of furniture either. Try going one piece at a time. That way you can build the modern-feeling living space you want.
Replace the Flooring
The floor of your RV takes a true beating. It's designed to, but eventually, you'll need to replace it. A new carpet in your living area or some more modern tile or vinyl flooring in the bathroom and kitchen can completely transform the look and feel of your RV.
Take a critical look at your floor. Is the carpet showing signs of wear beyond just dirt and grime you and your visitors track in? If so, it's probably time to remove it and replace it.
With your RV being such a small space when compared to a typical home, the cost to replace the flooring is often pretty reasonable. If you're handy, you can even do the install yourself.
Redecorate and Update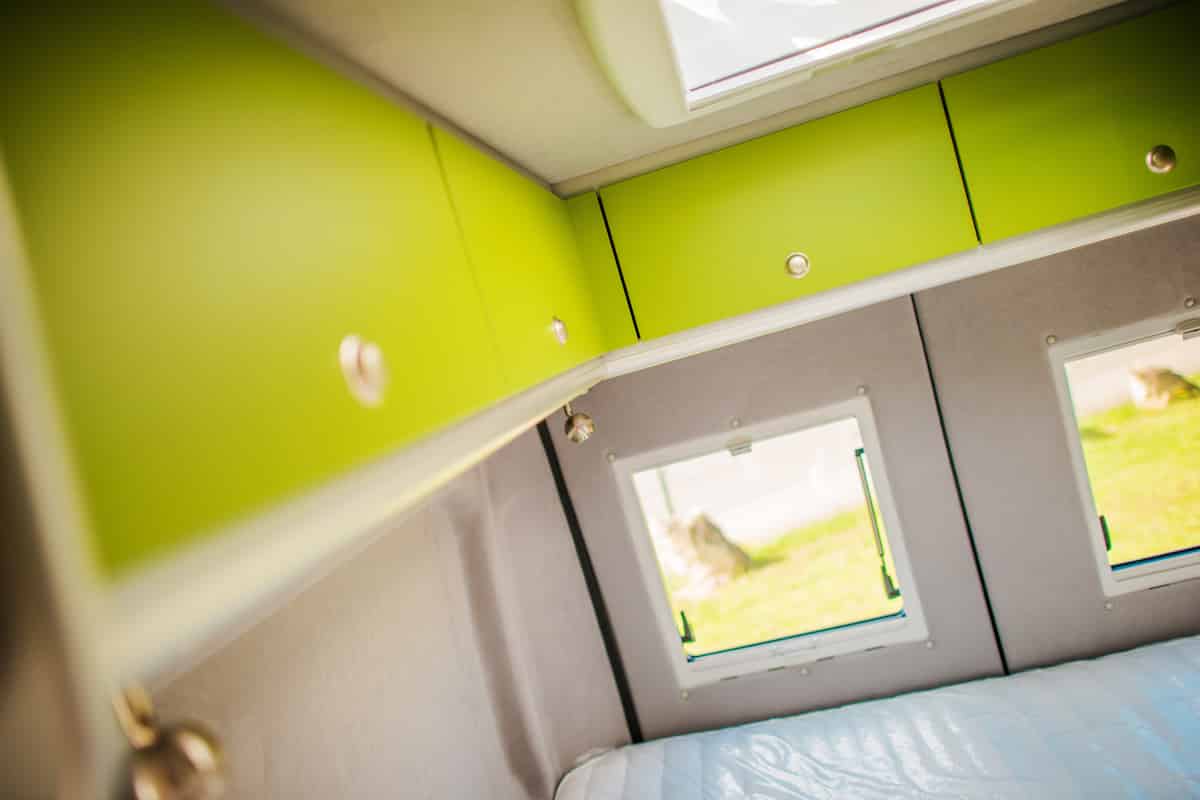 It can be easy to set your decorations and forget about them, but everything ages. That trendy wall art you put up five years ago might not look so cool now. It's easy to gloss over these items, but redecorating your RV's interior can completely change the look and feel of the space.
Don't just stop with wall art. Think about all-new décor. You can replace curtains with something new, consider reupholstering couches and chairs if you don't want to replace them, and even paint walls or cabinets if needed.
If you don't want to do anything that extensive, just go with small things. Try some flameless candles, new throw pillows or a small accent rug. It's amazing how small changes can make a big difference.
Update the Tech
It's not 1985, and your RV should reflect that. Unless you want to live in a time capsule, you should update the multimedia system or add one if your RV is without one. Add in all the necessary connections for a modern TV and gaming console if you're into that sort of thing.
Even if you don't want to update your RV's entertainment features, you can always update other aspects. Consider adding in a smart thermostat, new lighting, or switching your old manual awning to a powered one. Taking steps to modernize the electronics in your RV can do wonders to make it feel newer.
Get New Appliances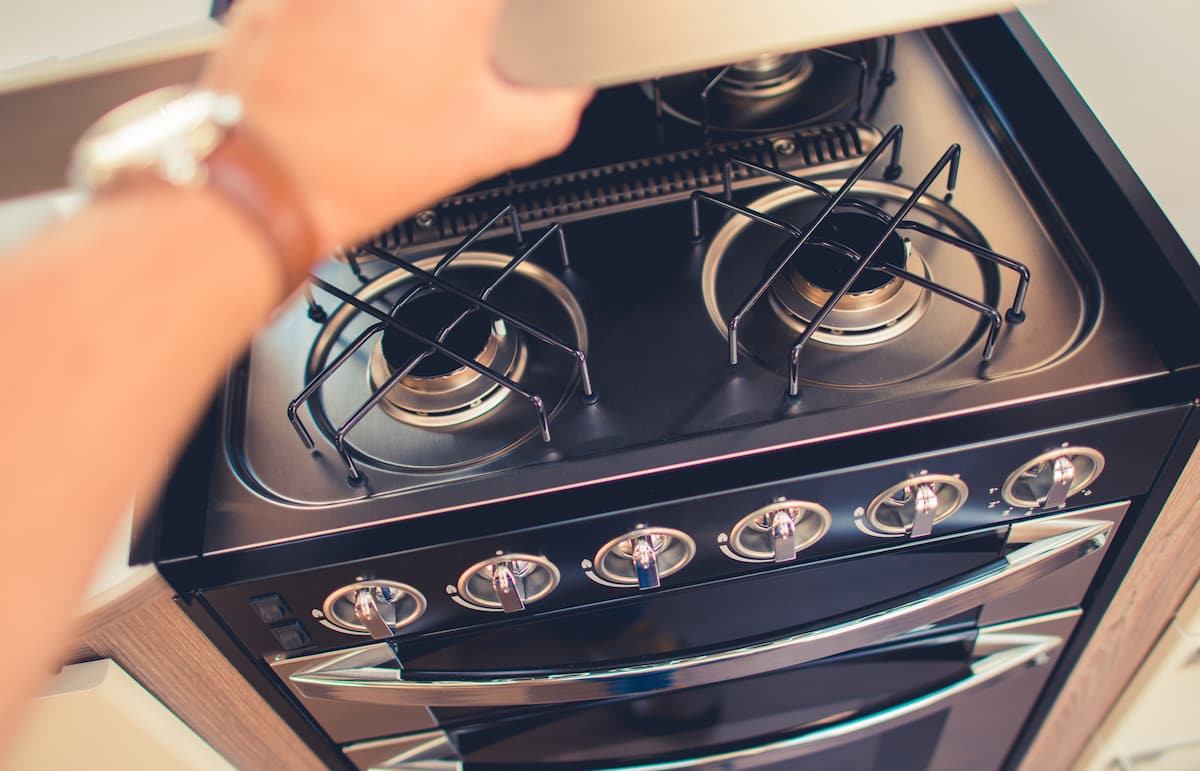 How old is your stove, HVAC system, or refrigerator? Do any of your appliances look like they belong in a museum? If so, it's probably time to get something new.
Even if your old appliances work well, age can take its toll on how efficiently they run. Upgrading could reduce your energy consumption, save you money in the long run, and let you stay out at certain faraway locations longer.
Also, new appliances can go a long way to modernize and improve the look of your RV's interior. Many older RVs have off-white appliances that don't age well. A newer appliance with a stainless steel or black exterior can do wonders to spruce up your RV's galley and add some much-needed visual style to the interior overall.
---
How do you keep your RV looking great? Leave a comment below.
Popular RV Rentals!
Search for RV rentals in your area, just replace Texas with city or state you want to rent in.
What Makes Roamly Different?
Get the best coverage for less, no matter where you and your RV go.
Get smarter insurance you can't find everywhere, like policies that let you rent your RV without losing coverage.
Rest easy knowing your coverage is backed by fellow RV experts.
Learn More about making money renting your RV
What people are saying:
Roamly is 33% less than our previous RV policy with State Farm, with no risk of being dropped for renting it out. Most people I talked to reported similar savings. Plus, I got a multiple-vehicle discount rate for my car insurance :)
Lauren S.