Created in 1918 to protect the volcanic landscapes around the most recent eruptions in American history, Katmai National Park today is most notable for its preservation of salmon habitat and the brown bears that feast on the fish. This Alaskan national park is a truly amazing place. Images of Brooks Falls, on the western side of the park, are shown around the world, as the large mammals catch their meals when the fish swim upstream to spawn.
There are so many wild features of the park that visitors are often overwhelmed with sights of other-worldly landscapes and great concentrations of wildlife. There's no need to miss any of Katmai's wonders, however, because the park is accessible by air and boat.
History of Katmai National Park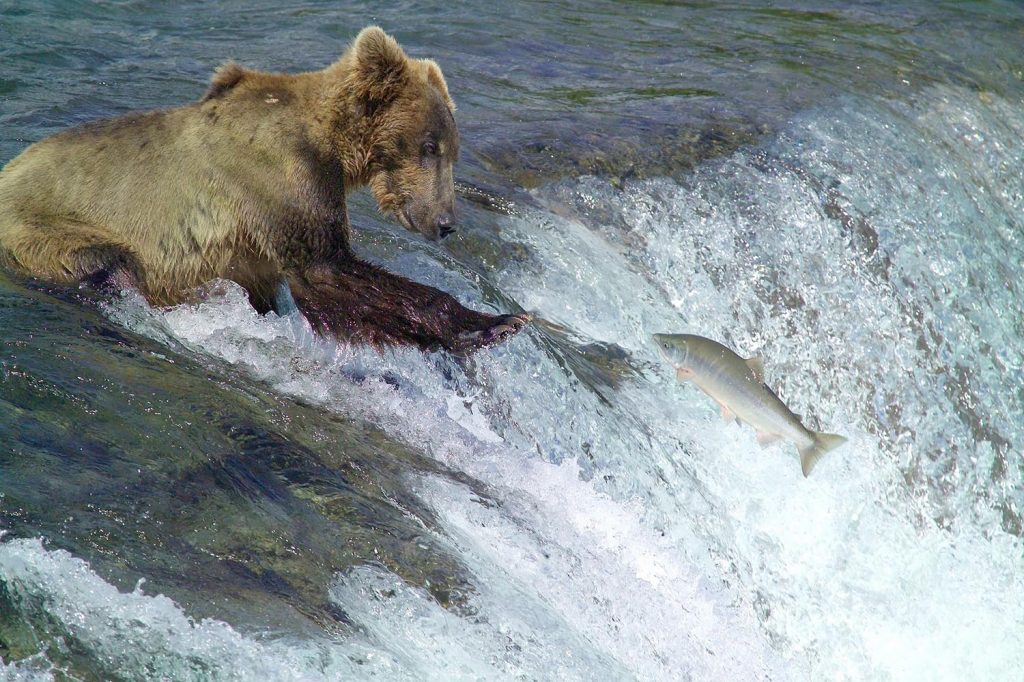 The Katmai Peninsula has been inhabited for thousands of years by ancestors of the Alutiiq peoples. By 1912, when Mount Katmai and Novarupta volcanoes erupted, the four villages in the region were abandoned. Today's community of King Salmon, however, has a population that reflects those same settlers.
With the eruption, the Valley of Ten Thousand Smokes got its name, as volcanic vents, or fumaroles, let off steam in a 40-mile chain of volcanoes. The landscape looked like the surface of the moon, with thousands of vents strewn across the valley floor.
An expedition headed by Robert Griggs and funded by the National Geographic Society found the region so awe-inspiring that they lobbied Congress to protect it, and the area became known as Katmai National Monument in 1918.
But it wasn't until the 1950s that the prime breeding grounds for brown bears and spawning runs for sockeye salmon came to the attention of government officials. Soon Katmai got a park headquarters and a seasonal ranger tasked with cutting down the amount of poaching that went on there. However, the monument did not reach full status of a national park and preserve until 1980.
Why Visit Katmai National Park?
There is no way to drive your RV to the park from the mainland, so campers must leave their motor coaches and trailers and fly into Katmai.
Many travelers enjoy camping in Homer or Soldotna on the Kenai Peninsula. They can catch a flightseeing tour over Katmai, or come to the park for an extended period to camp, fish and live "among the brown bears" at Hallo Bay or Brooks Falls.
There are several lodges within the park, and backcountry camping is allowed, although electric fences around your tents are strongly suggested!
The reason you should go see this amazing place is that it's so remote, and so special. There's no other National Park or area like it in the world. It's an unforgettable place and one that is worth leaving your RV behind so that you can experience it.
Places to Go
There are plenty of places to go and things to see while you're visiting the park. Just about anywhere in the park is worth seeing, but you should stop at the following places.
Brooks Camp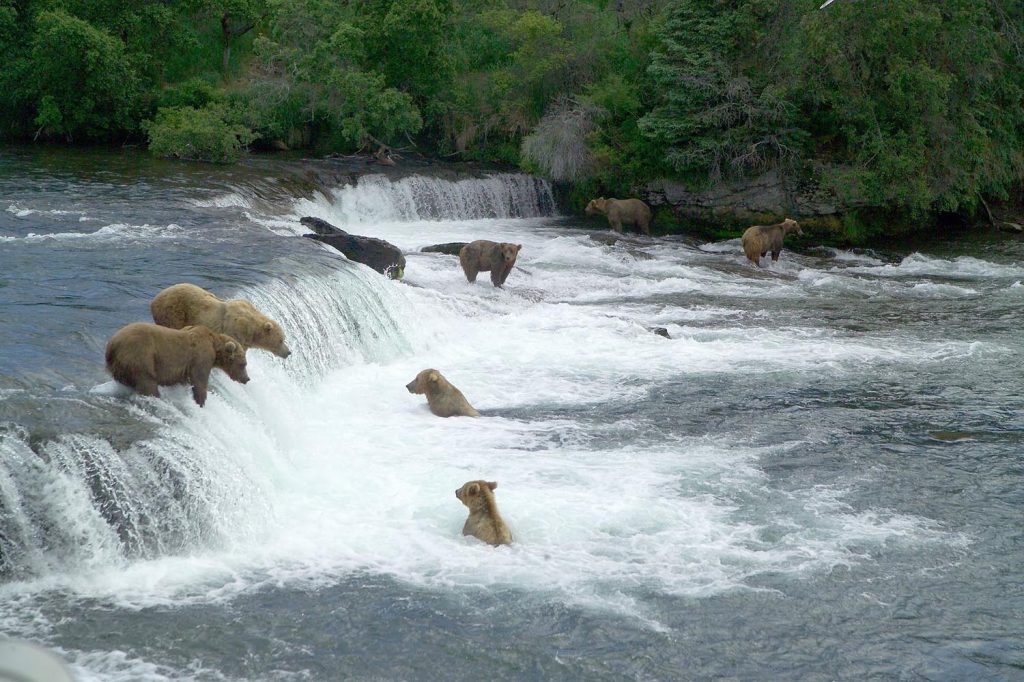 The most popular area of Katmai National Park is Brooks Camp, where visitors can camp among brown bears and watch them feed on migrating salmon in the Brooks River. There is a visitor center here, where guests must attend "bear training," before heading out to view the bears. Several boardwalks and viewing platforms are provided to keep humans a safe distance away and allow the animals to hunt uninterrupted.
Fure's Cabin
A one-room log cabin along Naknek Lake's Bay of Islands, this home was built by a Lithuanian immigrant, Roy Fure, in 1926. Today it is a public use cabin, available for nightly rent.
Valley of Ten Thousand Smokes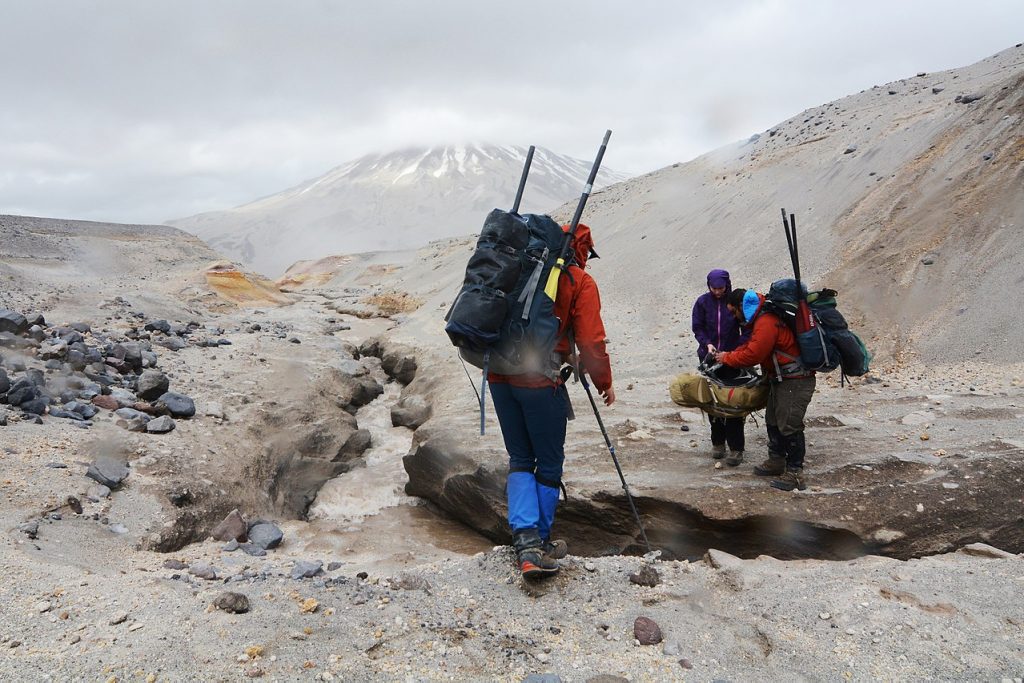 An ash-filled valley of 40 square miles is lined with 18 volcanoes, seven of which are still active. The Valley of Ten Thousand Smokes was named after the 20th century's largest volcanic eruption here. Novarupta spewed a vast amount of pyroclastic material in 1912, creating a valley of ash up to 700 feet deep in places. A geologic survey in 1916 recorded thousands of smoking vents throughout the valley, giving it its name.
Things to Do
There's plenty to do in the park, too. It's as much about the activities as it is an amazing landscape. Here are some fun things to do while there.
Bear Viewing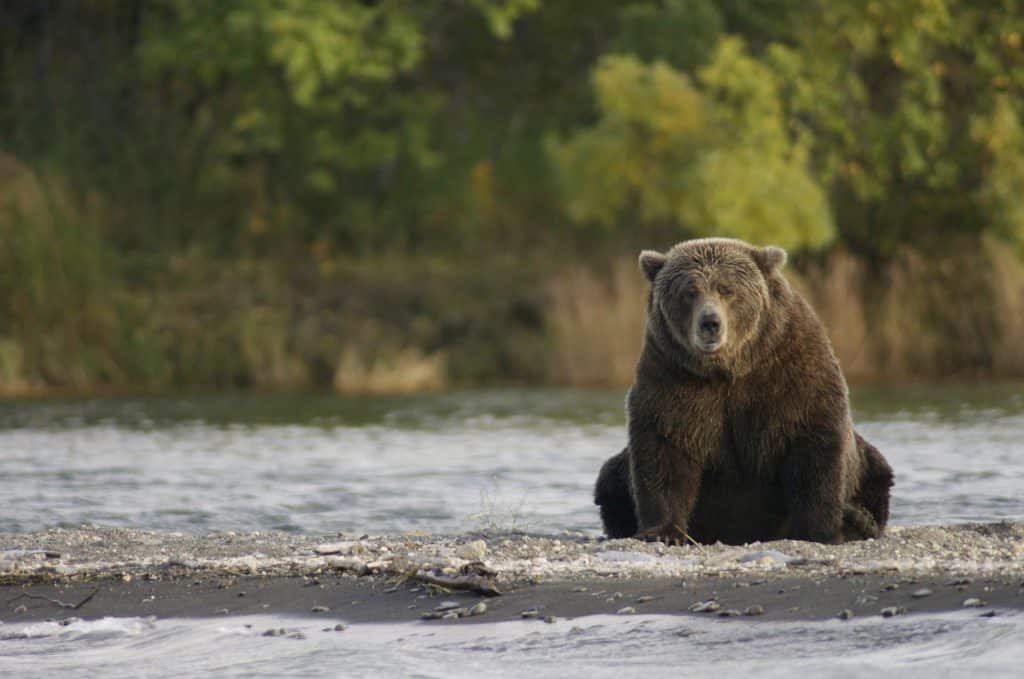 By far the most intriguing aspect of Katmai National Park is its large concentration of brown bears (known as grizzlies in the interior). Today there are over 2,200 of these enormous mammals that are protected within the park. Visitors can view the bears at Brooks Camp, where the salmon runs entice bears every June and September.
Back Country Hiking
There are only five miles of trails within the 4,000,000 acres of the park, but Katmai offers unlimited opportunities for exploring the backcountry. In fact, there are a number of great locations in Katmai that require extensive hiking. Listed below are just a few of the destinations that attract visitors, with links to maps.
Because of the large bear population in Katmai National Park, hikers are urged to know bear safety rules and follow regulations regarding food storage.
Canoeing and Kayaking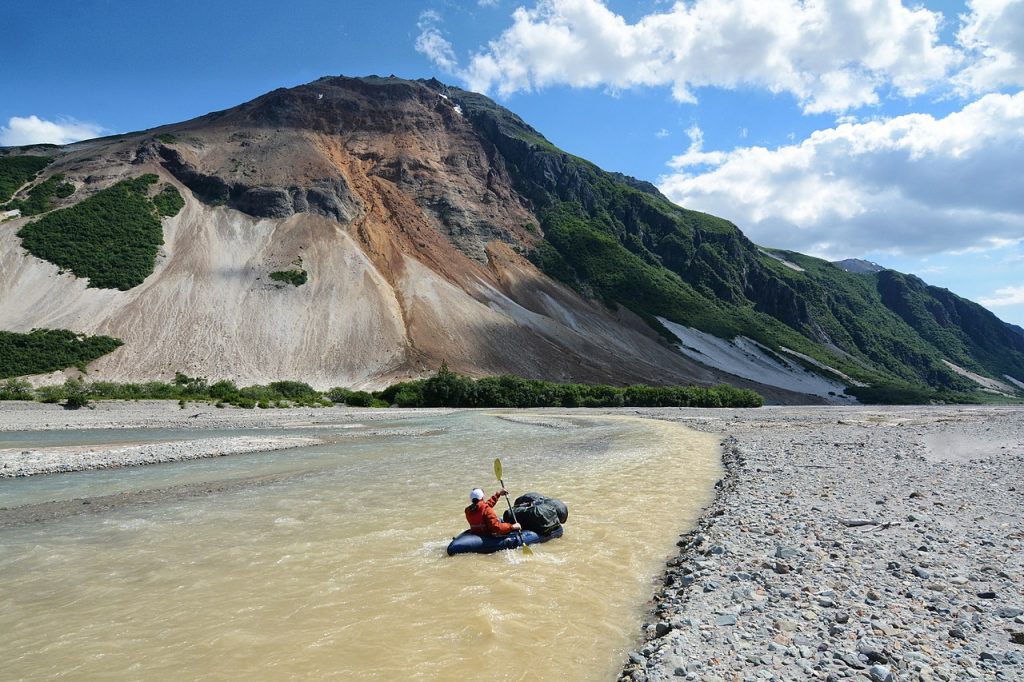 Boating is a popular way to discover Katmai, as the park includes many rivers, streams and large lakes.  Canoeing on Naknek Lake is an exceptional experience, with waypoints like Brooks Camp, Fure's Cabin, Grandma Rock and Gull Island to explore. Whitewater rafting can also be found along American Creek.
Fishing
Exceptional fishing opportunities await within the park boundaries, where rainbow and lake trout, dolly varden, char, and five species of salmon await. Rangers carefully manage fish populations, and fishermen need to be familiar with state rules for sport fishing.
Because Katmai National Park has the largest density of brown bears in the world, anglers may find themselves competing for fish with these large animals. So extra care is required when casting a line here, especially during salmon runs.
Flightseeing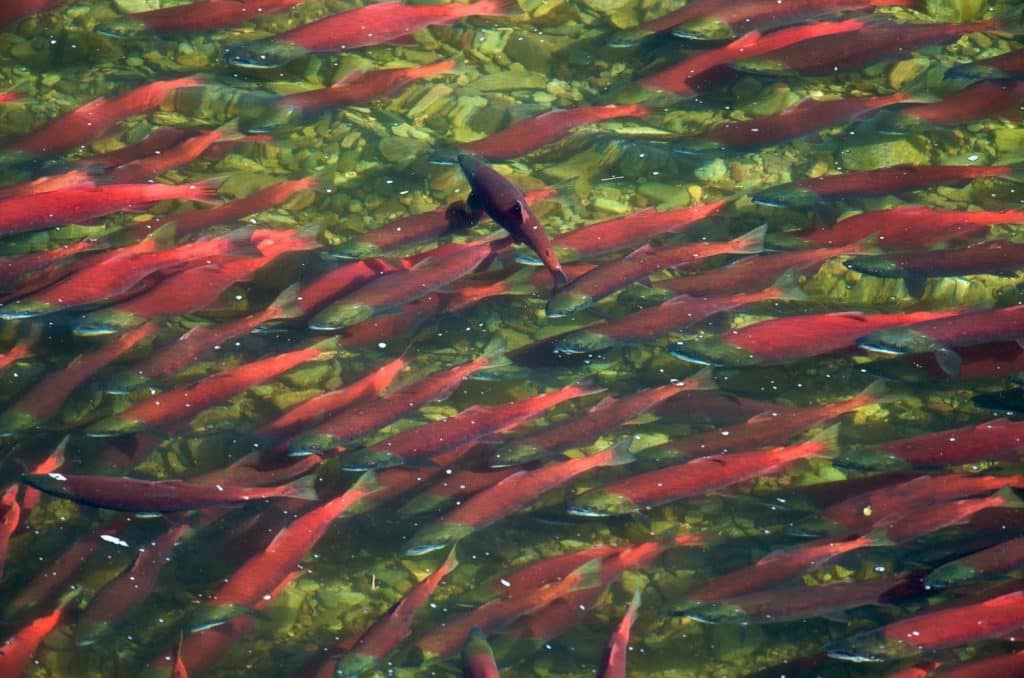 A unique and exciting way to experience Katmai is by plane, where the immense topography of volcanoes, lakes, and islands can be seen. Flight passengers catch sight of brown bears and moose wandering the landscape and schools of salmon swimming upstream.
Flight services originate in the surrounding communities of Homer, King Salmon, Soldotna, and even Anchorage.
When to Visit Katmai National Park
The park is accessible year-round by plane, and since there are no roads to speak of, your arrival is dependent upon which season you choose to visit.
The warm months are by far the most popular for travelers, as summer brings hikers, bear watchers, and anglers to the region. Most concessionaire services are available from May through September. If Brooks Falls and the Brooks Camp area are on your bucket list, the bears are usually active there in July and September, because of the spawning salmon's migration schedule. So plan accordingly.
Where You Can Stay
RVers should plan to leave their rigs on the mainland in places like Homer, Soldotna or even Anchorage and take a plane or boat to the Pacific coast of the park or inland to King Salmon.
There are several lodges in town and a few in the Brooks Camp area. Otherwise, tent camping might be an option, as long as campers take extra precaution in protecting their campsites from bears.
If looking for an RV park to leave your motorhome or trailer for a day or two, try:
Once in the park, visitors to Brooks Camp have lodging options, but the rest of Katmai National Park is wild and infrequently explored. Tent camping is allowed in many regions, but bear encounters require more diligent safety, like electric fencing around campsites. Check with rangers for more specific instruction, as well as a required bear safety course.
Getting to and Around Katmai National Park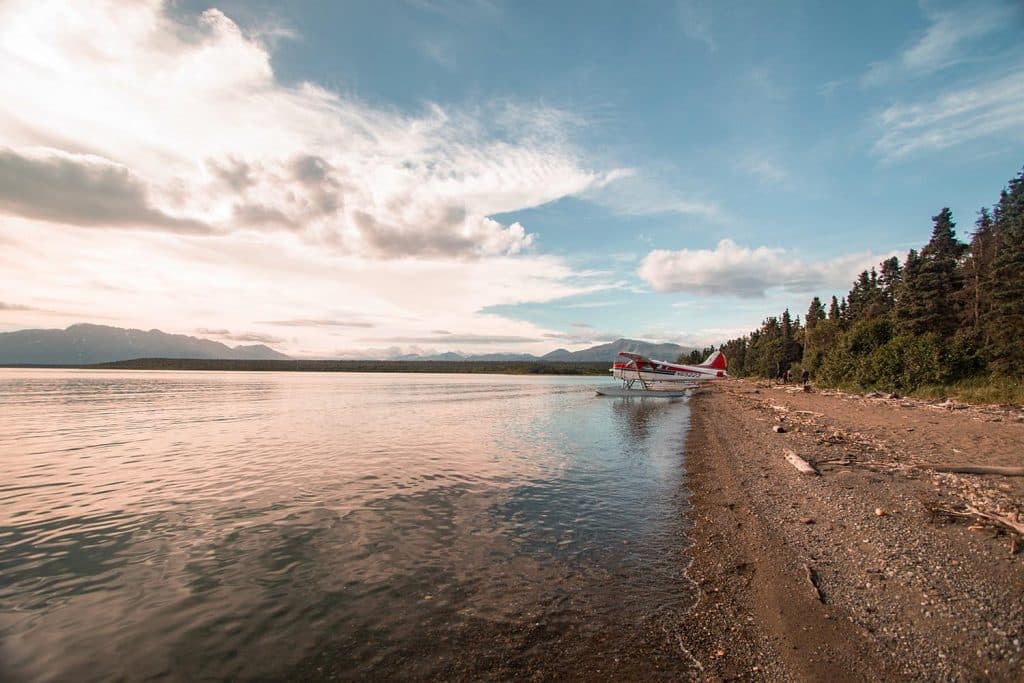 Like most of the national parks in Alaska, Katmai is only accessible by air or by sea. There are many services available for flightseeing, or for day service to Brooks Camp, Naknek Lake and the Valley of Ten Thousand Smokes. The park headquarters in King Salmon is a great jumping-off spot, with direct air service from Anchorage.
Adventure with a Capital A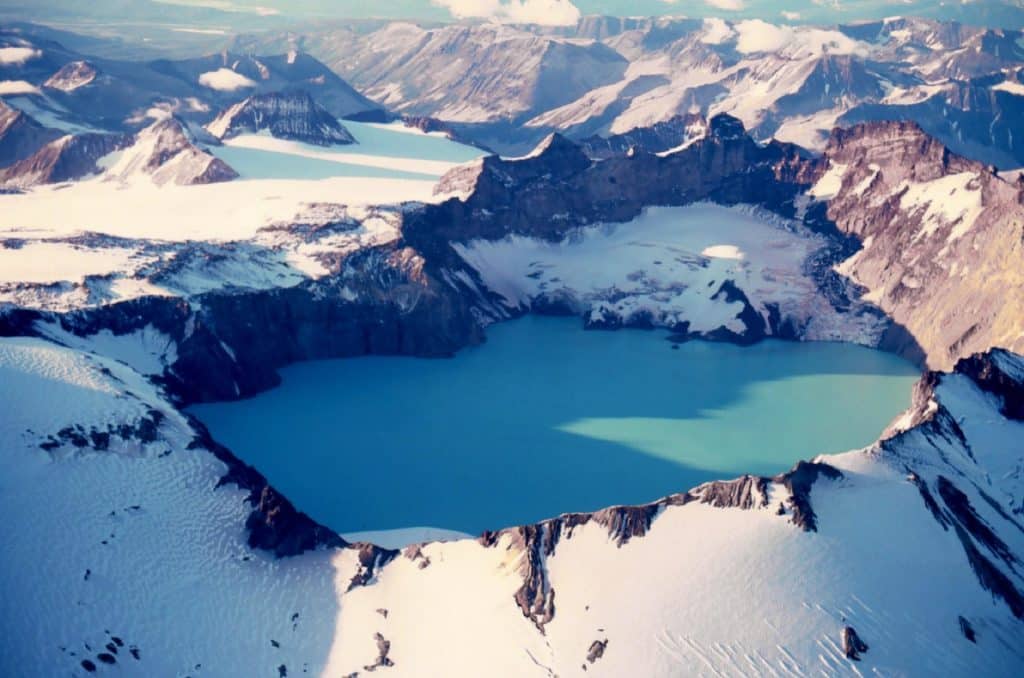 Katmai National Park is about as wild as it gets, between smoking volcanic vents, a concentration of more than 2,000 brown bears, and rugged, unapproachable terrain that challenges even its most prolific visitors.
It is a microcosm of Alaska's vast backcountry, and a magnet to those who are looking for Adventure with a capital A, where Mother Nature is on full display.
---
Have you ever been to Katmai National Park? What were your experiences there?
Popular RV Rentals!
Search for RV rentals in your area, just replace Texas with city or state you want to rent in.
What Makes Roamly Different?
Get the best coverage for less, no matter where you and your RV go.
Get smarter insurance you can't find everywhere, like policies that let you rent your RV without losing coverage.
Rest easy knowing your coverage is backed by fellow RV experts.
Learn More about making money renting your RV
What people are saying:
Roamly is 33% less than our previous RV policy with State Farm, with no risk of being dropped for renting it out. Most people I talked to reported similar savings. Plus, I got a multiple-vehicle discount rate for my car insurance :)
Lauren S.