One of the best things about camping in the fall is sitting around the campfire with friends or family on those cool, crisp evenings chatting, drinking, and eating.
These campfire nachos are easy and fun to make, and a great option when you want to cook something over the fire but are tired of roasting hot dogs. While this recipe is more of an appetizer or snack, you can easily add some shredded rotisserie chicken to this dish to make it more like a meal.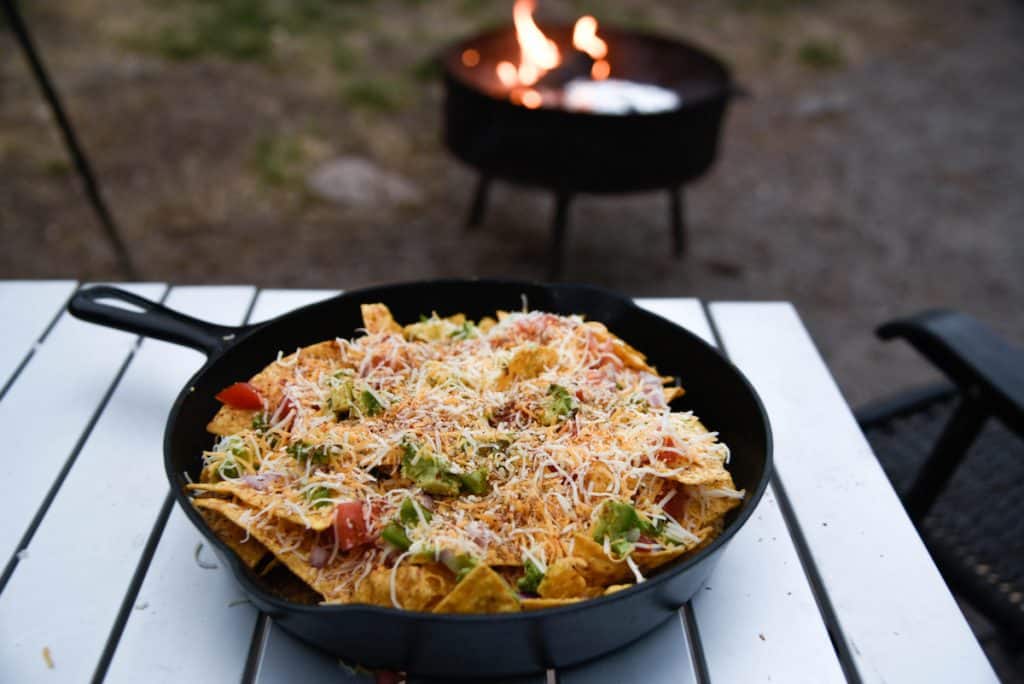 Equipment:
10 inch cast iron skillet
campfire grill or grate to set over the coals
tinfoil
Ingredients:
1/3 bag tortilla chips
3 TBSP red onion, minced
½ jalapeño, sliced
2 Roma tomatoes, chopped
4-6 oz shredded cheese (about half a bag)
1 avocado
2 TBSP chopped cilantro
Optional: a sprinkle of cumin, chili powder, and dried oregano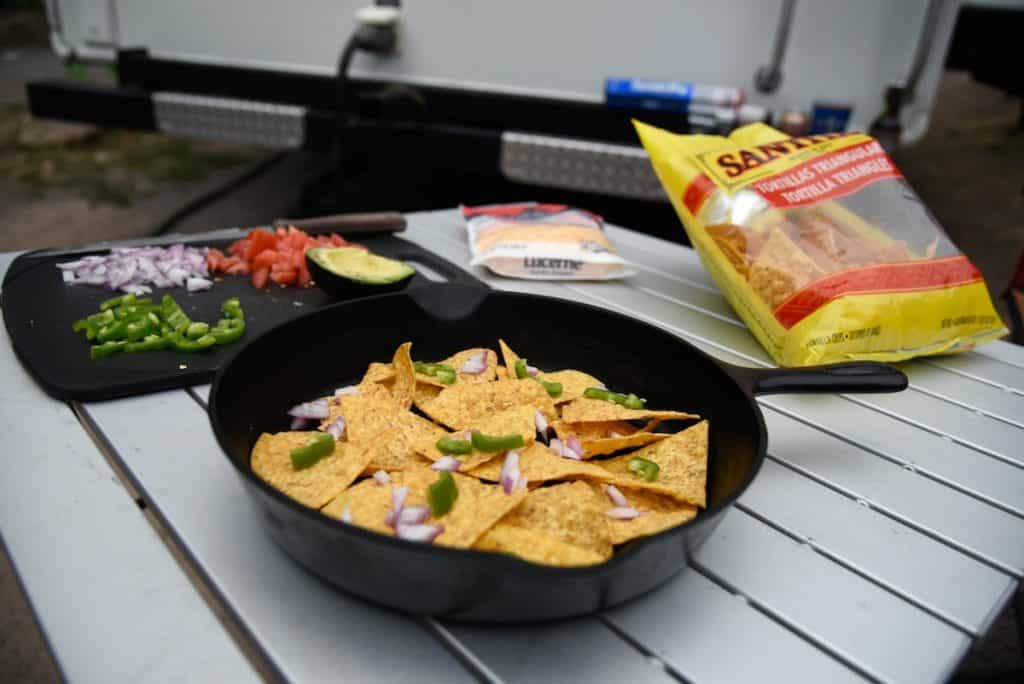 Directions
Layering is key for these nachos. You want two to three layers of chips and toppings, depending on the size of the cast-iron skillet. Cover the bottom of the skillet with a layer of tortilla chips.
Scatter some of the minced onion, tomatoes, jalapeño, cilantro and avocado on top of the chips. Then add a generous layer of shredded cheese over the top. Leave out the jalapeño if you don't like your nachos spicy.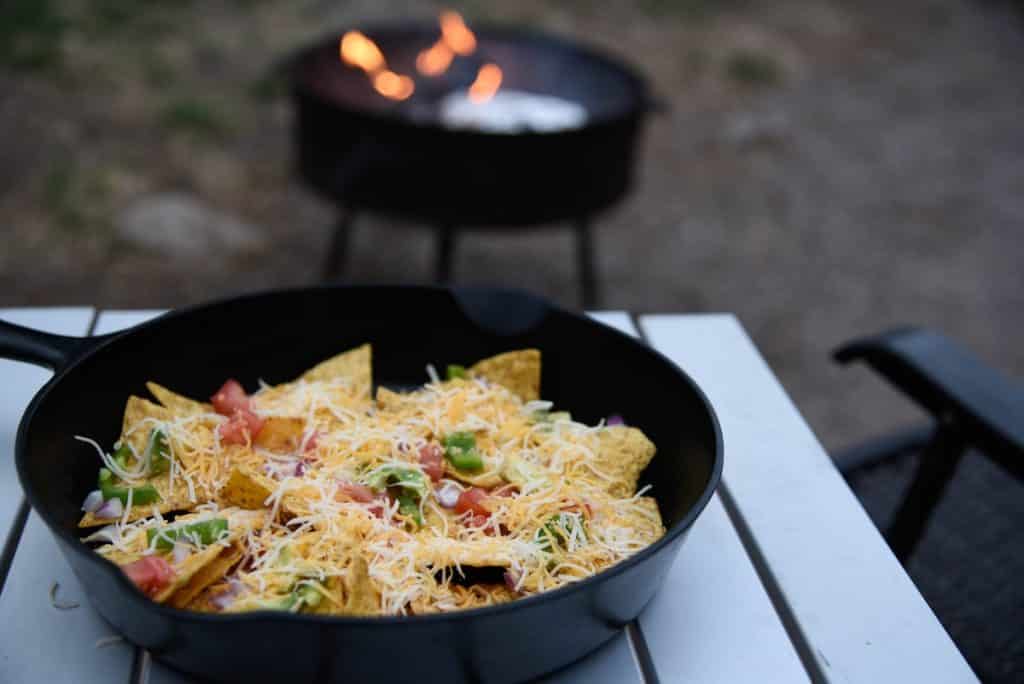 Repeat with two more layers of chips, toppings, and cheese. If you want an extra bit of flavor, top the final layer with a sprinkle of cumin, chili powder, and dried oregano. But this step is fine to skip if you don't have those spices with you while camping.
Once the layers of nachos are finished, cover the top of the skillet loosely with tinfoil.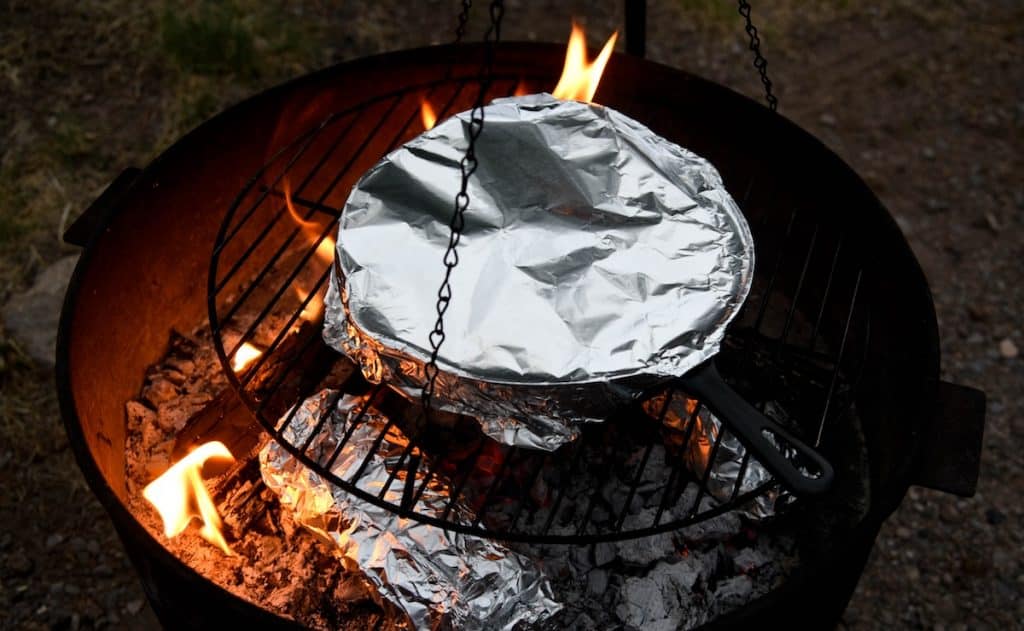 Get that fire going! Once your campfire has cooked down to a nice bed of coals, set up a cooking grate or campfire grill over the coals. Place the skillet on the grate and cook for 10-15 minutes or until the cheese melts.
Carefully lift the tinfoil to check the nachos at the 10-minute mark. If the cheese isn't melted yet, leave on the coals for a few more minutes. Remove the skillet from the fire with a hot pad and carefully remove the tinfoil. Serve with your favorite salsa, guacamole, or sour cream.
Popular RV Rentals!
Search for RV rentals in your area, just type in the location want to rent in.
What Makes Roamly Different?
Get the best coverage for less, no matter where you and your RV go.
Get smarter insurance you can't find everywhere, like policies that let you rent your RV without losing coverage.
Rest easy knowing your coverage is backed by fellow RV experts.
Learn More about making money renting your RV
What people are saying:
Roamly is 33% less than our previous RV policy with State Farm, with no risk of being dropped for renting it out. Most people I talked to reported similar savings. Plus, I got a multiple-vehicle discount rate for my car insurance :)
Lauren S.