So what's life in an RV actually like? How do you live the RV life for long periods of time? RV pros James & Ashley, Heath & Alyssa, and Zach & Mary answered some of your most frequently asked questions, and spoke about their personal experiences living the RV life!
Meet the Speakers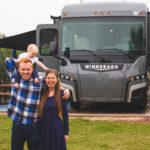 Heath & Alyssa Padgett | We are a traveling family running our business from a Winnebago. We've been RVing since 2014. What started as a honeymoon dream to visit all 50 states spun into an obsession with RV living and RVing around the world! Before you think we're on permanent vacation (AKA what our moms think), full-time travel isn't all pina coladas & hiking through national parks – it's more like 60% working and 40% awesome adventures. We are sharing our full time RVing experiences, hoping to help others get into the RV lifestyle!
 Zach Phillips & Mary O'Neill Phillips | When we aren't filming our TV show or recording our podcast, we are out hunting! This season we took an East 2 West Travel Trailer on a cross country turkey hunting tour. We want to share our experiences with people who are looking to bring their outdoor adventures to the next level!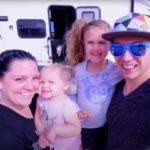 James & Ashley Chick | We are family travel journalists who love to document life's adventures on YouTube! In October 2017 we made the crazy decision to sell our house and almost everything we owned to travel full time, living life as an adventure and making memories as a family!
Popular RV Rentals!
Search for RV rentals in your area, just replace Texas with city or state you want to rent in.
What Makes Roamly Different?
Get the best coverage for less, no matter where you and your RV go.
Get smarter insurance you can't find everywhere, like policies that let you rent your RV without losing coverage.
Rest easy knowing your coverage is backed by fellow RV experts.
Learn More about making money renting your RV
What people are saying:
Roamly is 33% less than our previous RV policy with State Farm, with no risk of being dropped for renting it out. Most people I talked to reported similar savings. Plus, I got a multiple-vehicle discount rate for my car insurance :)
Lauren S.