Many times camping trips involve exploring new territory and discovering enticing attractions along the way. Passenger tour trains have that magnetic appeal for many RVers, providing a novel way to see hidden countryside not normally viewed from the road. Railroad passengers learn about local history, culture and the many colorful characters from the communities visited. Camping World wants to make sure you don't miss the departing whistle, so we have created a series entitled RVing the Rails. You will find the most popular excursion trains to ride in each state, complete with any specialty trains they might offer.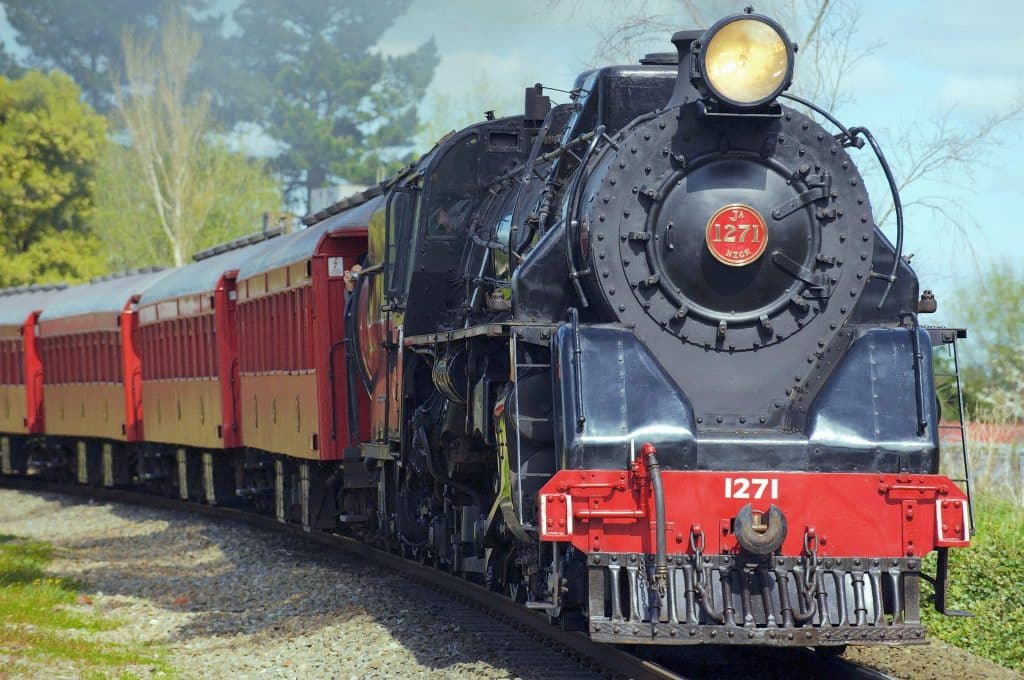 Today we will explore the most popular trains in Texas:
Grapevine Vintage Railroad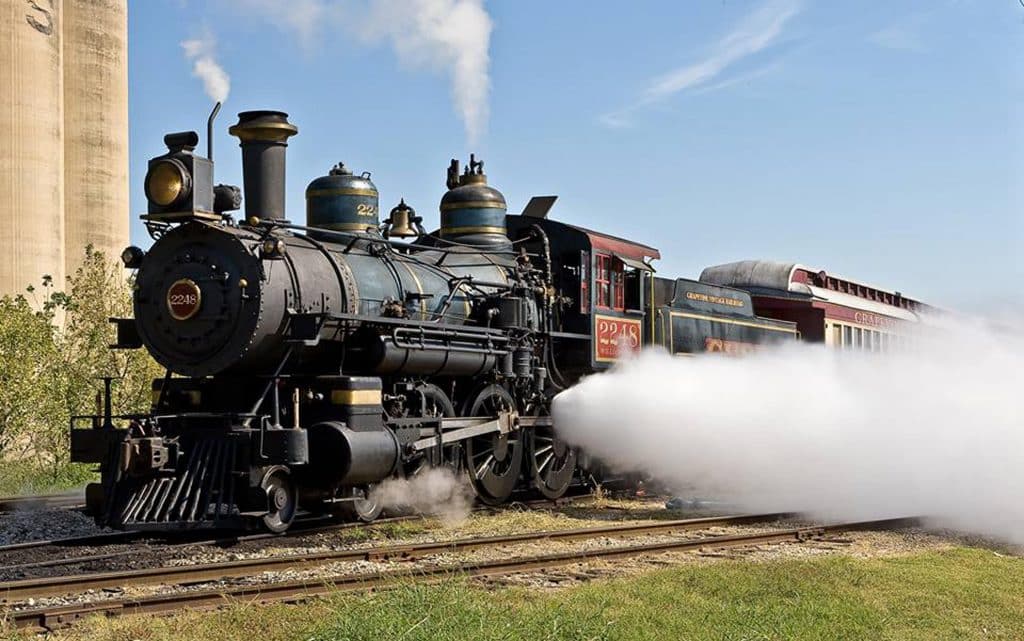 Running on a track that used to be known as "The Cotton Belt Route," the Grapevine Vintage Railroad now makes its trek from downtown Grapevine to the Fort Worth Stock Yards.
Their passengers have the opportunity to explore the restaurants and shops and watch cowboys herd Texas longhorn cattle into stockyard pens before returning to Grapevine on the train. It is a unique look back at Texas history, transportation and ranching.
Railway and Locomotive Types
The railroad runs both steam locomotives and diesel engines on its standard gauge tracks. The rolling stock is comprised of restored 1920s enclosed coach cars and open cars.
Seating Options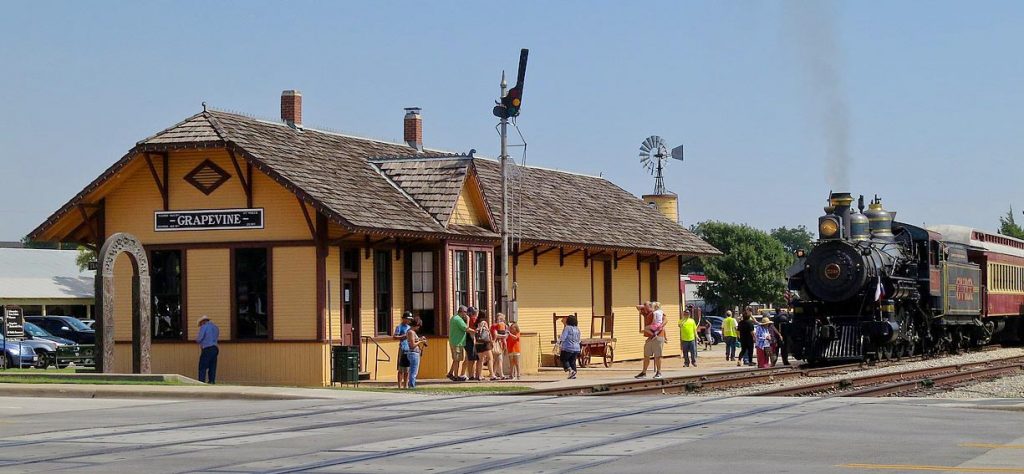 All seating is assigned on the train, with two classes of ticketing:
First Class – Passengers with first class tickets ride in climate-controlled enclosed coach cars with large cushioned seating.
Touring Class – Passengers with touring class tickets ride in open coach cars with wooden backed bench seating.
There are restrooms and snacks available for purchase on the train.
Riding Options
Travelers on the train have the option of round trip or one-way tickets on their Cotton Belt Route trains. They also offer two different side trips:
Grapevine One Hour Excursion – This train is a shortened version along the Cotton Belt Route, perfect for families with small children. Passengers leave the Grapevine depot and travel for 30 minutes, then return. Departures are on Saturdays throughout the season.
Trinity River Excursion – This short trip departs from the Fort Worth Stockyards for a trip along the Trinity River. Because the line is shared with freight trains, this trip operates on a day-to-day basis, with tickets sold to walk-up customers. Announcements about train availability will be made on the train's Facebook page.
Specialty Trains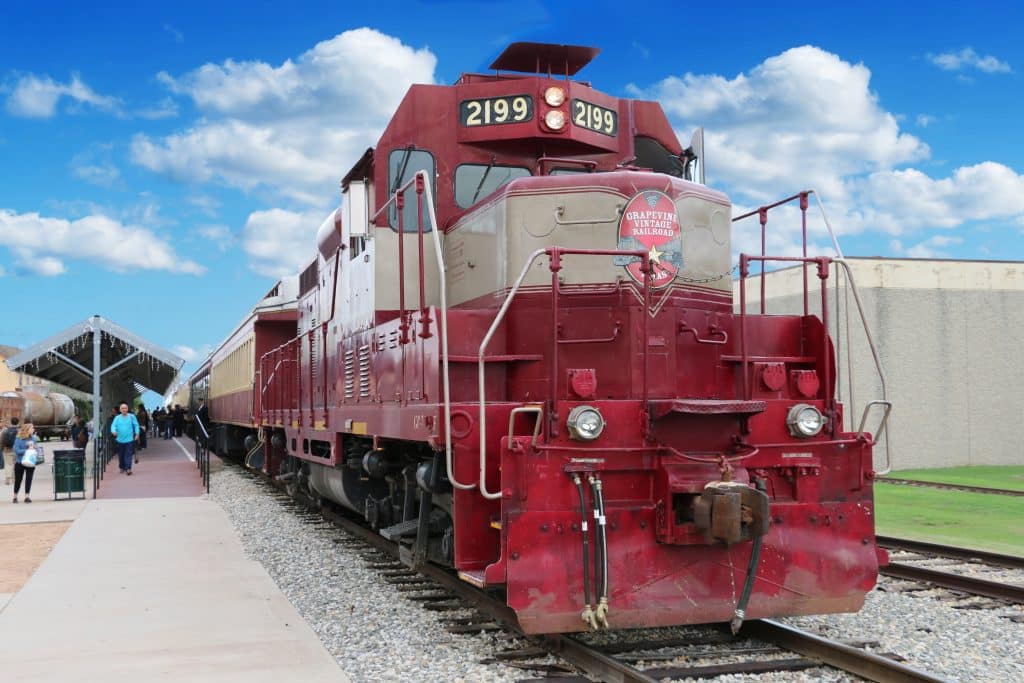 Reservations are suggested for all specialty trains, as they tend to sell out.
Swashbuckler Express – Traveling twice a day on Fridays in July and August, the Swashbuckler Express is a pirate-themed activity train for young mateys. Dress up as Captain Kid and take home a trinket after this one hour ride.
Jazz Wine Train – Enjoy tastings from eight local vineyards, along with live jazz performances on each coach. Dinner and dessert are included with this excursion.
Kiss Me I'm Irish Express – Bottoms up on this St. Patrick's Day train, where passengers toast with craft brews, Irish hors d'oeuvres and dessert.
North Pole Express – Ride to the North Pole in decorated train cars while enjoying Santa's special Frosty Chocolate Snow Milk and cookies. Walk through Santa's workshop, where the elves and Mr. and Mrs. Claus will entertain you, then get a pic with old St. Nick before boarding the train back to Grapevine.
Length of Season
The Grapevine Vintage Railroad runs from March through December, with specialty trains scheduled on specific dates of travel. Take a look at the train schedule for your planning needs.
Texas State Railroad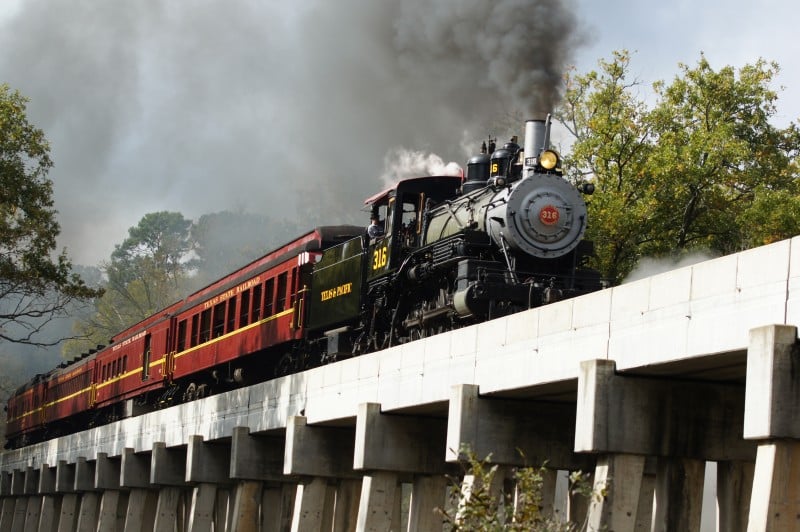 Originally built by prison inmates in 1883, the Texas State Railroad hauled freight between Palestine and Rusk through the Piney Woods of East Texas until 1921.
The tracks were then leased to private companies, but by 2007 the Texas State Railroad Authority began operating the line as a scenic railroad. Today passengers enjoy luxurious travel in restored lounge, club and coach cars on a four-hour tour through forested land.
Railway and Locomotive Types
The railroad has a number of both diesel engines and steam locomotives running on standard gauge tracks. The rolling stock includes dome cars, renovated passenger cars and open gondola cars.
Seating Options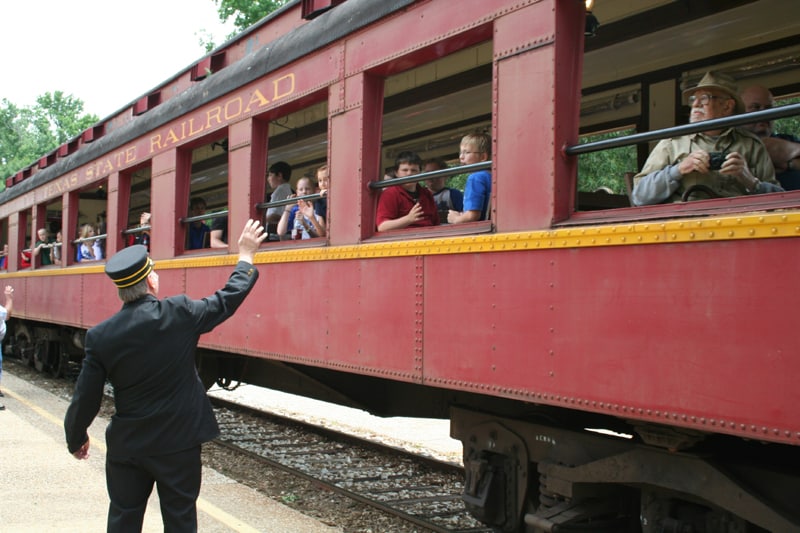 There are no assigned seats on the Texas State Railroad. However, general seating is designate within six classes of service:
Presidential Service – Sit in comfortable lounge seats with attentive service from a porter, who will provide a complementary boarding toast with appetizers as you travel.
Sky High Observation Dome Service – Get a bird's eye view from the glass observation dome, sitting in leather seats with tables. Service from a valet will include a champagne toast and appetizers along the route.
First Class Lower Dome Service – An intimate area with tables and seating perfect for families is available for up to 20 passengers. Snacks and beverages are served during the ride.
First Class Service – An enclosed car with couches and tables provides a comfortable place to enjoy snacks and beverages as the scenery passes by outside.
Deluxe Coach Service – Enjoy upholstered benches and tables in an enclosed passenger car with beverage service available.
Coach Service – Ride in an open air gondola car with vintage wooden bench seats for an up close and personal view of the Piney Woods.
Restrooms and a concessions car are accessible to all classes during the train ride.
Riding Options
The railroad offers two upgraded riding options with very limited seating:
Caboose Ride – Limited to 8 passengers, a ride in the caboose includes plush over-sized seating with your own personal valet serving beverages and appetizers.
Engine Ride – Limited to one passenger per train, a ride with the engineer and conductor in either a diesel or steam engine will be a treat that will not soon be forgotten!
Specialty Trains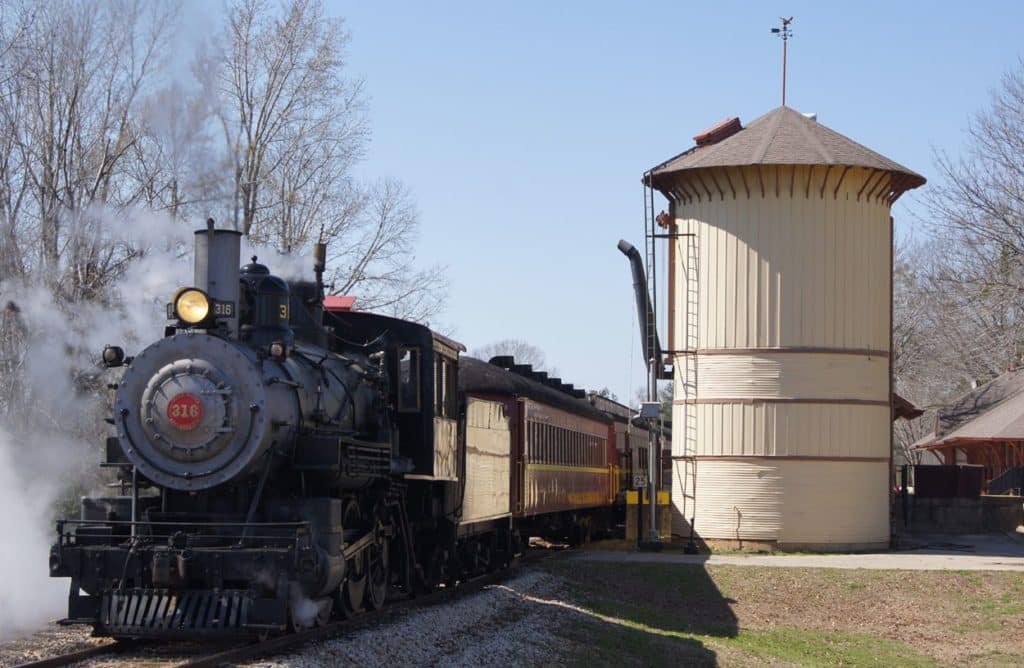 Pints in the Pines – Enjoy an evening train ride, tasting Texas brews as you roll through the Piney Woods, then partake in a BBQ dinner spread when the train reaches the Rusk Depot.
Wines in the Pines – An evening filled with wine, chocolate and a romantic train excursion is a package that most can't resist. Top it off with a BBQ dinner as the train pulls into the Rusk Depot, and you've got yourself a great date night activity!
Pumpkin Patch Express – Put the kids in their Halloween costumes and hop on the Texas State Railroad to the Pumpkin Patch. That's where you'll find hayrides, trick-or-treating and games. Take home your own pumpkin to carve, as well.
Polar Express – Participate in a holiday classic as the whole family becomes part of the Polar Express. Ride to the North Pole as chefs serve cocoa and cookies and read from the much-loved children's book. Then tell Santa exactly what you wish for Christmas. Everyone who "believes" will receive their first gift of the season, a silver bell.
Length of Season
The Texas State Railroad's season extends from March through December, with specific dates for specialty trains scattered throughout. Check the train schedule to find the excursion that's right for you.
Jefferson & Cypress Bayou Railway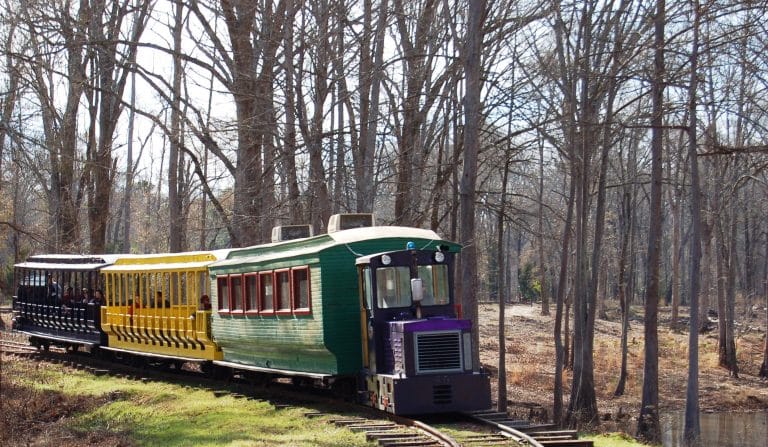 The Historic Jefferson Railway, more commonly known as the Jefferson & Cypress Bayou Railway, is an unusual railroad in that it wasn't built as a train line to haul freight and passengers. Unlike most excursion trains, it has no history as a public transportation line.
Instead, the tracks were purchased and moved from an amusement park in Florida, with the intent of creating an attraction along Big Cypress Bayou. By 2002 today's existing train ride was showcasing the dense Piney Woods and shoreline of the bayou to visitors far and wide.
Railway and Locomotive Types
The Jefferson Railway utilizes both steam and gas-powered locomotives on its narrow gauge tracks. The cars are open air covered gondola cars.
Seating Options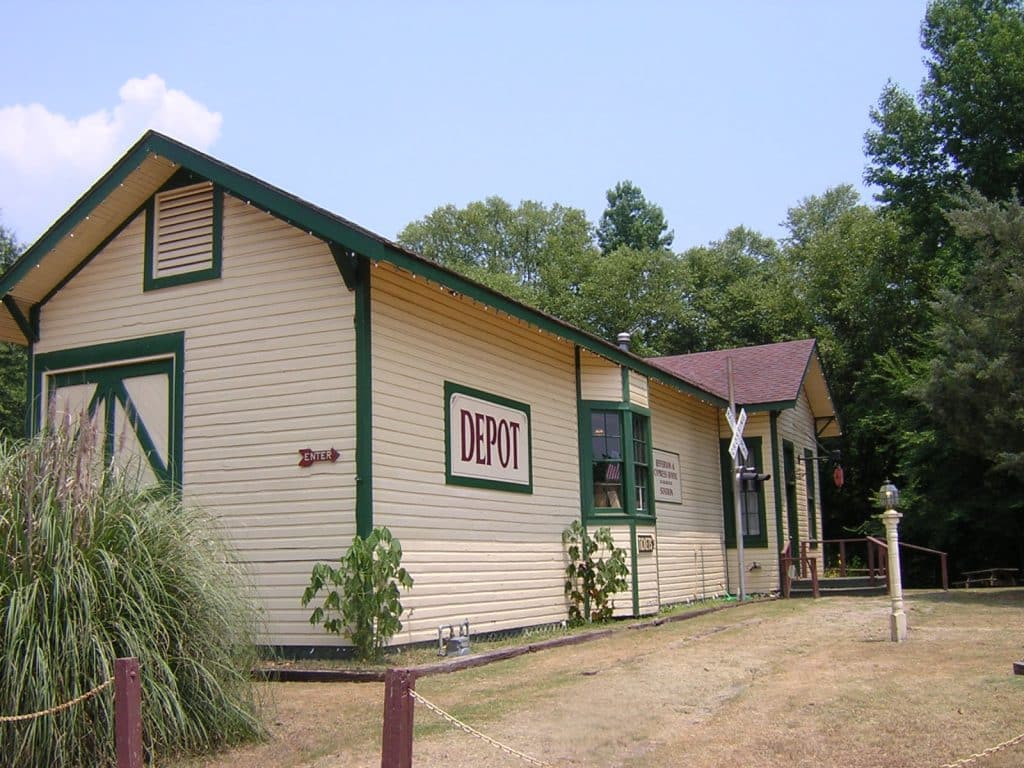 All seating is open with no assigned seats. Passengers travel in open air cars, which are covered for protection against the elements.
Riding Options
The 40-minute train ride leaves the depot in Jefferson and follows the shoreline of Big Cypress Bayou through the Piney Woods, with one stop at the Diamond Don Gator Pit. Watch the feeding of the live alligators that live there, before returning to the depot. There are no one-way tickets.
Specialty Trains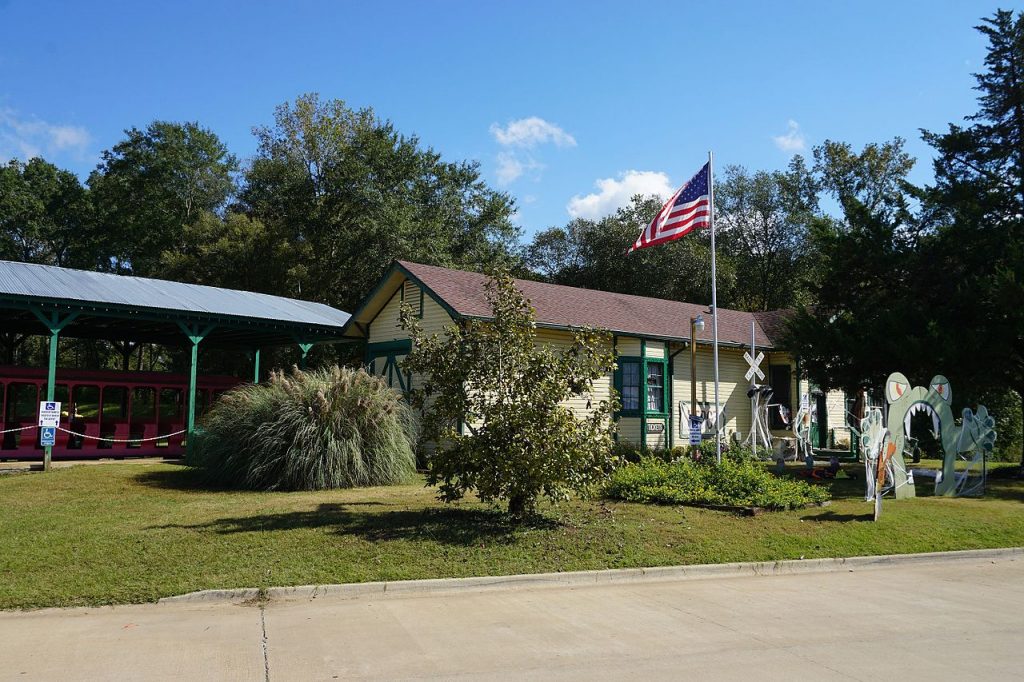 Terror on the Bayou Runaway Fright Train – What's more spooky than riding a train through the bayou at night? Riding it there during the season of ghosts and goblins!
Rail of Lights Christmas and New Year's Train – Celebrate the holidays Texas style, with lighted evening trains in the Piney Woods.
Length of Season
The Jefferson & Cypress Bayou Railway runs trains on Saturdays during the months of June, July and August. Specialty trains are scheduled on specific dates throughout the year, so check the train calendar for more information.
---
Join the thousands of RVers that have a love affair with trains and ride the rails on your next camping trip. Check out the other excursion trains available on a state-by-state basis in our series, RVing the Rails.
Popular RV Rentals!
Search for RV rentals in your area, just type in the location want to rent in.
What Makes Roamly Different?
Get the best coverage for less, no matter where you and your RV go.
Get smarter insurance you can't find everywhere, like policies that let you rent your RV without losing coverage.
Rest easy knowing your coverage is backed by fellow RV experts.
Learn More about making money renting your RV
What people are saying:
Roamly is 33% less than our previous RV policy with State Farm, with no risk of being dropped for renting it out. Most people I talked to reported similar savings. Plus, I got a multiple-vehicle discount rate for my car insurance :)
Lauren S.