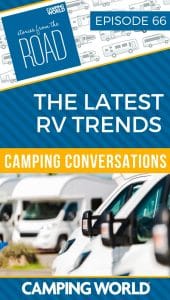 Sam and Kelsey talk RV trends in this camping conversations episode! Hear the latest on updates in the RV industry, such as lighter RV interiors and the growing popularity of small RVs. Plus, hear about Instagram worthy camping trips, and Kelsey's experience growing up in different types of RVs. They even share each of their dream RV models and why certain RVs are better than others, depending on your camping style.
Some highlights from this episode:
1:00 – Lighter interiors in RVs
4:30 – Smaller RV models gain popularity
14:30 – Instagram worthy RVing
17:15 – Kelsey's experience growing up in different RVs
21:00 – Dream RV models
Lighter interiors in RVs
This trend has started to show up a lot lately in new RV models. It seems that the days of dark wood interiors are on the way out. Perhaps it's because lighter wood makes the interior feel more spacious, or maybe customers just like it better? Tune in to hear Sam and Kelsey's views on this trend.
Smaller RV models gain popularity
Class B and other small RVs and vans have been popular in Europe for a while, but now the trend is catching on in the U.S. Is it because of the tiny home and minimalism movement, the efficiency, or do people just think they are adorable? Hear Sam and Kelsey's thoughts on why these RVs are so popular right now. Kelsey is even in the market for a small RV. Will she pick a Class B, a teardrop, an A-liner, or something else entirely?
Instagram worthy RVing
There is a huge movement towards Instagram worthy camping experiences, whether it is a glamping themed campground with vintage trailers or a renovated RV interior. Hear Sam and Kelsey's thoughts on how this trend is changing the RV and camping industry.
** Subscribe to Stories from the Road on iTunes, Spotify, or Google Play **
Popular RV Rentals!
Search for RV rentals in your area, just type in the location want to rent in.
What Makes Roamly Different?
Get the best coverage for less, no matter where you and your RV go.
Get smarter insurance you can't find everywhere, like policies that let you rent your RV without losing coverage.
Rest easy knowing your coverage is backed by fellow RV experts.
Learn More about making money renting your RV
What people are saying:
Roamly is 33% less than our previous RV policy with State Farm, with no risk of being dropped for renting it out. Most people I talked to reported similar savings. Plus, I got a multiple-vehicle discount rate for my car insurance :)
Lauren S.