If you know the types and classes of RVs, then you probably also know that there's what's called a Super C RV. This is a Class C RV that's built larger and more on a scale with a Class A motorhome. However, the Super C RV is still not built on a bus chassis. It still has a large commercial truck chassis.
This enables some advantages that make the Super C special. Personally, I think these RVs are awesome and a good alternative to a Class A motorhome. Let's take a closer look.
What Is a Super C RV Exactly?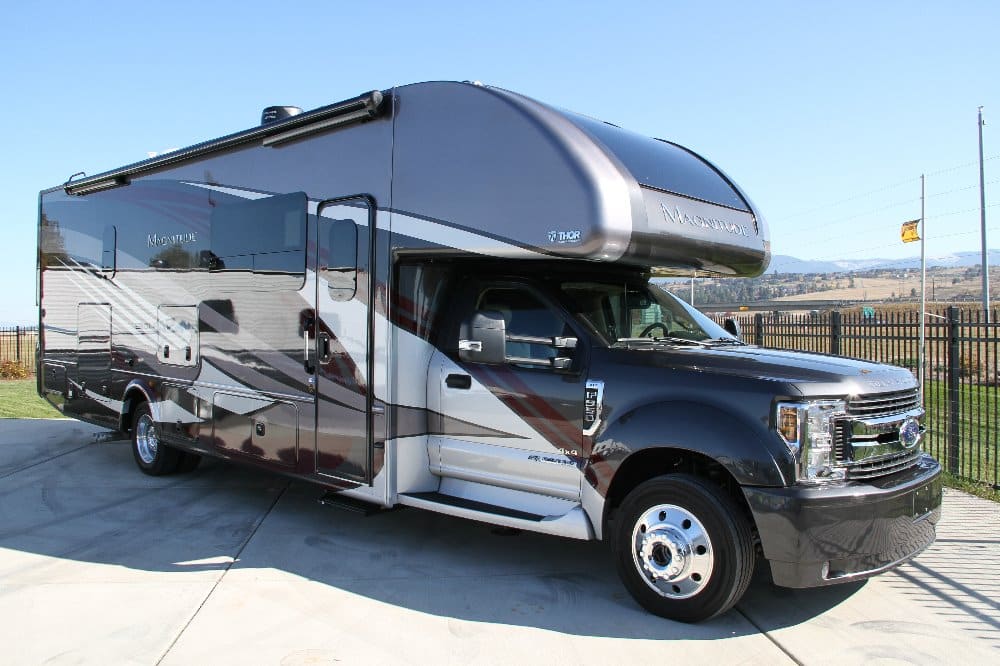 Super C RVs are motorhomes that offer a design similar to a Class C coach, but with a larger chassis and powerplant. The super-large frame and extra-powerful engine open up a lot of possibilities when it comes to the details of the motorhome.
So the chassis on Super C's are a lot bigger, but how much? Class C motorhomes will typically use the Ford E-450 chassis or a comparable chassis from Chevrolet or another manufacturer, Super C RVs get the larger truck chassis. For example, the 2020 Thor Motor Coach Omi Motorhome features the F-550 chassis. This is a considerably larger option.
What are the Advantages of a Super C RV?

So, it's bigger. Is bigger better? In some cases, no. In other cases, yes. It really depends on how you plan to use the RV. However, I will say that there are many advantages to a Super C motorhome. Let's take a look at what these advantages are.
Wider Wheel-Base
Typically, a Super C RV will have a wider wheelbase than a standard Class C. These types of RVs can even have a wider wheelbase than some Class A RVs. This means you'll feel more safe and secure on the road. The Super C RV is one that is well-planted and ready for any road.
Plenty of Exterior Storage
Regular Class C motorhomes have limited basement or exterior storage space. Super C motorhomes have a basement storage area much more like a Class A motorhome. This means you can easily store a grill, camp chairs, an extra tent or canopy, or anything else that you'd like to take along.
Spacious Floorplans
As you might imagine, a larger chassis means more room to work with in terms of the floorplan. A Super C will have plenty of space for you and your family to enjoy the interior of the RV. While not every family needs a huge floorplan, most will be happier with a little more space.
High Towing Capacity
Want to bring a toad or tow a boat with you on your next camping trip? Get yourself a Super C RV and you'll have plenty of towing capacity for whatever you want to tow. Typical Class C motorhomes usually have a pretty good towing capacity, but they pale in comparison to a Super C. Some can tow up to 25,000 pounds or more.
High Durability and Numerous Service Stations
The last advantage of the Super C motorhome is the fact that it uses a typical large truck chassis. These chassis were designed for hundreds of thousands of miles of heavy use. They're built like tanks and can truly take a beating.
Additionally, these large truck chassis can be serviced by a larger number of service stations than a Class A motorhome can. Many service stations won't touch a Class A whereas they'll be less apprehensive about working on a Super C. You can also always bring your Super C motorhome to your local Camping World service center.
---
Are you interested in a Super C RV? Check out the options available at Camping World's inventory.
Popular RV Rentals!
Search for RV rentals in your area, just replace Texas with city or state you want to rent in.
What Makes Roamly Different?
Get the best coverage for less, no matter where you and your RV go.
Get smarter insurance you can't find everywhere, like policies that let you rent your RV without losing coverage.
Rest easy knowing your coverage is backed by fellow RV experts.
Learn More about making money renting your RV
What people are saying:
Roamly is 33% less than our previous RV policy with State Farm, with no risk of being dropped for renting it out. Most people I talked to reported similar savings. Plus, I got a multiple-vehicle discount rate for my car insurance :)
Lauren S.