RVing is a fantastic experience, letting you see and experience the beauty of our country.
Few things will ruin that experience more quickly than a flat tire when you're halfway to your destination.
No worries—you're all set up with a spare in good condition, right? Here's how to make sure your spare tire is ready when it's called into service.
Make Sure You Have a Spare Tire
Unfortunately, not every RV will come with a spare tire. This is something to double-check when you're buying—especially when you're getting a used RV. Even more so if you're buying from a private seller.
We highly recommend getting a full-size spare—not just a "donut" like some cars include.
A lot of RVs will get you far off the beaten path. You need to be confident your spare tire can get you out of the wilderness, back to civilization, and back to a tire shop.
Considering the weight some of these RV tires handle, full-size is the way to go.
A quick note for larger RV owners, particularly large Class A motorhomes: with a vehicle as large as some of the Diesel Pushers on the road, the reality is you're probably not going to be able to change your tire on your own.
The real benefit of keeping a spare in this case—the tire shop you may end up at on your travels may not have the correct size tire you need. Having a spare will get you back on the road as quickly as possible.
Keep Your RV's Spare Tire Covered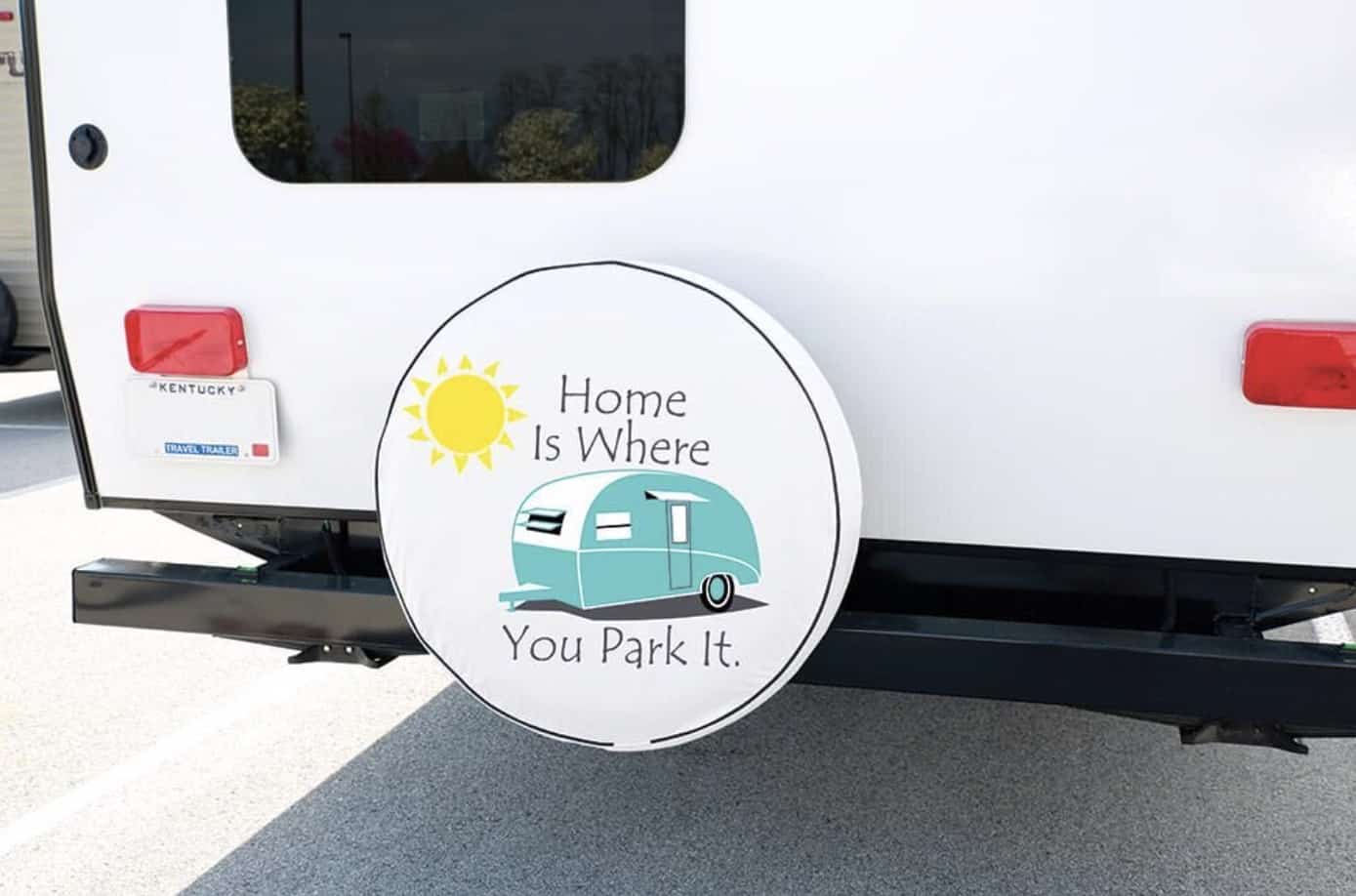 Like we said above, your travels will often take you off developed roads and onto dirt roads, and sometimes no actual "roads" at all.
It's important to keep your spare tire covered and protected from all that dirt and grime with a spare tire cover.
When it's time to store your RV for the winter, or even if you're going to take a couple months between trips, cover all your tires, including the spare.
This will help protect your tires from sun and snow damage over time, and keep them in good condition for as long as possible.
Inspect Your RV's Spare Tire Regularly
Your RV's tires should be rotated about every 5000 miles. Every time you get a tire rotation, make a point to inspect your spare.
Here are a couple things to take a look at:
Check the tire pressure. If your spare is easy to access, it's a good idea to check this whenever you check the pressure on your tires in use.
Check for any cracking or dry rot.
Check the birth date of your all your tires—most RV tires age out before they wear out. 7-10 years is the maximum useful life of most tires, regardless of usage.
Now that you're confident you've got a good spare on-hand. Here are a couple more things to do so you're ready when you inevitably get a flat tire.
Pack the Tools You Need to Change Your Tires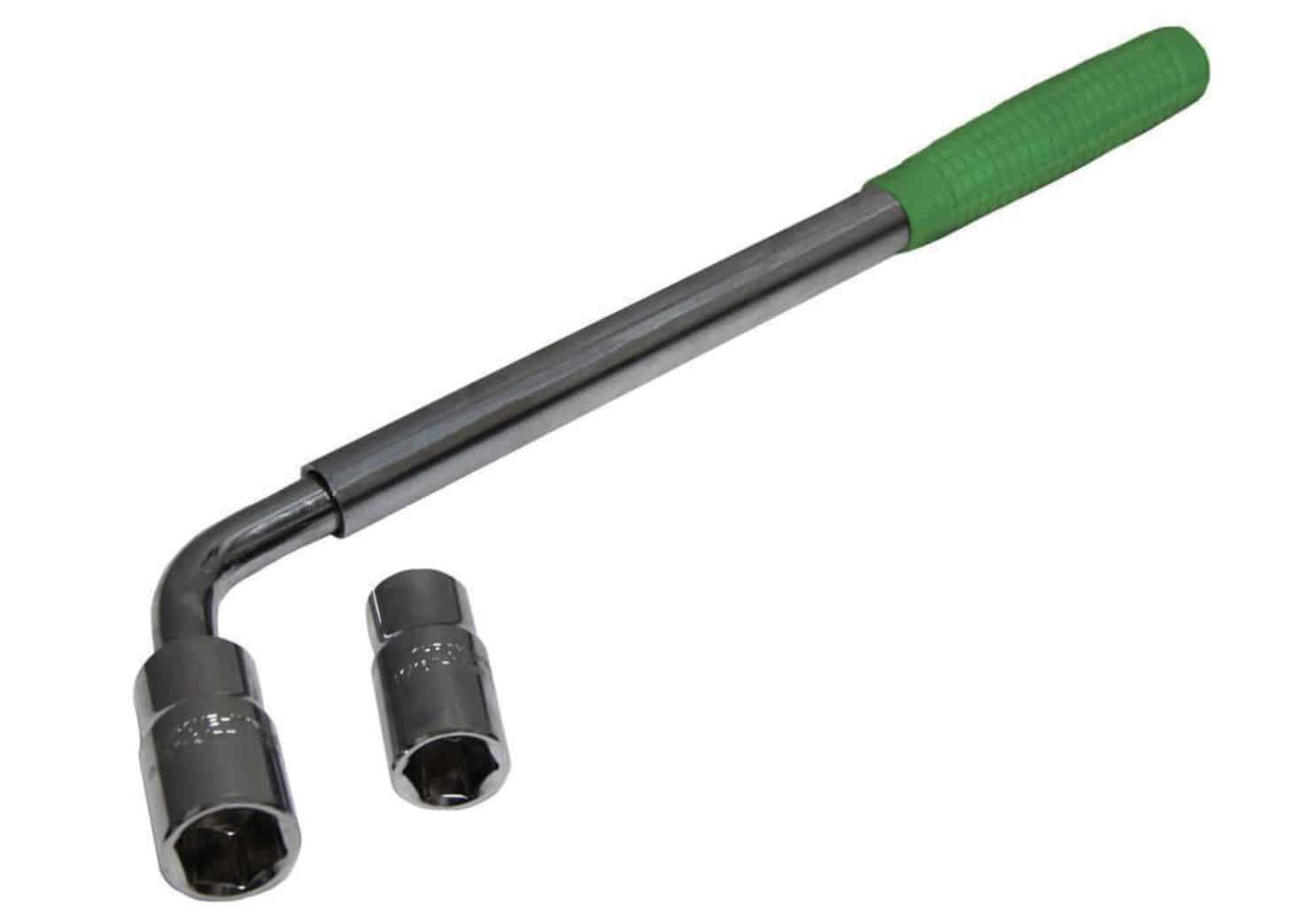 If you've got an RV where you can change the tire, make sure you have all the tools you need to make that happen.
This might include:
Wheel chocks (you've got a set of these already, right?)
An appropriate jack for your size RV
Wrenches or cordless impact driver with the right size attachments to remove the lug nuts
Mechanics or leather gloves, so you don't tear up your hands
Flares or road reflectors, for safety on the side of the road
An old towel or blanket, so you don't need to get down in the mud
Enroll in a Roadside Service Plan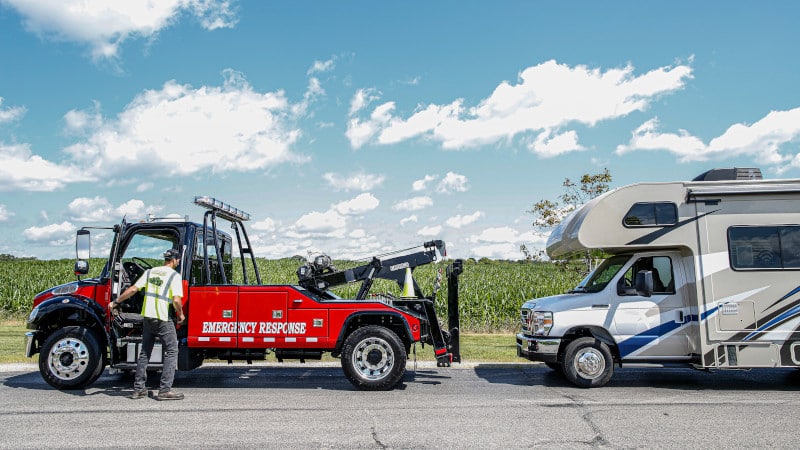 This is the best way to ensure your trip can continue if you have a flat.
As mentioned before, changing a tire on a larger rig can be a tricky, or even dangerous, proposition.
The absolute best case scenario in a flat tire situation is that you have the correct spare on-hand and a roadside service provider with the network and experience to handle the tire change on-site.
---
A spare tire is only useful if it's in good shape and you have the tools or help to use it. Follow these tips and you'll be ready to quickly get back on the road after a flat tire.
Popular RV Rentals!
Search for RV rentals in your area, just type in the location want to rent in.
What Makes Roamly Different?
Get the best coverage for less, no matter where you and your RV go.
Get smarter insurance you can't find everywhere, like policies that let you rent your RV without losing coverage.
Rest easy knowing your coverage is backed by fellow RV experts.
Learn More about making money renting your RV
What people are saying:
Roamly is 33% less than our previous RV policy with State Farm, with no risk of being dropped for renting it out. Most people I talked to reported similar savings. Plus, I got a multiple-vehicle discount rate for my car insurance :)
Lauren S.