Many families across the country want to go camping but they can't spend a huge amount of money on a new heavy-duty truck and an RV to make that happen. That's where a lightweight travel trailer can come into play. These lightweight options are perfect for families that own an SUV, midsize or full-size pickup truck that can tow a reasonable amount behind it.
I've put the cut off at 4,500 pounds because that's a good amount that many midsize and full-size pickup trucks and even many SUVs can easily tow. With that in mind, let's take a look at some of the great options out there for families looking for a lightweight travel trailer option.
2020 Jayco Jay Flight SLX 224BH

The Jayco Jay Flight SLX 224 BH is a fantastic unit for a family thanks to ample sleeping space, a spacious bathroom, plenty of storage, a camp side kitchen and a large dinette for having family meals. There's also an outside kitchen that helps keep the kids outside so you don't constantly have to clean the floor of the RV.
This unit comes in at a lightweight 4,500 pounds, meaning you should be able to tow it with a variety of vehicles. It measures about 26 and a half feet long and can sleep up to five people, so you should have plenty of space inside at all time.
2019 Crossroads Zinger 18BH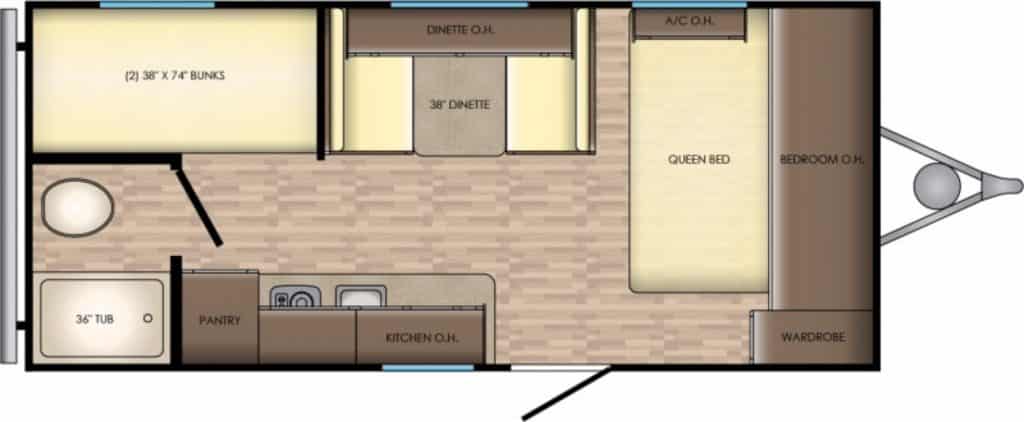 Another good option for families is the Crossroad Zinger 18BH. This unit lacks the outside kitchen that's in the Jayco and it has a smaller bathroom, but it has everything else you could need, including a camp side kitchen, a dinette, bunk beds at the rear and a queen bed at the front of the unit. It's shorter than the Jayco, which is why there's a little less room in the bathroom or for storage.
The Crossroad Zinger 18BH measures about 22 feet long and comes in at a super light weight of 3,256 pounds. That means even a wider variety of vehicles should be able to tow it. The camper sleeps up to five people, meaning you can still bring along the whole family.
2020 Coleman Lantern LT 17FQ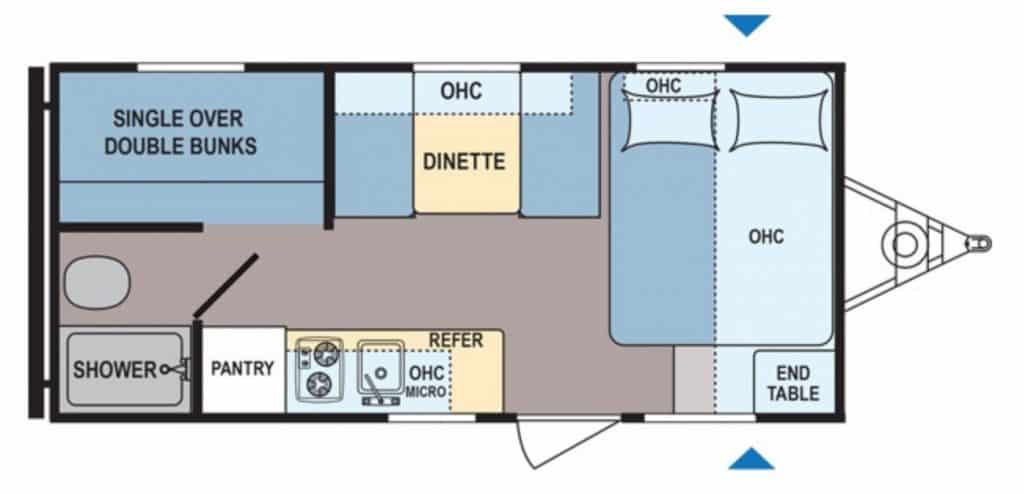 Coleman is a trusted name in outdoor equipment and for good reason. The company makes some of the best products. A good example is this Lantern LT 17FQ. The model features plenty of sleeping spaces for the whole family, a compact camp side kitchen a bathroom and a dinette for meals.
The unit measures only about 21 and a half feet and comes in weighing just 3,205 pounds, making it lighter weight than even the Crossroads model. The Lantern LT 17FQ can sleep up to six people in total, meaning you can have a bit bigger family and still make things work or bring a friend or two along.
2019 Coleman Light LX 2125BH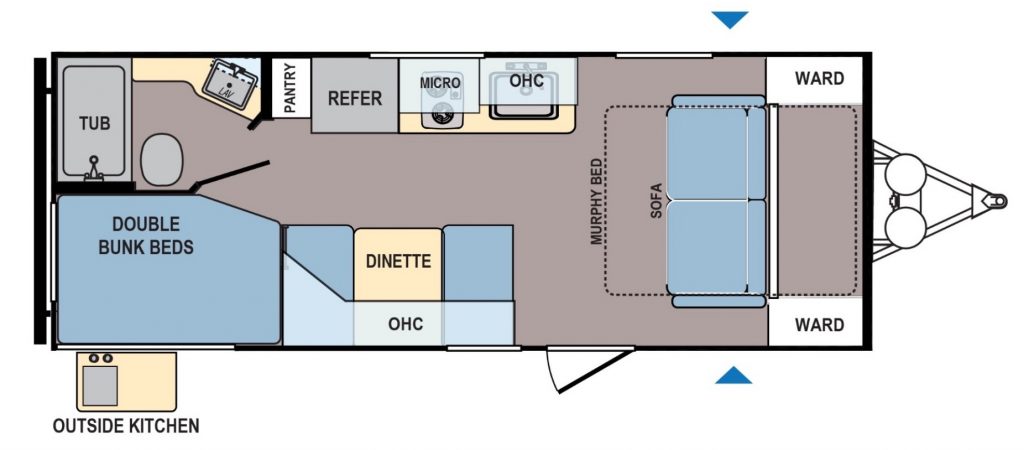 Another good option from Coleman is the Light LX 2125BH the model features large bunk beds at the rear of the unit, plenty of room in the bathroom area, a spacious camp side dinette, and a kitchen across from that. At the front of the unit is a large sofa and Murphy bed.
Weighing 4,380 pounds and measuring about 25 and a half feet, the camper is one of the larger options on this list, but it does sleep up to seven people, making it the obvious choice if you have a large family or will be traveling with your smaller family and a couple of friends.
2020 Heartland Mallard M185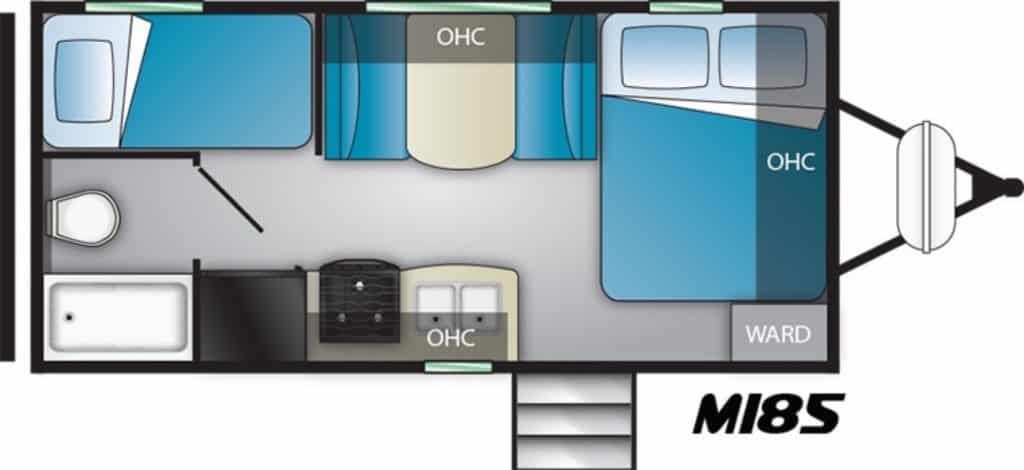 The Heartland Mallard M185 is one of the more compact options here, but it's a fantastic addition to the list. It offers plenty of sleeping area, a dinette for meals and a camp side kitchen. There's also a small bathroom. While it's not as spacious as other units, it does offer all the essentials for family camping.
The Mallard M185 measures under 22 feet long and weighs in at 3,632 pounds. It can be easily towed by just many different trucks or SUVs. The model also sleeps five people, so you'll have enough room for the whole family in this compact option.
---
Do you have any lightweight travel trailers you'd add to this list? Leave a comment below!
Popular RV Rentals!
Search for RV rentals in your area, just replace Texas with city or state you want to rent in.
What Makes Roamly Different?
Get the best coverage for less, no matter where you and your RV go.
Get smarter insurance you can't find everywhere, like policies that let you rent your RV without losing coverage.
Rest easy knowing your coverage is backed by fellow RV experts.
Learn More about making money renting your RV
What people are saying:
Roamly is 33% less than our previous RV policy with State Farm, with no risk of being dropped for renting it out. Most people I talked to reported similar savings. Plus, I got a multiple-vehicle discount rate for my car insurance :)
Lauren S.