One of the most important features of your RV is that it has a bed and you can sleep in it. Without this, you might as well drive a car around the U.S. The bed is extremely important, but your comfort in bed is really not about the bed frame or the sheets or covers you sleep with.
The most important thing is the mattress. You might think you know all that you need to know about mattresses. You've slept on one your whole life, right? Well, RV mattresses are a little different, and here are some helpful tips that you should know.
Mattress Sizes Are Not Always Standard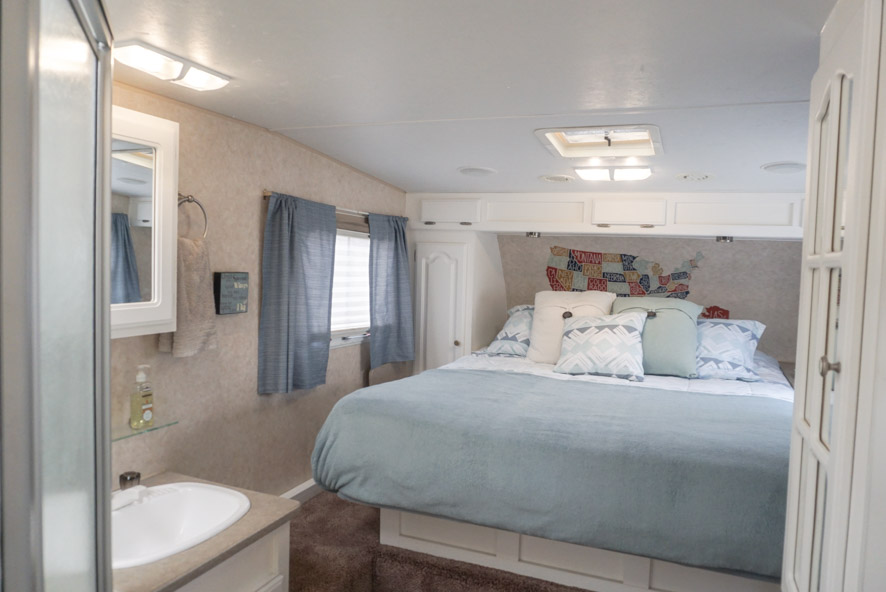 Many RV mattresses are different than standard residential sizes. A queen mattress in an RV is not the same as a queen mattress in your house. What this means is that you can't make any assumptions when you're shopping for an RV.
Other sizes of mattresses are sometimes the same as their residential counterparts. Twin and full (aka double) beds are often the same in RVs as they are in homes. King-size beds in RVs are usually narrower than residential mattresses.
Lay on the mattress when shopping. Make sure there's enough space for you to sleep comfortably. If you hear queen and just assume there's enough space, you might find there isn't.
The fact that mattress sizes are not standard also makes it more difficult to buy a new mattress for your RV. You can't just go into any mattress store and buy one. You'll need to shop for a mattress that is the appropriate size for your RV.
A smart thing to do is to measure the mattress and the bed's space for the mattress. This will tell you how large your RV's mattress is, and how large of a mattress you can fit on the bed in your RV.
Think of the Weight of the Mattress
Mattresses can be quite heavy. I've moved many mattresses and they all have different weights. Most are fairly lightweight when new.
Some folks will tell you that a foam mattress is lighter weight, but I've noticed that some innerspring mattresses actually weigh less than a comparable foam mattress. It really depends on the cushioning and how the mattress is constructed. When looking at mattresses, keep that in mind.
Also, it's important to note that mattresses will gain weight over time. It's kind of gross to think about, but all of the dead skin cells, sweat, and other things that come off your body will make the mattress increase in weight over time. Keep this in mind if you have an older mattress.
You'll Have to Replace It Like Any Other Mattress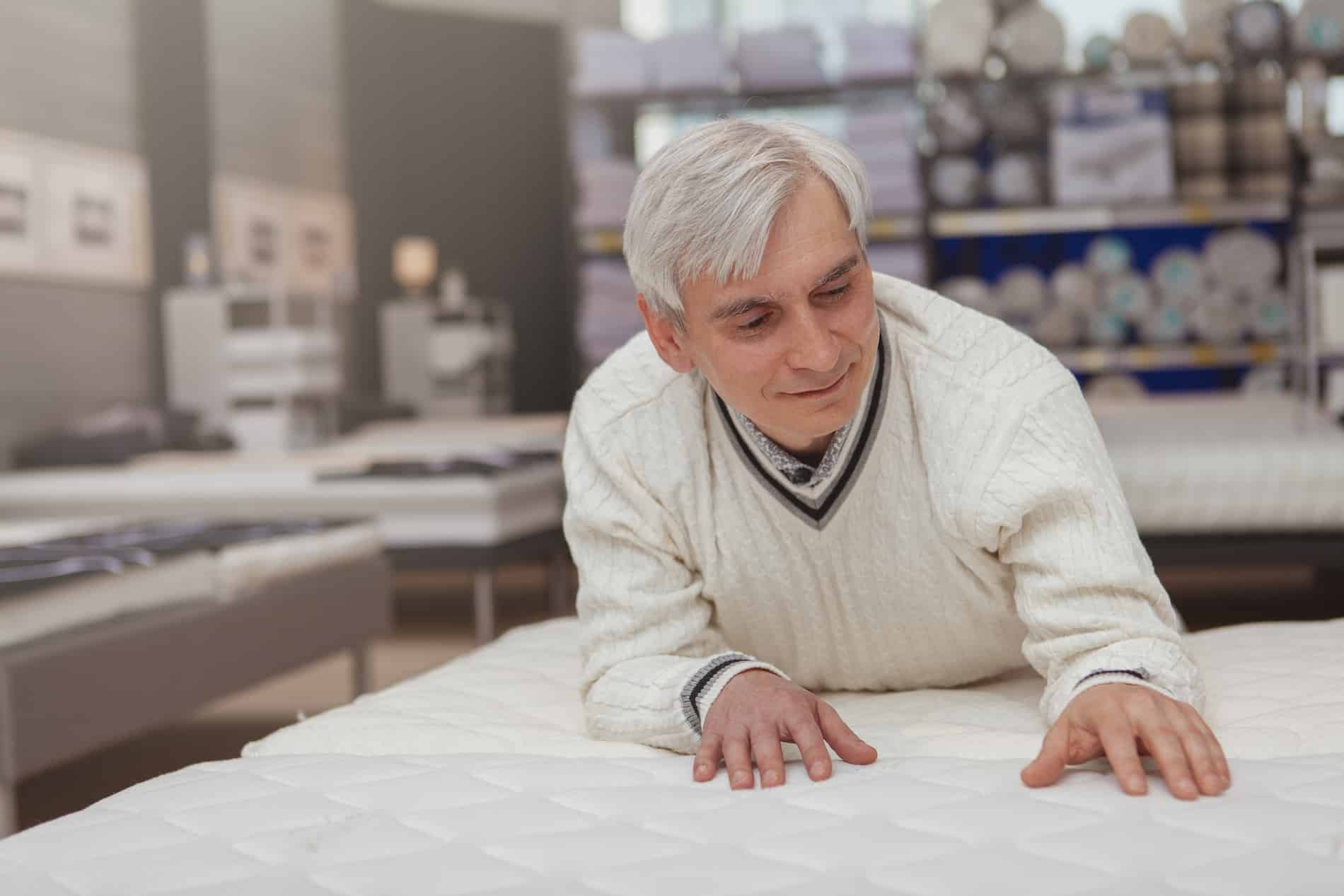 As you probably guessed from the section above, you will need to replace your mattress from time to time. This is especially true if you live in your RV. While a weekend warrior might get more years out of their mattress, a full-timer should replace their mattress at least as often as people replace regular residential mattresses.
The rule of thumb here is every eight years or so. However, many RV mattresses aren't designed for every day or every night use. So you may want to think about replacing your RV mattress something like every five years.
If you don't want to keep track of the years, just think about how comfortable your mattress is and how heavy it is. If your mattress is comfortable and not too heavy, then it's likely perfectly fine to keep sleeping on it. If you've noticed a change in your sleeping patterns and your mattress is quite old, it might be time to start thinking about a new one.
Get a Replacement That Flexes So You Can Get it in the RV
When buying a new RV mattress, remember you'll have to get it in your RV. This means it will have to come in the door and go into the bedroom. Depending on the layout of your RV this can be easier said than done.
A lot of RVs have at least one tight turn before you get to the bedroom. That means you need a mattress that can swing that. Foam mattresses can be bent or stuffed basically anywhere. While I don't particularly love foam mattresses, if you need to make it into a tight space, that might be your best option.
Don't count innerspring mattresses out, though. Many of them can hang a tight corner pretty easily. Get a friend to help and you should be able to maneuver the mattress into the right place in your RV. Just don't go too stiff. The last thing you want is to buy a mattress you can't get in your RV.
A Mattress Topper Can Really Help With Comfort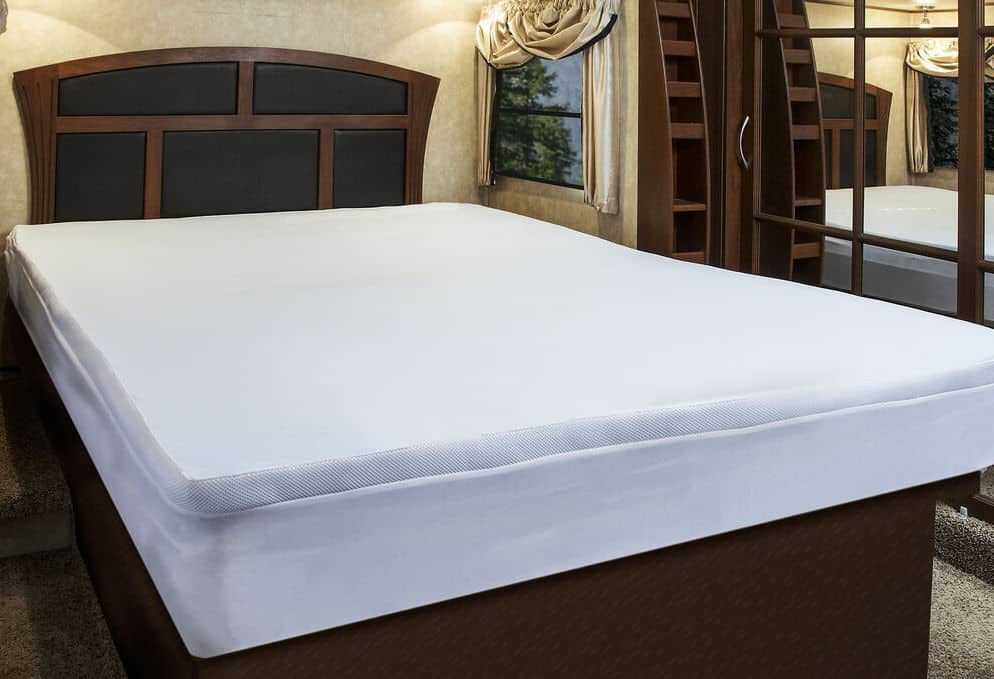 If your mattress is still pretty new but you want to make it a little more comfortable, the smart move is to get yourself a mattress topper. A topper can go a long way towards transforming the way a mattress feels. Personally, I to make an otherwise super firm mattress feel more comfortable with a soft topper.
If you're struggling to find your RV's mattress comfortable but don't like the idea of buying a whole new mattress think about just getting a topper. It could change the way you feel about your RV's bed.
---
Looking for a new mattress or mattress topper? Check out the options available at Camping World.
Popular RV Rentals!
Search for RV rentals in your area, just replace Texas with city or state you want to rent in.
What Makes Roamly Different?
Get the best coverage for less, no matter where you and your RV go.
Get smarter insurance you can't find everywhere, like policies that let you rent your RV without losing coverage.
Rest easy knowing your coverage is backed by fellow RV experts.
Learn More about making money renting your RV
What people are saying:
Roamly is 33% less than our previous RV policy with State Farm, with no risk of being dropped for renting it out. Most people I talked to reported similar savings. Plus, I got a multiple-vehicle discount rate for my car insurance :)
Lauren S.