People in all stages of life are jumping into the RV lifestyle. Still, one of the most common times people get into RVing is after retirement.
RVing is the perfect way to see the country, visit family, and relax through your retirement years.
Retirees often choose a Class A motorhome to be their home base on these adventures. Here are a few reasons why.
Class A Motorhomes Offer Spacious Layouts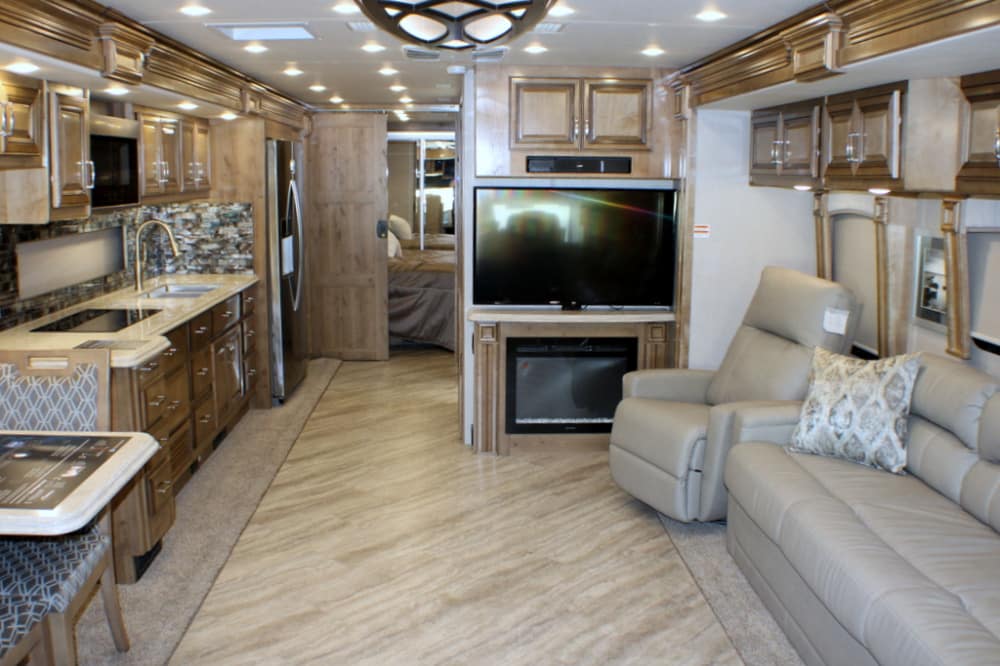 After decades in a traditional home, it can be difficult to adjust to the size of a smaller travel trailer or Class B motorhome.
Class As are the largest motorhome class, with large living spaces and loads of storage in the "basement" areas.
This also means there's a lot of room for friends or grandchildren to come along. Even in floor plans that are geared toward couples, there's plenty of room to find some sleeping space for others.
What grandchild wouldn't want to sleep on the "magic" bed that drops down over the cab?
It's Easier to Maneuver a Motorhome Than to Tow
While they may seem intimidating, learning to drive a motorhome, even a Class A, is easier than learning to handle a large travel trailer or fifth wheel.
There's no dealing with pivot points or turning the steering wheel in the opposite direction that you would expect. Driving a motorhome comes much more naturally than towing.
Even when you're bringing along a toad, you're typically only moving forward while the toad is attached. Once you get to your destination and need to finesse the motorhome into your campsite or driveway, you'll unhitch the toad before backing up.
Large Tanks for More Camping Versatility
Class A motorhomes have the largest tanks of any motorhome. This means you can spend more time away from freshwater or sewer service.
One of the perks of RVing during retirement is the ability to travel slowly. The large tanks will let you take a couple extra days to get to your destination and explore along the way.
It's also helpful when you're "mooch docking" in a friend or child's driveway.
While they can run electrical and maybe a freshwater line out to your motorhome, very few will have a sewer port for you to empty your black and gray water tanks. Spend more time with the grandchildren instead of driving over to a dump station.
Other Benefits of Class A Motorhomes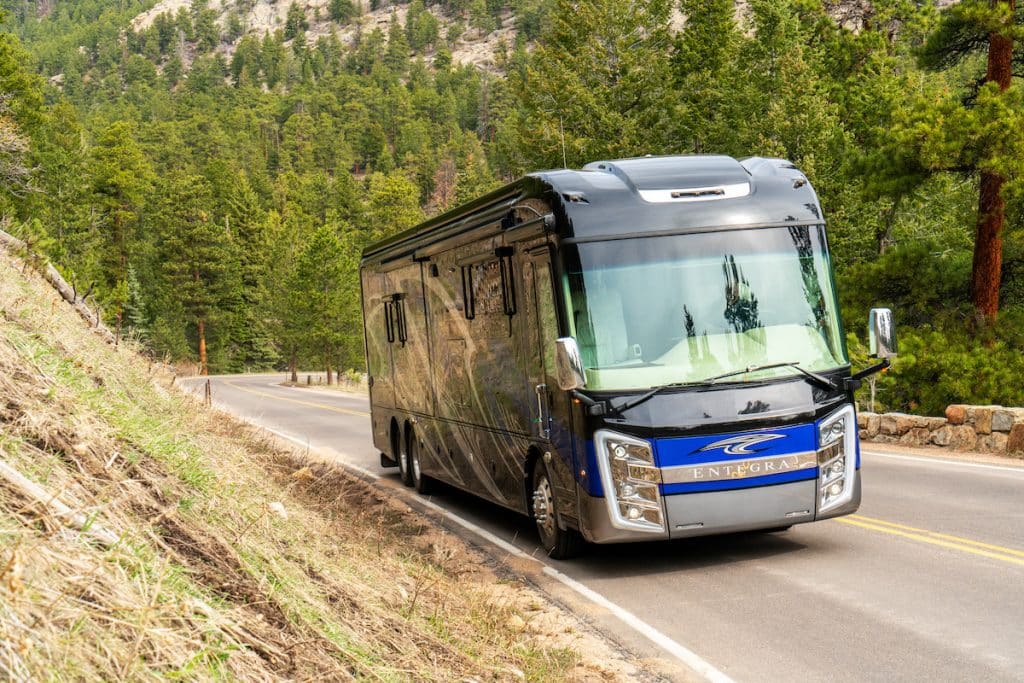 Panoramic Sightlines
The massive windshield lets you take in everything you want to see while traveling the country. There's nothing quite like traveling in the front seats of a Class A with an unobstructed view of the landscape around you.
Luxurious Finishes and Tech
Class As are going to have the high-end finishes you'd expect in a motorhome at this price point. You'll often get residential-grade furniture, plumbing fixtures, and cabinetry.
As far as tech, you'll often get smartphone control of all your systems, automatic leveling jacks, and other features to make your RV experience as easy and stress-free as possible.
Solid Build Quality
The all-in-one nature of Class A motorhomes results in a solid build quality that you'll feel as you drive down the road.
You'll notice a lot less road noise and less chassis shake with a Class A as compared to a Class C, which is built on a van chassis.
---
Class A motorhomes make a fantastic and popular choice for retired couples looking to hit the road and travel the country.
Ready to start your RV search? Check out our wide selection of Class A motorhomes!
Popular RV Rentals!
Search for RV rentals in your area, just type in the location want to rent in.
What Makes Roamly Different?
Get the best coverage for less, no matter where you and your RV go.
Get smarter insurance you can't find everywhere, like policies that let you rent your RV without losing coverage.
Rest easy knowing your coverage is backed by fellow RV experts.
Learn More about making money renting your RV
What people are saying:
Roamly is 33% less than our previous RV policy with State Farm, with no risk of being dropped for renting it out. Most people I talked to reported similar savings. Plus, I got a multiple-vehicle discount rate for my car insurance :)
Lauren S.