Some dreams are more than just a series of images and scenes slipping through your head in the moments before you wake. Sometimes there's a prophetic quality to them. Ashely Mann's husband made an interesting prediction one night that has proved more or less true.
"My husband woke up in the middle of the night and was like, 'I think we're going to be living in an RV at some point.'"
Ashley wasn't opposed to the idea. Her and her husband, Josiah, were aware of alternative lifestyles—tiny homes, minimalism, and nomadic living—and with her husband being a musician they thought maybe one day they would live in an RV, jumping from one venue to the next.
But those were just thoughts, possibilities of what could be. Ashley and Josiah discussed and envisioned the possibilities, and they liked what they saw.
Not as Weird as It Sounds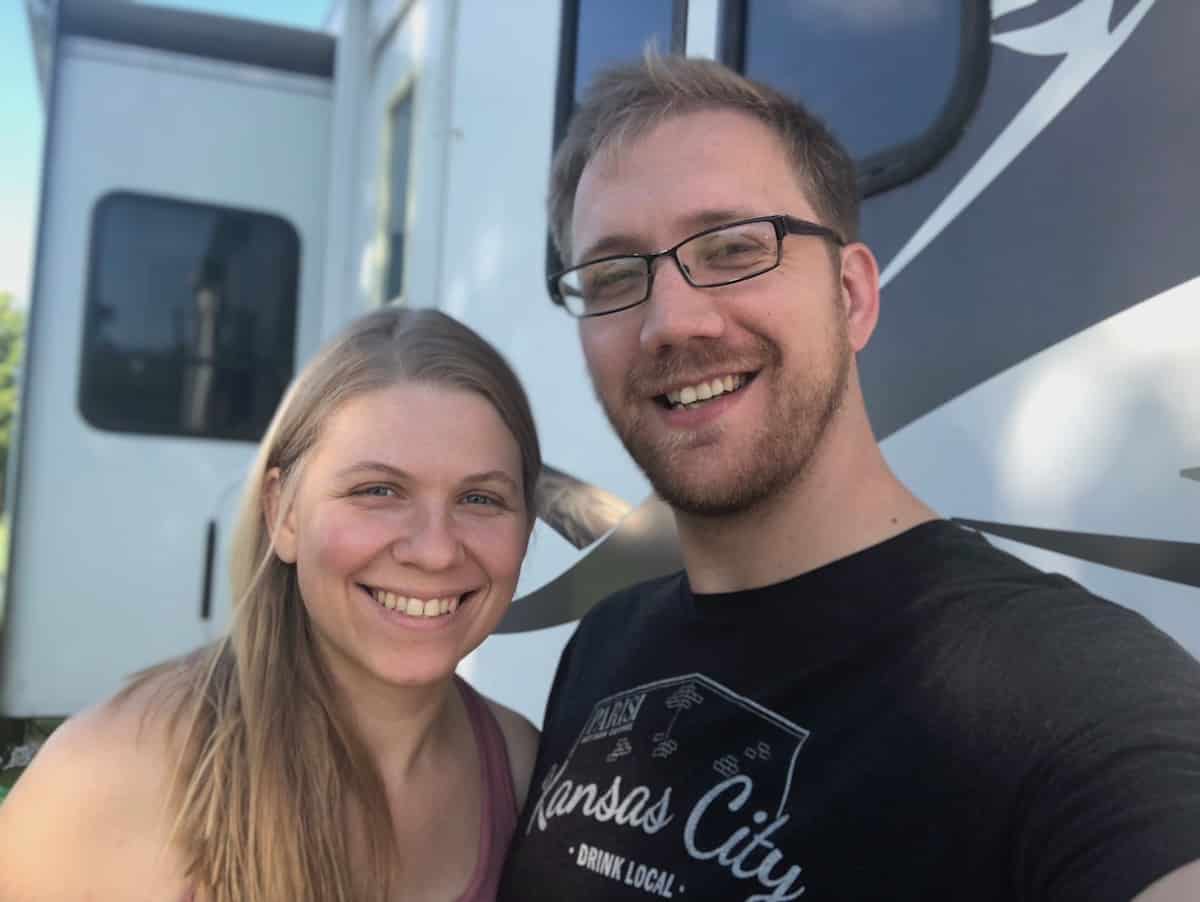 To discuss the dream off the bat makes Ashley sound like some kind of hippie nomad with a penchant for the surreal and paranormal. She's actually a smart and logical individual who used to teach middle school English.
She was gracious enough to talk with me over Skype about her and her husband's lifestyle as full-time RVers and their businesses.
They ended up in the RV as a way to "make a change and leave the status quo kind of life." She said the choice to move into the RV and live the lifestyle they do came from specific goals they set, including time and location freedom.
Both Ashley and Josiah knew that they could have the lifestyle they wanted through owning their own businesses. This started out with the goal of getting into real estate.
Moving Into an RV and RV Inspiration
Their steps into the real estate world led them to Kansas City, Missouri. Instead of living in an apartment or buying a home there, the couple decided to give living in an RV a try. They bought their fifth-wheel and lived in it full-time near the city.
During this time, Ashley started her website, called RV Inspiration. While researching and reading up on RVs, she found many people asking the same questions over and over again. She decided to start her website to help the people seeking answers.
She wants to provide true value to her readers in an educational and straightforward way. Ashley sees her website as a resource for people who have questions about RVing and the RV lifestyle, with content on everything from storage and organization to RV décor. As her site grows Ashley hopes to bring on other contributors to serve her audience even better than she does now.
Although the real estate plan didn't pan out the way they'd hoped, the couple stayed in the RV and Josiah began working in the city. Their entrepreneurial and adventurous spirits not broken, the couple eventually picked up and moved their fifth-wheel to Dallas, Texas. There Josiah could start a software company in the real estate space with the help of a Dallas investor and Ashley could keep plugging away with RV Inspiration.
Continuing to Pursue Their Goal of Freedom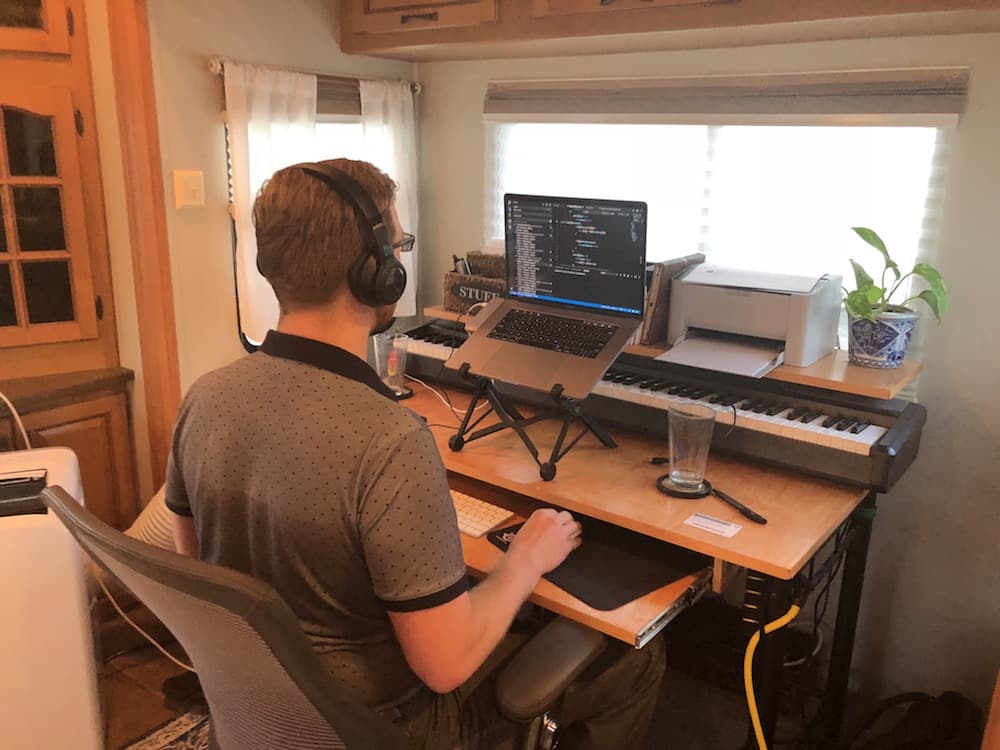 With Josiah's new software company moving along and Ashley's RV blog gaining traction, the couple is now at the point where they have achieved a certain level of time and location freedom. It's a goal they sought when their journey first started.
"It's always kind of hard to explain to people why we live in an RV because we're not actually traveling right now," Ashley said.
That will change soon, as she and Josiah weigh their options and decide where to go. Ashley said she isn't sure where they will travel or when they'll set off. They may stay in Dallas for a while longer, but they're now very close to having the flexibility both with their home and with their professional lives to do so.
"I don't think we're the type to just hit the road and figure it out as we go."
Ashley says that their goal for living in an RV was never really to get out on the open road. It was always more about having absolute freedom. They want financial freedom, freedom to use their time as they want, and freedom to live wherever.
Living a nomadic lifestyle isn't something Ashley is completely uninterested in, but it wasn't the defining motivation behind their choice to live in their fifth-wheel.
"The freedom is what we're looking for rather than the physical manifestation of that."
Ashley said during her last year of teaching before they moved to Kansas City, she had a realization that she could do whatever she wanted. That realization helped her decide that she should go for it.
"I'd learned to be a teacher, and I could learn to do anything else if I wanted to. I could make my life whatever I wanted it to be."
Why an RV is Right for Her
When asked what she likes best about living in an RV, she said she likes the smallness of it.
"I'm definitely not a minimalist, but I do like being limited in the number of things I can own. It's freeing not to have a bunch of stuff in storage or a garage to clean out, and I love that cleaning the whole house takes 10 or 15 minutes."
During their first few years of marriage, she and Josiah lived in apartments and later a house, and Ashley said she sometimes felt burdened by the things they owned. Living in a fifth-wheel keeps her from accumulating all the physical junk that comes with life.
She also said that she liked how easy it was to relocate when they needed to. Although they're not traveling constantly, if one of their businesses took them to a new city or state, they could easily pack up and go.
"I don't want to let go of that mobility anytime soon," she said.
What the Future Will Hold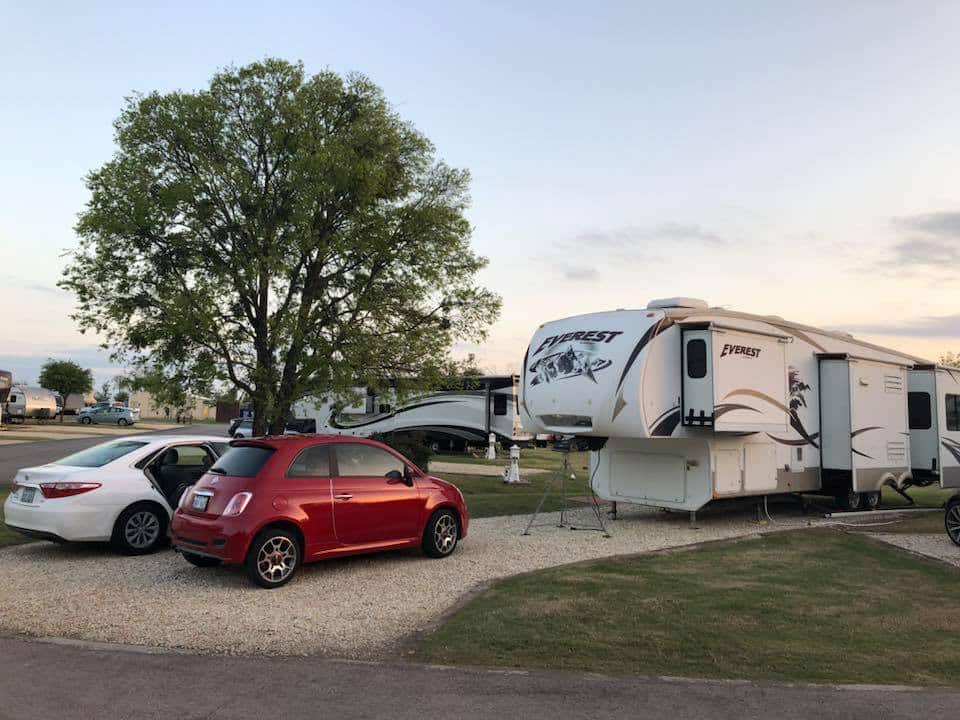 In the immediate future, Ashley envisions Josiah and herself doing some traveling and enjoying the freedom that they have been able to build into their lives. They may take their fifth-wheel on the road. They may find an apartment or home and buy a different RV to travel in.
"I'm tempted by Class C's right now. I'm really looking at those a lot."
Ashley said she's unsure of how long they will stay in their fifth-wheel as their primary residence, but that an RV will definitely be in their future.
So, it turned out that Josiah's dream did come true. While life hasn't exactly turned out how the couple envisioned it, their focus on freedom and doing what they want to do has led them to a lifestyle outside of the norm, one that will foster many adventures to come.
---
What are your thoughts on Ashley's story? Leave a comment below!
Popular RV Rentals!
Search for RV rentals in your area, just type in the location want to rent in.
What Makes Roamly Different?
Get the best coverage for less, no matter where you and your RV go.
Get smarter insurance you can't find everywhere, like policies that let you rent your RV without losing coverage.
Rest easy knowing your coverage is backed by fellow RV experts.
Learn More about making money renting your RV
What people are saying:
Roamly is 33% less than our previous RV policy with State Farm, with no risk of being dropped for renting it out. Most people I talked to reported similar savings. Plus, I got a multiple-vehicle discount rate for my car insurance :)
Lauren S.