Many RVers dream of traveling to Alaska, considering it the ultimate destination on their bucket lists. So we've created a series of articles to help you navigate the Last Frontier in a motorhome or travel trailer, in hopes that you can enjoy exploring the 49th state, as well! And now's the time to start planning your getaway.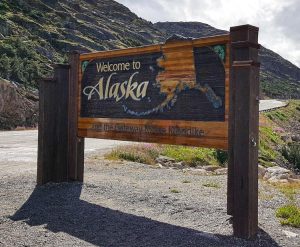 Seward
Located about two and a half hours from Anchorage on the Kenai Peninsula, Seward is an active port town filled with an enormous selection of outdoor activities. Choose from glacier tours, boat trips, bicycling adventures, fishing, wildlife viewing and more. If you happen to be in town over the 4th of July, don't miss the Mount Marathon race – touted as the toughest 5K in the world.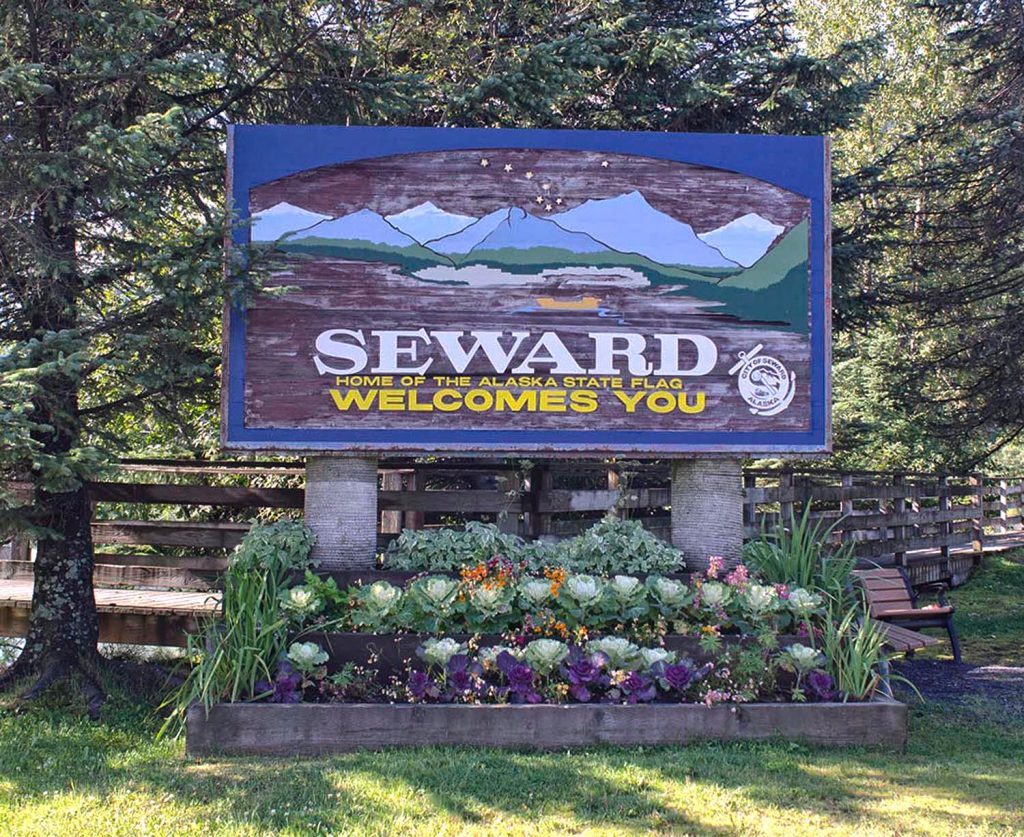 Named after Secretary of State William H. Seward, who orchestrated the purchase of Alaska from Russia for $7.2 million in 1867, the town was founded in 1903. It lies at the terminus of the Alaskan Railroad and has the dubious distinction of being one of the most lucrative fishing ports in America. Today, however, you will see fishermen unloading their catch, while a cruise ship deposits its passengers just down the docks as tourism gives the fishing industry a run for its money.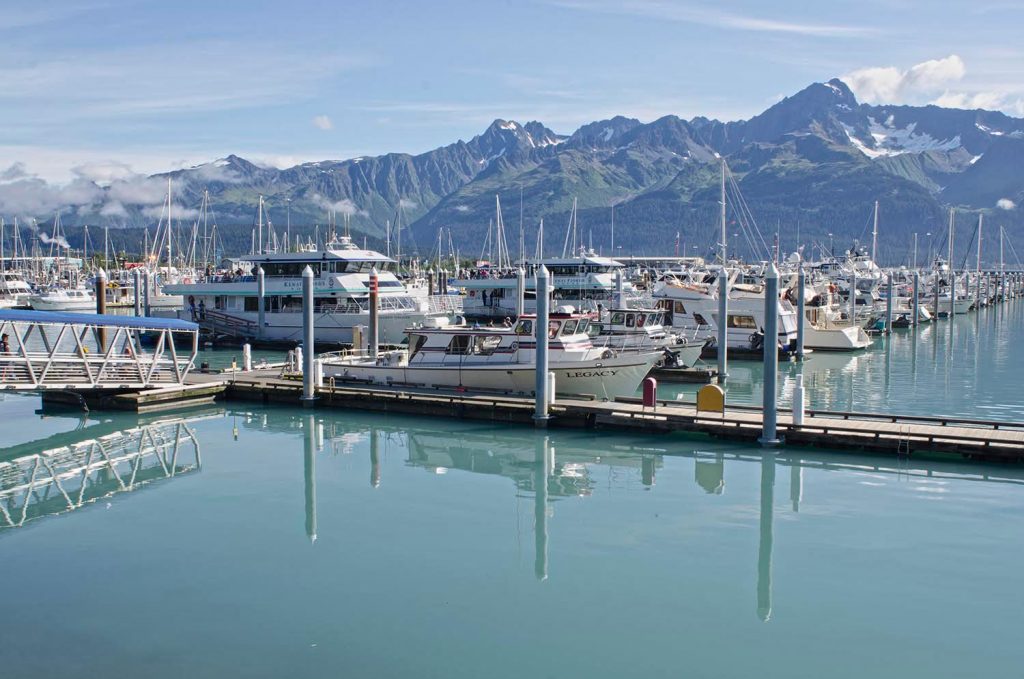 Resurrection Bay Tours
Tour boats offer half and full day journeys into Resurrection Bay, where riders catch a glimpse of humpback and gray whales, Steller sea lions and harbor seals sunning themselves on craggy shorelines, puffins frolicking in the water, and tidewater glaciers in Kenai Fjords National Park. Many trips dock at Fox Island for a wonderful lunch of prime rib or Alaskan king crab, while a park ranger presents an overview of the area's geology. I found this particularly interesting, as Seward was drastically affected by a 9.2 earthquake and subsequent tsunami in 1964.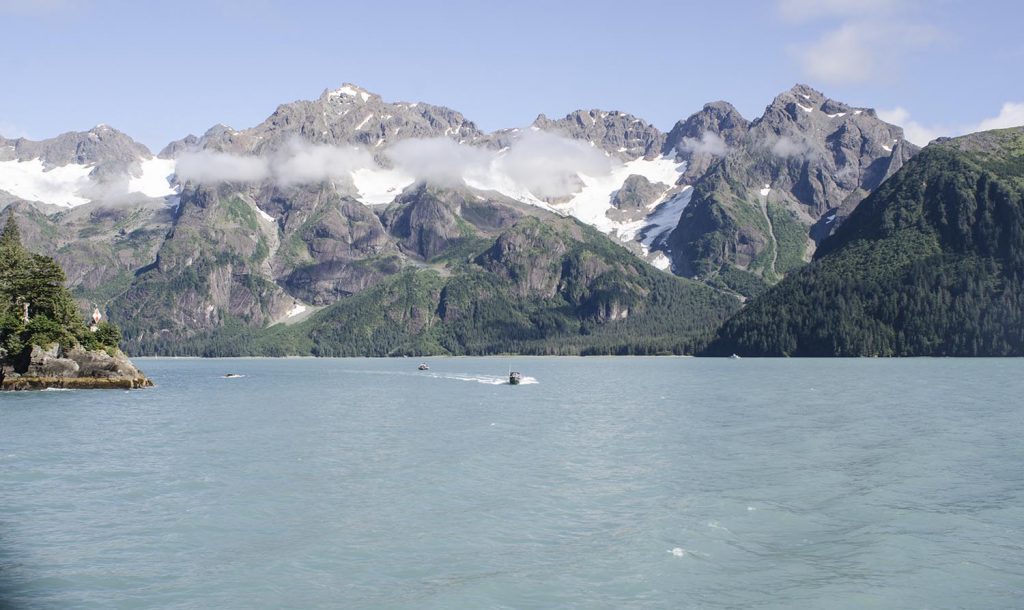 Resurrection Bay is a dream for sea kayakers. It is very large, but even fishing boats and tours are careful about creating wakes when kayaks are in the water, and hugging the coastline will give you ample opportunity to mingle with some of the sea life. Who knows? Maybe a sea otter will take you on as a new playmate!
Alaska SeaLife Center
If you want to see even more marine animals, make a visit to the Alaska SeaLife Center right on the harbor. This facility rescues and rehabilitates mammals and birds, and researches the role these animals play in arctic and subarctic marine ecosystems. Not only can you view the "local" animals here, but animal encounters are available, allowing you to interact with puffins, sea otters, and octopus.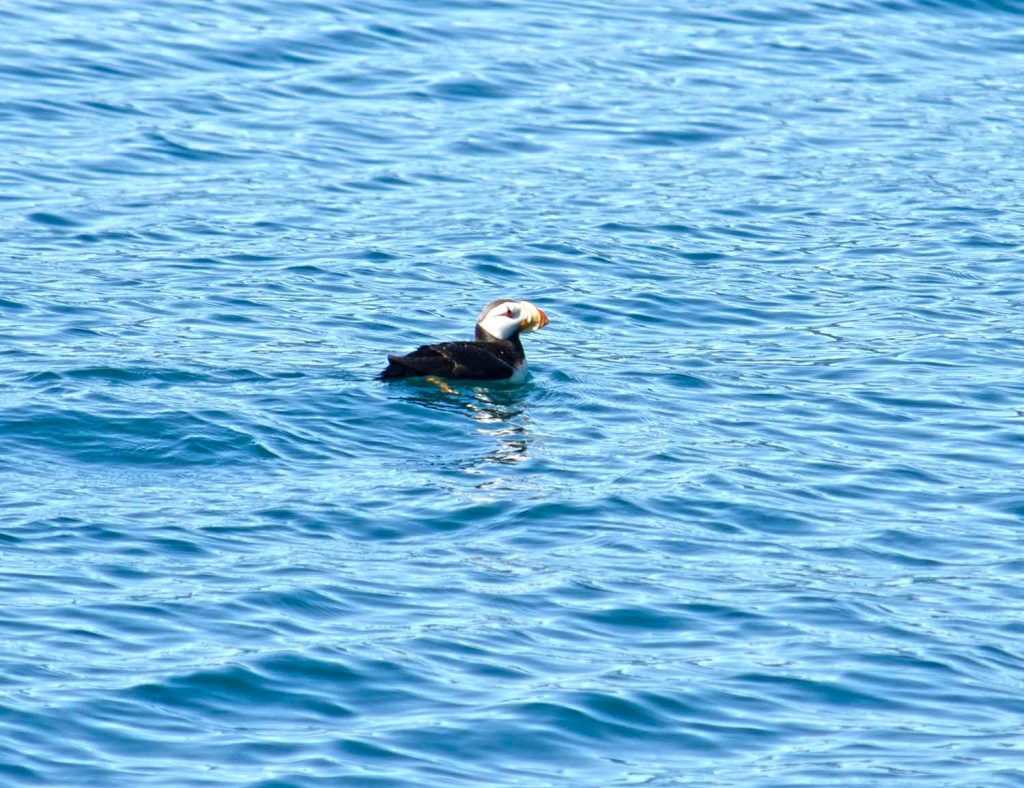 Take a walk around town and you're sure to notice all of the painted murals reflecting life in Seward. There is a sense of wonderment and surprise, with artistic twists in unusual places. The town has a comfortable feel to it, with shops and restaurants catering to just about every desire. Grab a beer and burger at Seward Brewing Company or set your sights on fresh seafood at Ray's Waterfront. One of my favorite places is Resurrection Roadhouse just outside of town a couple of miles and on the way to Exit Glacier. They have a full breakfast buffet, a hearty lunch menu and dinner entrees featuring fresh Alaska seafood and steaks. The scenery from their porch is exquisite!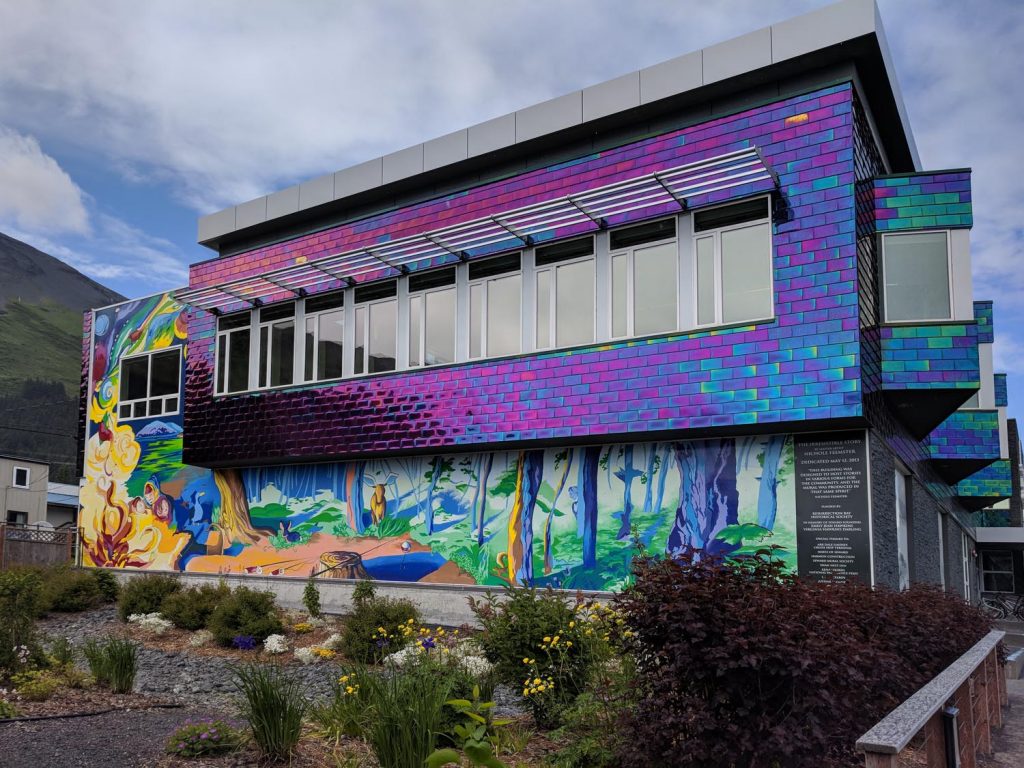 Exit Glacier
Speaking of Exit Glacier, this aptly named hunk of ice is easily accessible at the end of the road. The paved street is marked with signs showing the glacier's regression over the last several hundred years as it slowly 'exits,' and the parking lot has an RV section for easy maneuverability. A short 15-minute hike will then take you right up to the edge of the glacier, giving you a direct view of erosion in action.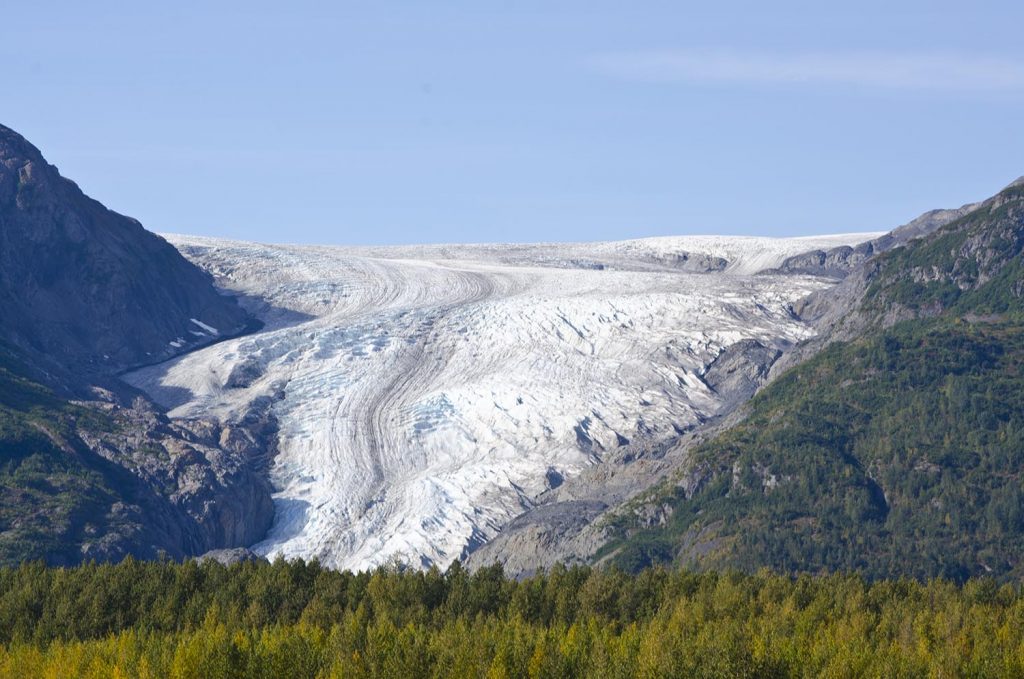 Back in town, it appears everyone is drawn to the harbor. My walks always started at the SeaLife Center and headed past the Mariners' Memorial, with its miniature lighthouse/widow's walk, toward the mile 0 marker for the Iditarod National Historic Trail. Then on around the point toward the port where hundreds of boats are moored.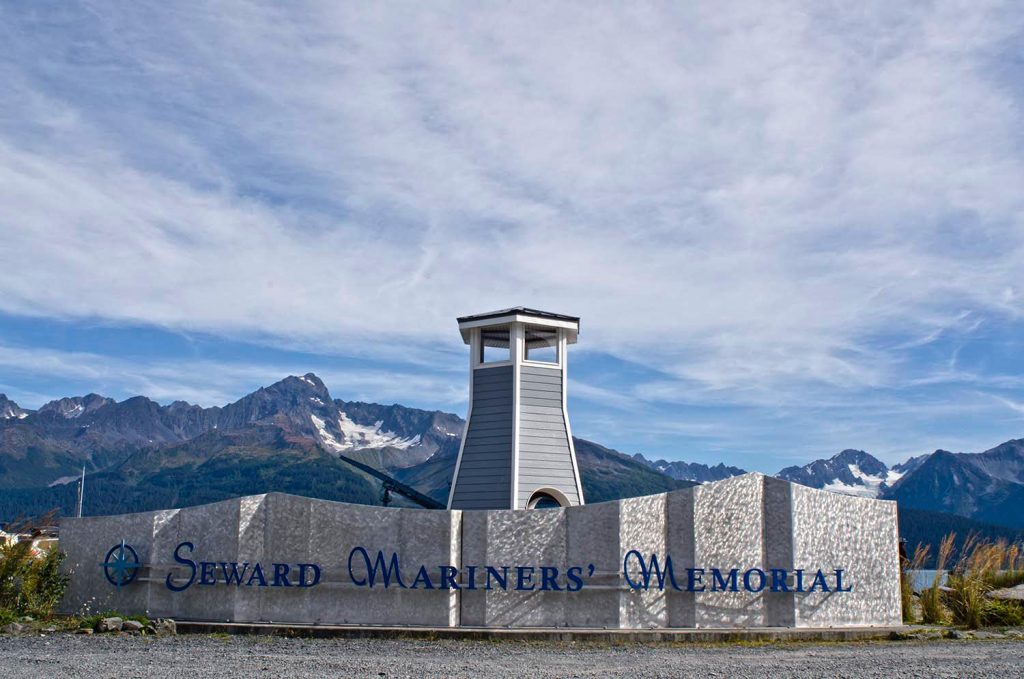 Along this daily walk, you will discover what makes Seward an even more desirable place for RVers: hundreds of campsites right on the bay! The town owns all of the parklands along the bay and has created inexpensive campsites with the most exclusive views. Seward has embraced campers, along with their rigs, trailers, and tents, welcoming those of us who like to travel with our homes. Be sure to reserve your campsite well in advance, because as you can imagine, spots like these fill up quickly.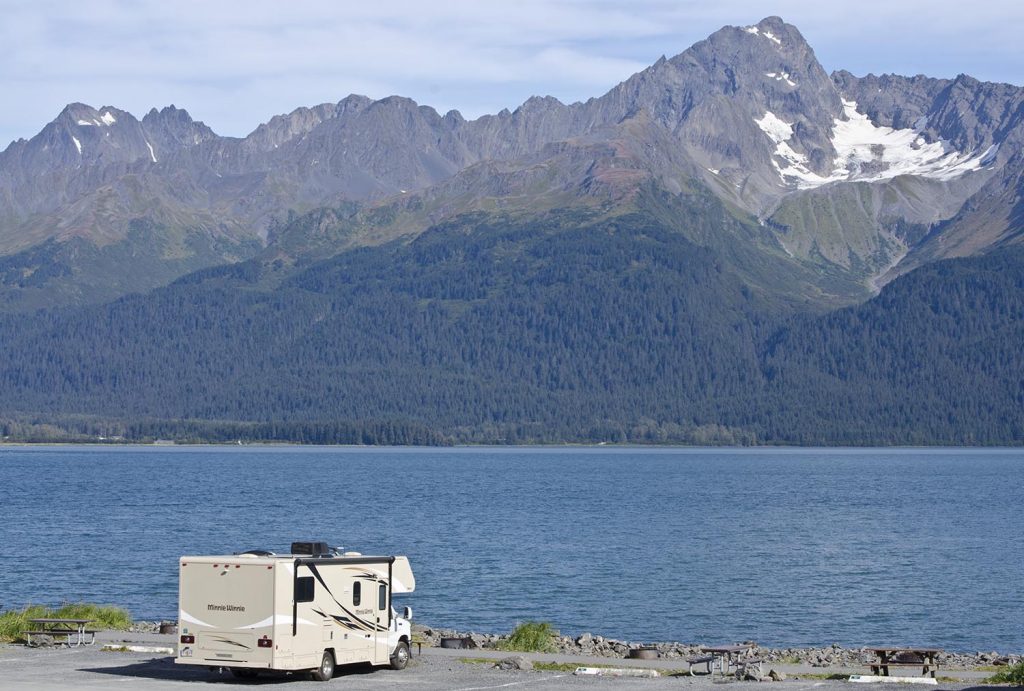 Driving from Anchorage, the highway system is in great repair and easily navigable by even the largest motorhome or travel trailer. You will rise in altitude from sea level to over 2,500 feet then back down to sea level as you approach Seward, but there are no horribly steep grades to deal with. The roads have a narrower shoulder around Moose Pass, but you'll be too busy spying the icy blue waters of Kenai Lake to notice.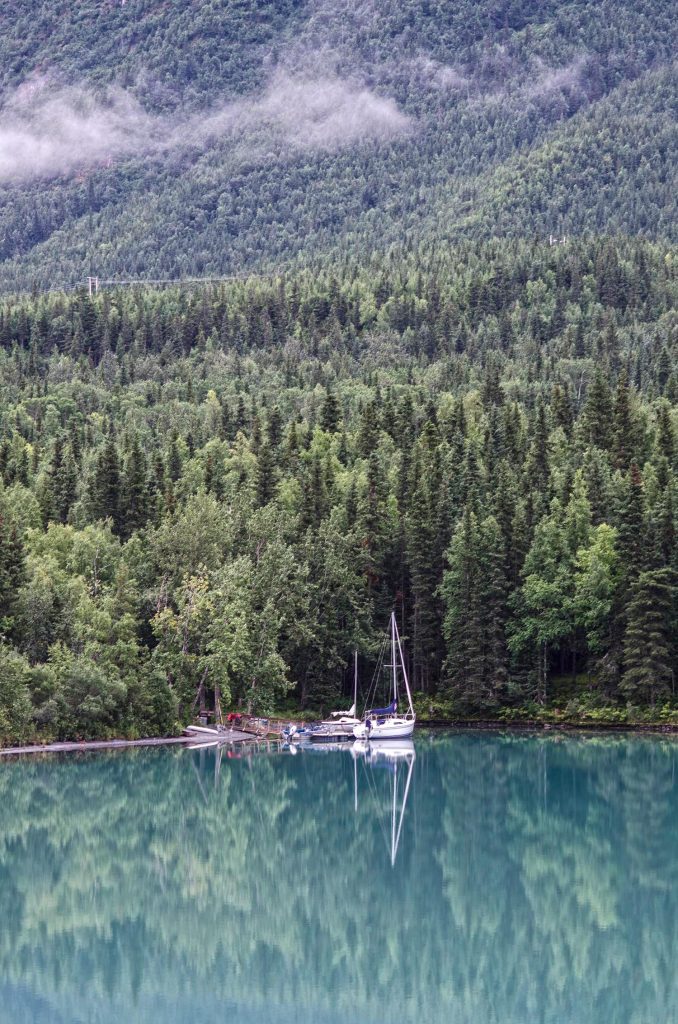 I know you will find Seward to be a terrific Alaskan vacation destination. There are so many places to visit within the Last Frontier. So be sure to join us for other Alaskan getaways in weeks to come!
Author's Note: If you will be driving through Alaska and/or Canada please consider purchasing a current copy of "The Milepost." It is a travel guide that will list necessities (like gas stations) and amenities (like lodging) throughout Alaska and the western Canadian provinces by milepost marker. This is a prerequisite for traveling in the area, as distances between service stations and grocery stores can be hundreds of miles in many cases. Another piece of knowledge gleaned from "The Milepost" are the hours (and seasons) of operation of businesses along the route, as many close down during fall and winter.
---
Does traveling to Seward sound like something you'd like to do? Leave a comment below. 
Popular RV Rentals!
Search for RV rentals in your area, just type in the location want to rent in.
What Makes Roamly Different?
Get the best coverage for less, no matter where you and your RV go.
Get smarter insurance you can't find everywhere, like policies that let you rent your RV without losing coverage.
Rest easy knowing your coverage is backed by fellow RV experts.
Learn More about making money renting your RV
What people are saying:
Roamly is 33% less than our previous RV policy with State Farm, with no risk of being dropped for renting it out. Most people I talked to reported similar savings. Plus, I got a multiple-vehicle discount rate for my car insurance :)
Lauren S.