Fall is a great time of year to go camping and Halloween is no exception! Changing leaves and cooler temperatures are perfect for making fun family memories around the campfire.
Many campgrounds offer weekends of chills and thrills during the month of October. Check out these tips for enjoying your Halloween RV adventure and make your plans now.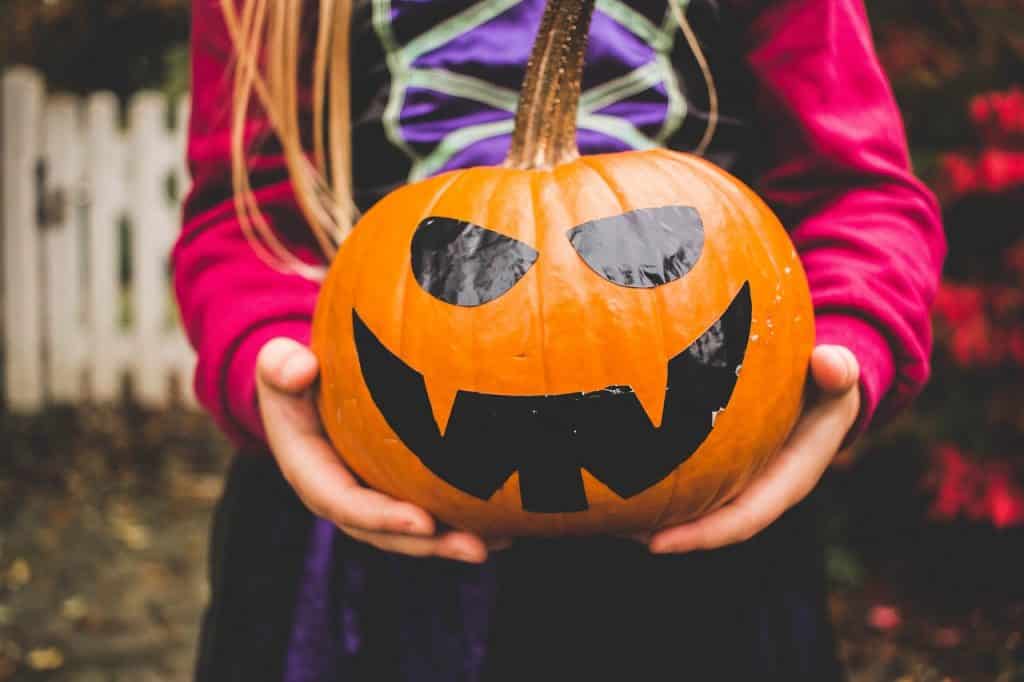 Hayrides & Haunted Trails
These two activities are found at many campgrounds during October. Hayrides are fun for every member of the family, young and old! They often stir up nostalgia and memories of Halloweens past.
If you're looking for something a little more spooktacular, many campgrounds host haunted hayrides after dark or even haunted trails in spooky woods. Scenic Ridge Campground in Whitewater, Wisconsin, has been hosting a haunted trail for over 10 years.
Campfires
Let's face it, campfires are so much more fun when the weather is a bit chilly. Combine that with Halloween and October is the perfect time for telling ghost stories around the campfire.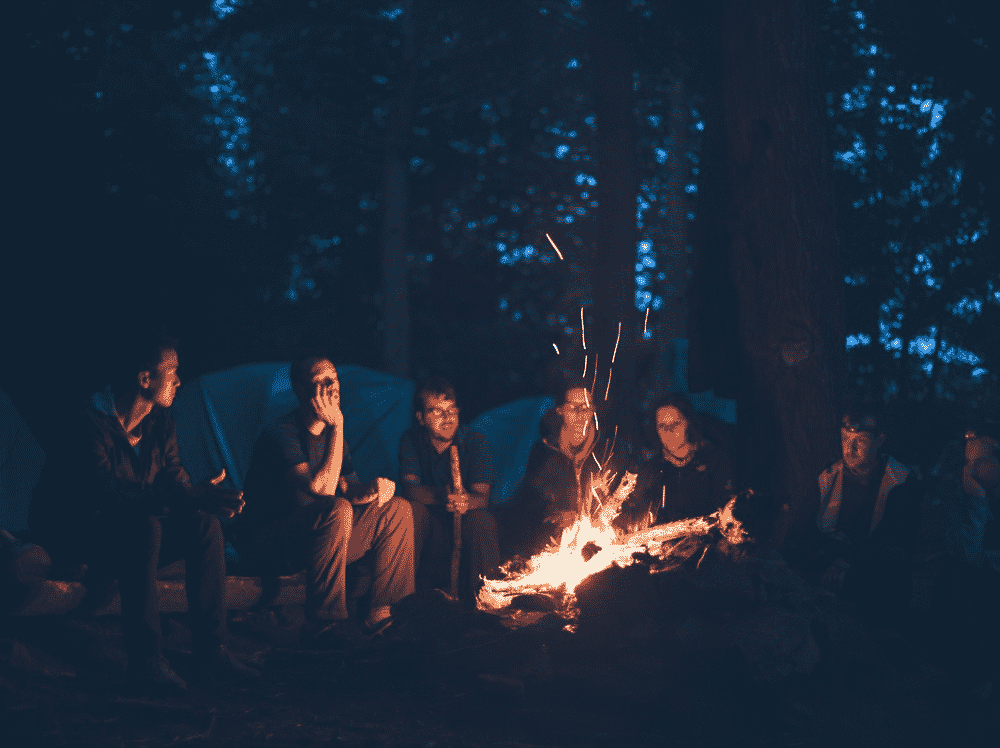 For a special treat, substitute the marshmallows in your s'mores with Halloween Peeps. If you want to be more elaborate, prepare some Halloween candy bark in advance for your s'mores. Just melt chocolate chips, pour on a cookie sheet, and add candy corn, candy eyes, and M&M's. Let cool, then break into s'more size pieces.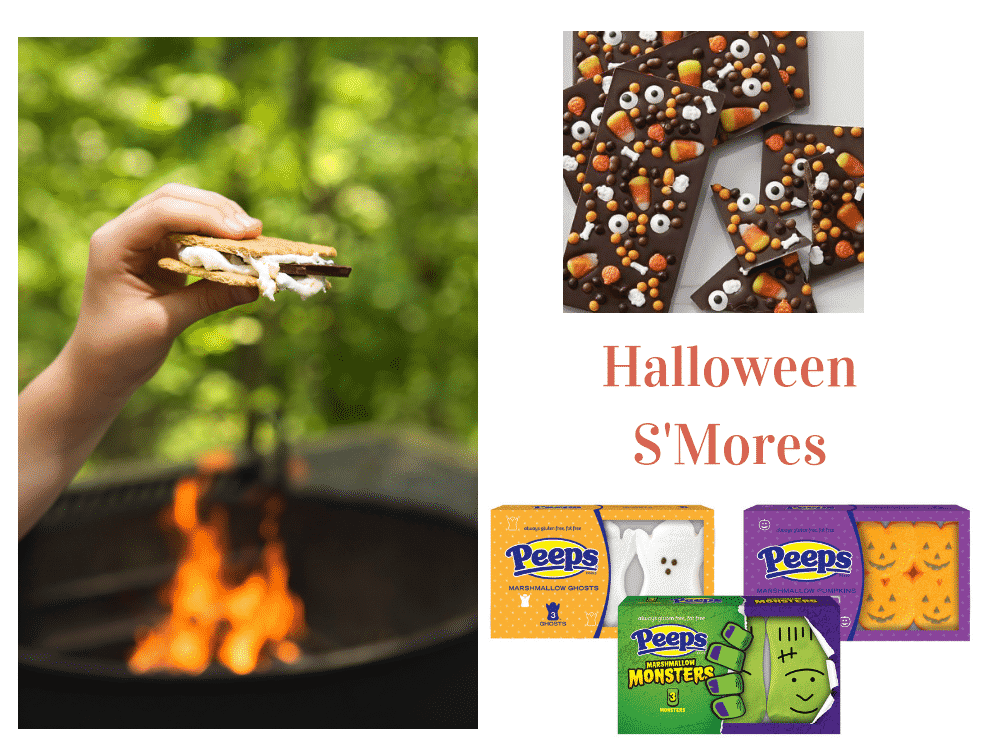 Trick or Treat
Don't forget to bring your costume to the campground! Halloween themed events typically include costume contests and trick or treating. If you're going to a rustic location without planned events, bring your own goodies and surprise the other campers with treats!
Halloween Camper Décor
You can easily make your own inexpensive Halloween decorations like banners, flags, paper ghosts, and goblins. Carving pumpkins and creating your own jack-o-lanterns is a favorite family activity. Bring enough for everyone in your group, and you'll have a friendly competition on your hands.
If making your own decorations isn't your thing, you can go all out like the campsite contest winner shown below with inflatable decorations and lights.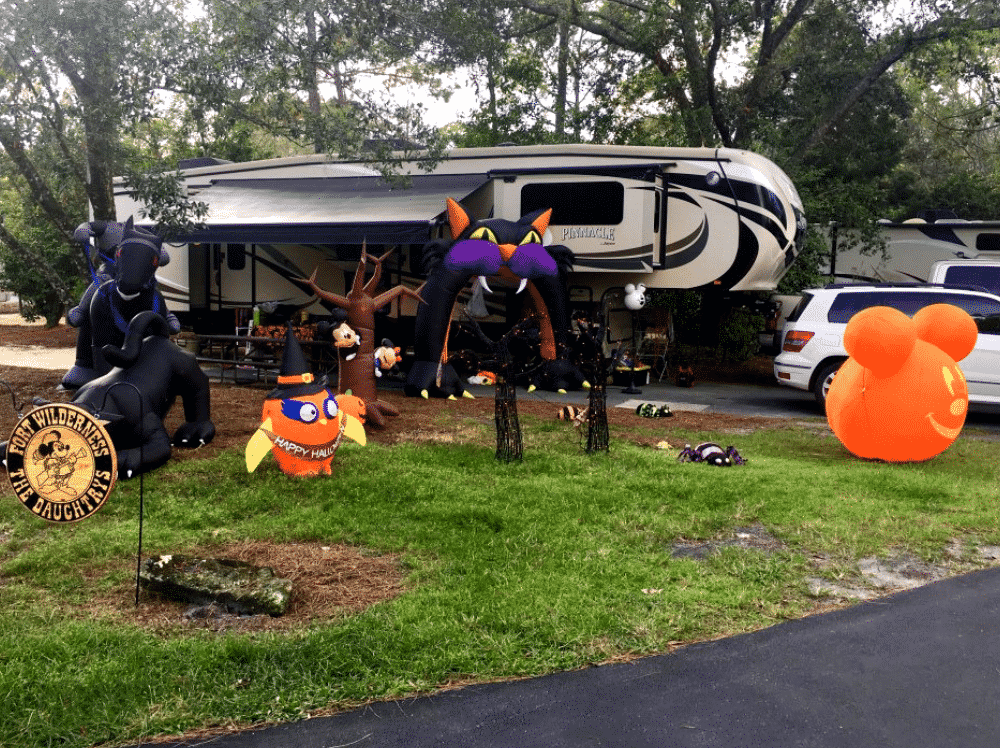 Find Your Halloween RV Camping Destination
By now, I'm sure you're convinced to go camping for Halloween. Here are a few suggestions for a great camping destination:
Yogi Bear's Jellystone Park at River Bottom Farms in Swansea, SC
This park, which has six consecutive Halloween-themed weekends, features a haunted house. The attraction is set up inside an old 400-foot long barn with 20 to 25 actors and animatronics. Three of the Halloween-themed weekends are "no scare" weekends designed for families with younger children.
Delaware Water Gap / Pocono Mountain KOA in Stroudsburg, PA
The entire month of October boasts Halloween activities at this KOA. Join in the fun that includes site decoration, costume contests, campfires, and pumpkin decorating.
Ponca State Park in Northeast, NE
Annual Hallowfest offers a variety of unique activities that have made this event a fall tradition for many families. Activities include campsite and cabin decorating contests, a pumpkin roll, pumpkin carving contest, haunted hayrack rides, seasonal crafts, and much more.
Lums Pond State Park in Bear, DE
Harvest weekends include enjoying hayrides and making mini scarecrows. Halloween Hoot camping boast music, games, pumpkin decorating, crafts, trick-or-treating and more.
Harbortown RV Resort in Monroe, MI
Halloween fun at this campground lasts the entire month! Every weekend they host a pumpkin bounce house, costume party, haunted house, costume dance with DJ, and costume and campsite decorating contests.
Fort Wilderness Resort & Campground at Walt Disney World in Florida
Guests go all-out with site decorations at this popular campground. They also have an annual golf cart parade, pet parade, and pumpkin decorating contest. Weekly screenings of the 1949 Disney animated classic film "The Legend of Sleepy Hollow" are held at the Tri-Circle-D Ranch Stables. On movie nights, guests are warned to watch out for galloping ghosts and be ready for an up close and personal encounter with the Headless Horseman.
---
As you can see, there is plenty of Halloween fun to enjoy on your fall camping trips. So tell us, where's your favorite Halloween camping destination?
Popular RV Rentals!
Search for RV rentals in your area, just type in the location want to rent in.
What Makes Roamly Different?
Get the best coverage for less, no matter where you and your RV go.
Get smarter insurance you can't find everywhere, like policies that let you rent your RV without losing coverage.
Rest easy knowing your coverage is backed by fellow RV experts.
Learn More about making money renting your RV
What people are saying:
Roamly is 33% less than our previous RV policy with State Farm, with no risk of being dropped for renting it out. Most people I talked to reported similar savings. Plus, I got a multiple-vehicle discount rate for my car insurance :)
Lauren S.