Horses were in North America before the Spanish explorers arrived but went extinct about 10,000 years before the conquistadors starting hitting the beaches. Columbus brought the 'modern era' of the equine to North America first. The explorer decided horses were necessary on his second voyage when he returned to North America in 1493 and left a herd on the Virgin Islands. 
As for the mainland, we can place that responsibility on Cortez. In 1519, he brought a herd over to Mexico. These horses broke free and took it upon themselves to head north and swam (or walked, depending upon the spot and season) across the Rio Grande to come into modern day America. Since Cortez lost these horses he brought over more. These horses broke free, too, and so on and so on. 
The number varies from source to source, but currently there are approximately 35,000 wild horses under the supervision of the BLM (Bureau of Land Management) and up to another 20,000 running wild on public lands.  
In general, the best time to see wild horses is summer, which is foaling season for horses. We've selected not the only places, but the best places to get a chance to see wild horses. Wild horses roam in every western state from Oregon to North Dakota to Texas. Nevada is particularly notable as it may hold up to half of America's wild horse population. Here's the breakdown:  
Colorado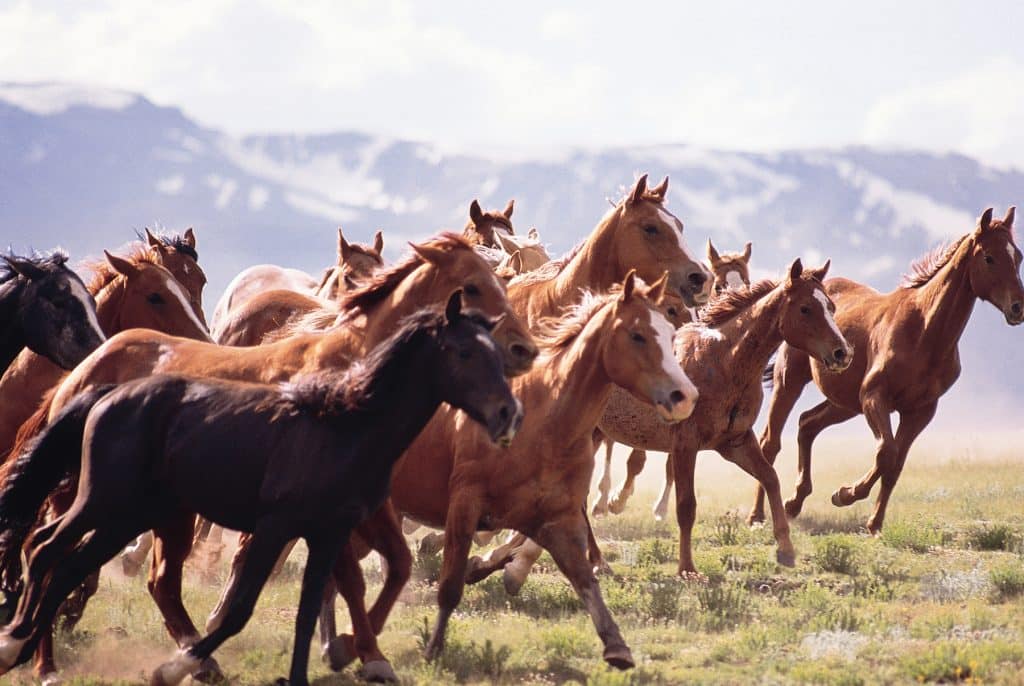 Wild horses in Colorado are located mostly on Colorado's western slope as you near the Utah border. Common locations to find wild horses are Sandwash Basin in the northwestern part of the state and Spring Creek, which is southwest of Montrose as you head toward Ridgway. The Ridgway area, FYI, is where both the John Wayne and the Jeff Bridge's True Grit films were shot. 
Nevada
You may recall the film The Misfits. The final completed film for both Clark Gable and Marilyn Monroe written by the famous playwright Arthur Miller, The Misfits revolves around the wild west of Nevada and includes capturing wild mustangs. To this day, mustangs still roam a lot of Nevada, most notably on the Virginia Range, which is accessible by trails just east of Reno in northern Nevada. 
Other places to see wild horse in Nevada are: New Pass-Ravenswood Herd Management Area along US Highway 50 about 40 miles northwest of Austin, the Wheeler Pass Herd Management Area which has a herd often viewed from the Willow Creek Campground near Las Vegas, and Great Basin National Park in Eastern Nevada close to the Utah state border. 
North Dakota
North Dakota's wild horses are mostly situated in Theodore Roosevelt National Park where a herd of approximately 200 roam North Dakota's badlands. 
Utah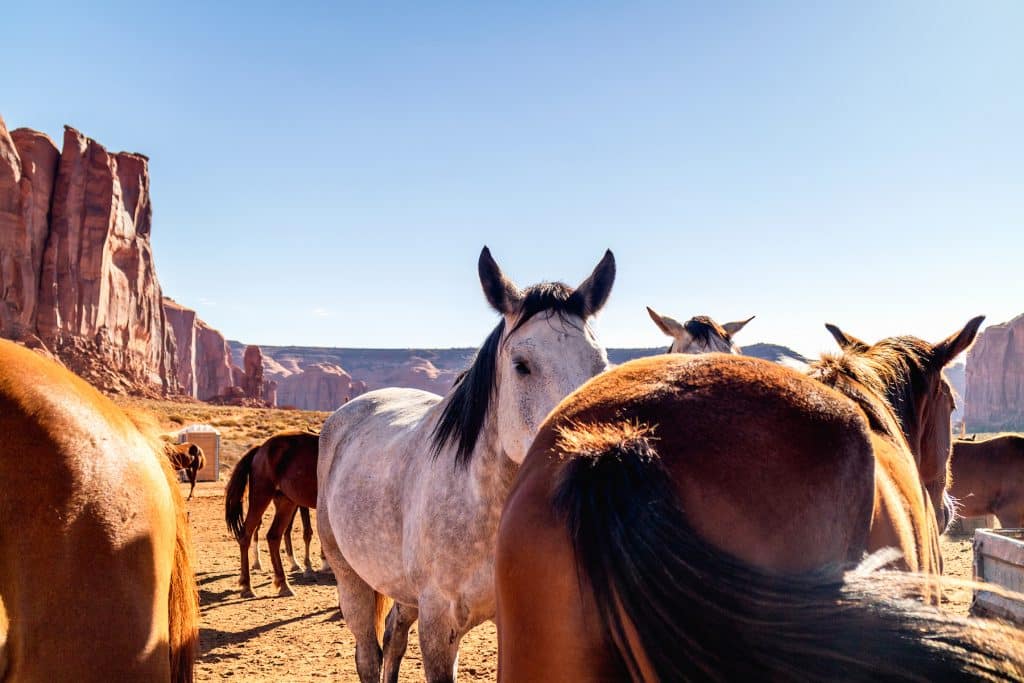 The  Onaqui Herd Management Area  has one of the biggest herds of wild horses in Utah. Their area extends from Johnsons Pass south to Look Out Pass. Wild horses can be seen on the flat areas along the east and west sides of the mountain range. 
The Pryor Mountains
The Pryor Mountain Range runs from Montana into Wyoming, as does the herd of approximately 200 wild horses. They are generally found in the northeast region of the Bighorn Mountains. The Pryor Mountains also have a center, the aptly named Pryor Mountain Wild Mustang Center. 
Wyoming
Wyoming has about 6,000 horses roaming the state from the badlands north to the Montana border. If you want the chance to see a good chunk of them, take the Pilot Butte Wild Horse Scenic Loop. It's 23 miles long, mostly on gravel roads, and near Rock Springs. Contact the Rock Springs BLM office for information.  
North Carolina
Yes, it's true. Not all wild horses are in the Great American West. One special breed is located on the Outer Banks. These, wild Colonial Spanish Mustangs, run on northernmost Currituck close to the Currituck National Wildlife Refuge. These horses are relatively easy to see since they are on an island and generally near the lighthouse. 
But wait, there's more. North Carolina's islands have quite a few herds. Head further south from Currituck to check out the Shackleford Mustangs. You'll have to exit your RV for these as they are only accessible by boat. This herd is located on the nine-mile stretch between Beaufort Inlet and Cape Lookout. Also, take a look at the Beaufort wild horses that are part of the NC Coastal Reserve and National Estuarine Research Reserve. 
Assateague Islands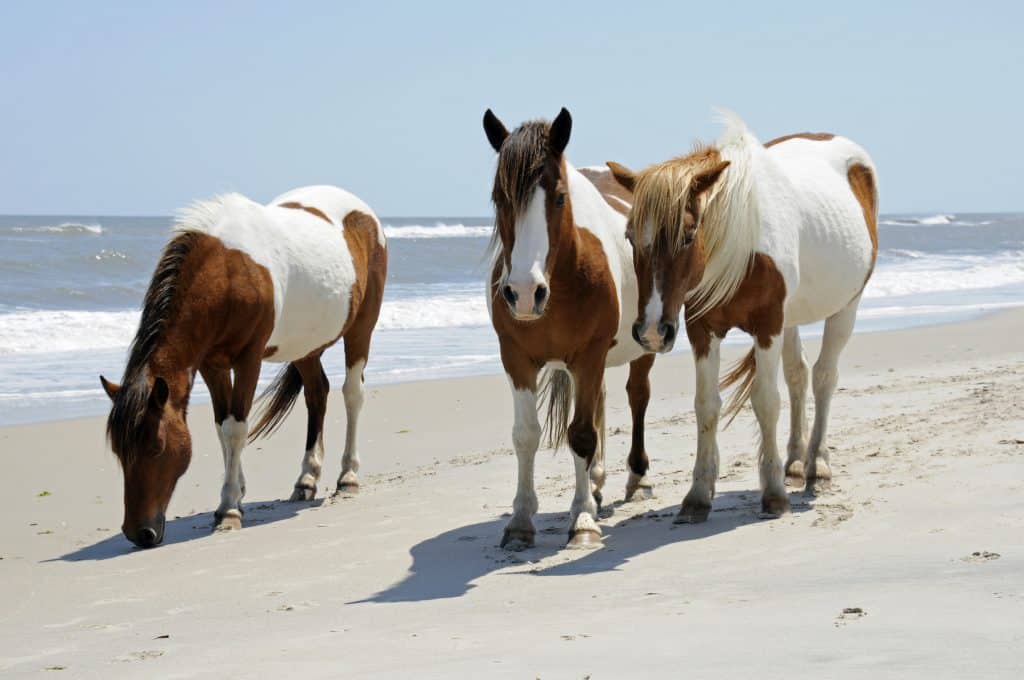 East we remain for our final herds. There are two states in this mix for this location since the Assateague Islands are part of both Virginia and Maryland. Some of you literary types may recognize this location as the basis behind the 1947 Newberry Medal-winning novel, Misty of Chincoteague. These islands are home to approximately 300 wild horses. It's a lot, but that combines both the Virginia herd and the Maryland herd. The Maryland herd has a watchful eye kept on them by the National Park Service as these horses roam the Assateague Island National Seashore.  
The Virginia horses are looked over by the Chincoteague Volunteer Fire Company. This herd resides in the Chincoteague National Wildlife Refuge. A strict number of 150 horses are kept here. Every July the CVFC holds the annual Chincoteague Pony Swim. During the event, the horses are led to swim from Assateague Island to Chincoteague Island. Once they get there, the foals are auctioned off to keep the herd at 150. 
---
Any place you've seen wild horses that you'd love to share? Please drop us a line! 
Popular RV Rentals!
Search for RV rentals in your area, just replace Texas with city or state you want to rent in.
What Makes Roamly Different?
Get the best coverage for less, no matter where you and your RV go.
Get smarter insurance you can't find everywhere, like policies that let you rent your RV without losing coverage.
Rest easy knowing your coverage is backed by fellow RV experts.
Learn More about making money renting your RV
What people are saying:
Roamly is 33% less than our previous RV policy with State Farm, with no risk of being dropped for renting it out. Most people I talked to reported similar savings. Plus, I got a multiple-vehicle discount rate for my car insurance :)
Lauren S.