Walt Disney World's Fort Wilderness Resort and Campground is undeniably popular with RVers. Ask brand new RV owners at the Florida RV SuperShow where they'll first take their shiny new rig, and you're likely to hear Fort Wilderness. An RV stay at Fort Wilderness isn't your usual RV experience, however.
If you've never camped at Fort Wilderness, a few things will surprise you. The guide below will help you plan ahead for your stay at the "Happiest Place on Earth."
The Campground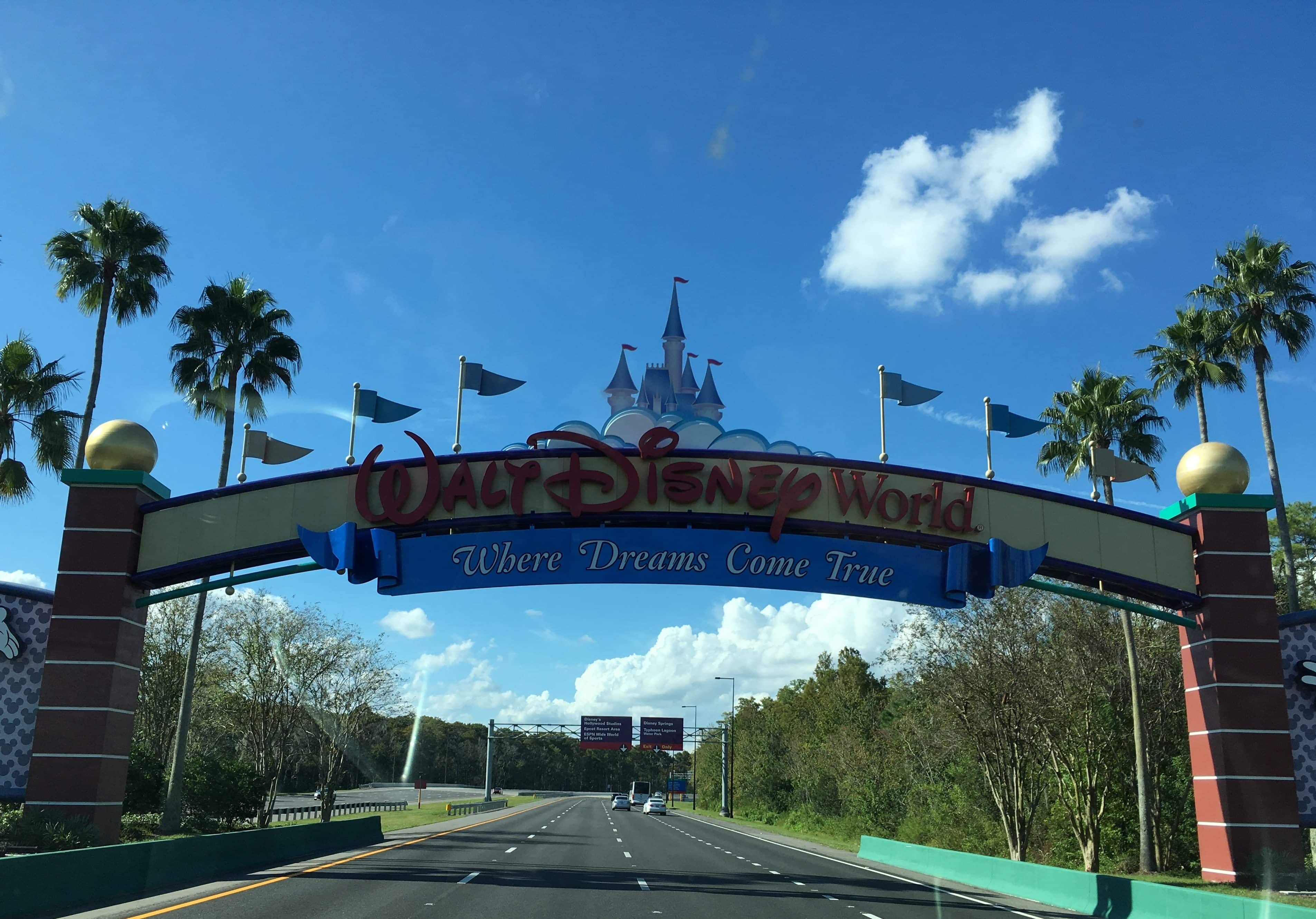 Disney's Fort Wilderness Campground is truly a resort. At 750 acres, it's sure to be larger than many places you've camped. Amenities go far beyond pools and laundry facilities. The resort has dining, archery, nightly campfire songs, movies, and much more.
Layout
Fort Wilderness contains roughly 800 campsites plus cabins. The campsites and cabins are all arranged in loops. As an RVer, you would be staying in one of 21 loops. More specifically loops numbered from 100 to 2100.
Loop 100 is close to the marina which has boat transportation to the Magic Kingdom and Disney's Wilderness Lodge and Contemporary resorts. Pioneer Hall is also up in that area which has dining, an arcade, and a nightly dinner show. Pony Rides are also available in the northernmost area of the campground.
Middle loops are close to the pool, archery, Meadow Trading Post, and Meadow Snack Bar.
Reception, lobby, golf cart rentals, and bus transportation to all of the Disney parks are at the southernmost end of the campground. As loop numbers go up, you're closer to these areas, but the cabins are actually the closest.
Transportation
Given Fort Wilderness's size, you'll probably want to rent a bike or a golf cart even if you don't normally use either at campgrounds. If you own a golf cart, this is a great place to bring it. Don't plan on walking over to a friend or family's site unless you're in the same loop (more about this below).
Many amenities will end up being too far to walk to for most people. Although golf cart rentals are available, they tend to be reserved quickly and far in advance. Luckily, Fort Wilderness has three—yes, three!—internal bus lines that connect the sites, amenities, and Disney park transportation at Fort Wilderness.
The Orange Bus line runs up the center of all of Fort Wilderness, with all lines connecting to both the bus depots at the Southern end of the campground (the Outpost) and the northern end (the Settlement Depot).
The main thing to keep in mind is that you won't be able to use your tow car to drive to many of your destinations within the campground as the only parking available is designated golf cart parking and bike racks.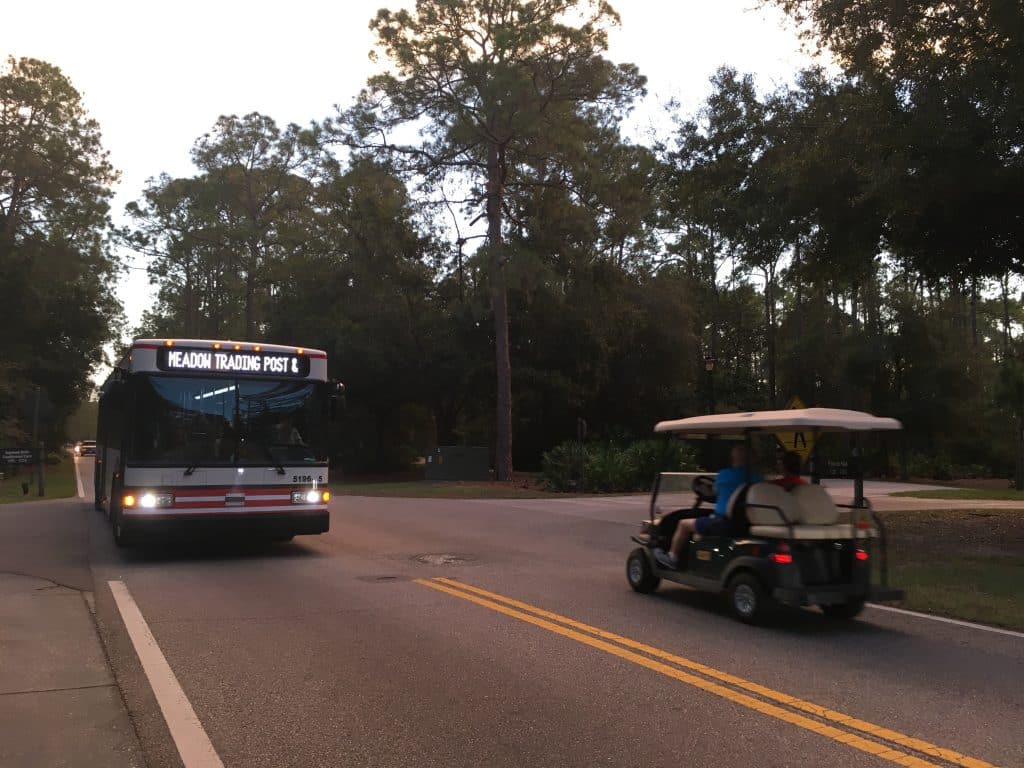 Bath Houses and Laundry
Although it's not practical to walk to all available amenities from your campsite, each loop does have a Comfort Station within walking distance.
Each Comfort Station has restrooms, showers, and laundry. The laundry machines are conveniently operated by credit card.
This is a convenient bonus compared to many campgrounds. Comfort Stations are locked, and can only be opened with a Magic Band (more on these below) after hours.
The Campsites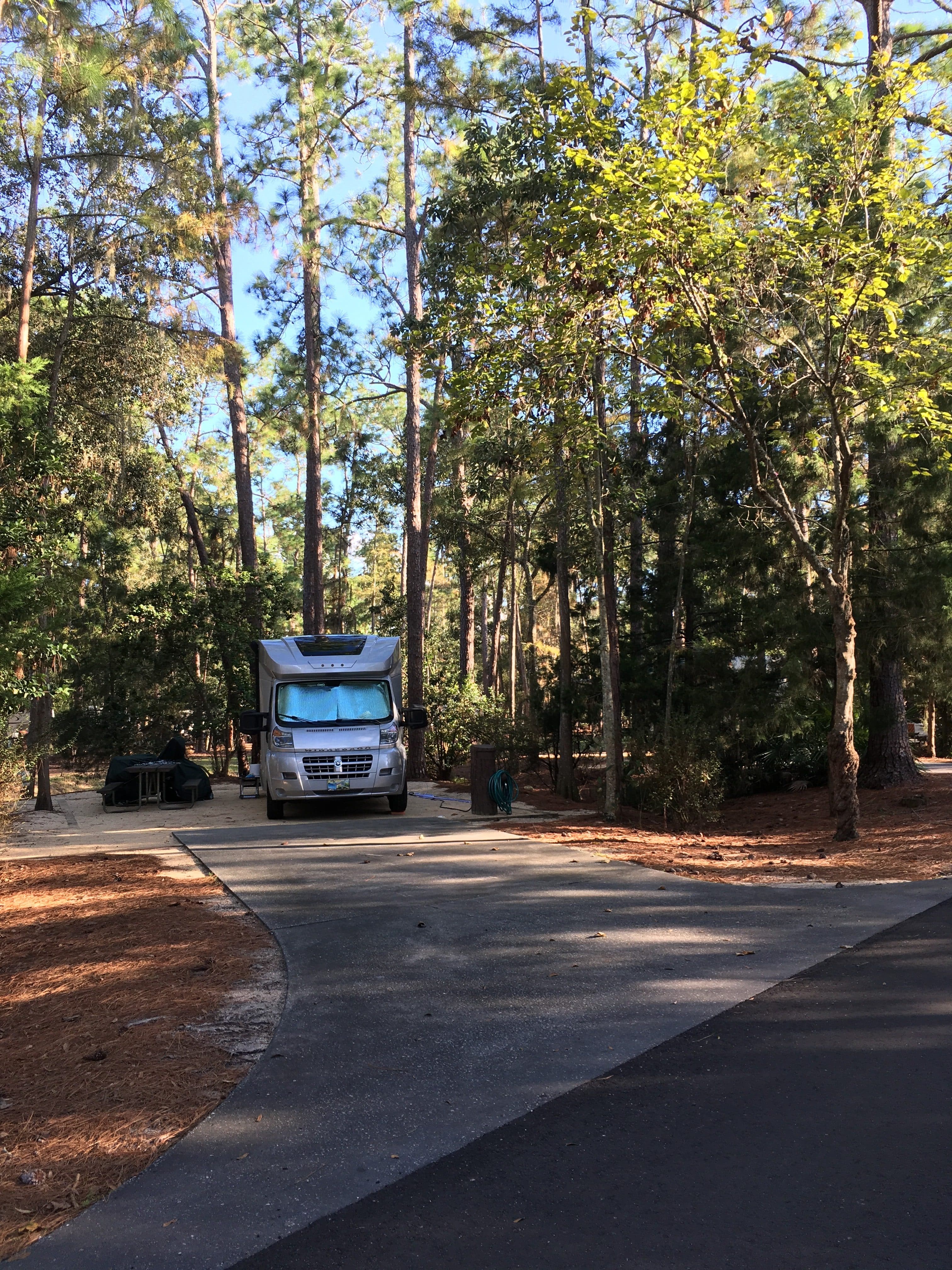 There are a few different types of campsites avaliable inside the park. Different campsites are designed for different needs, so be sure to get the one right for you.
Types
Fort Wilderness offers four different types of campsites. The smallest of the campsites are the Tent or Pop-Up sites. These are 10′ x 25′ in size. Despite their name, most Class B RVs and small Class C RVs fit on these sites. These sites are found in the 1500 and 2000 loops.
Generally speaking, these aren't pet-friendly sites as pets can't stay behind in soft-sided pop-ups trailer RVs or tents. When it comes to hard-sided RVs, a little over half of all campsites are pet-friendly, though.
All other campsites are full hook-up meaning they have sewer hook-ups. If you'd like this make sure to get a site that's called Full Hook-Up. These measure 10′ x 50′ in size and can accommodate Class C, Class A, and Class B RVs.
Following those are sites known as Preferred which come in at 10′ x 45′. Preferred sites are designated as such based on location in the campground. These tend to be in close proximity to amenities such as the Marina at the north end of the campground where you can catch a boat to the Magic Kingdom.
The top tier campsites at Fort Wilderness are the Premium campsites, which larger at 18′ x 60′. These are ideal for RVs in the 40 ft range or with many slides. The size of these sites is what makes them premium sites.
Full Hook-Up, Preferred, and Premium, sites all have water, electric, and sewer hook-ups. All sites, including the Tent or Pop-Up sites, have 20, 30, and 50 amp electric hookups.
Privacy
Fort Wilderness is often at full capacity, yet you enjoy a great deal of privacy at any campsite. Beautiful Florida foliage and landscaping provides privacy between sites. Additionally, the sites are staggered in such a way where RVs aren't directly next to each other.
So, even if it was possible to see through the foliage, your window wouldn't be lining up with the RV next door's window.
The quietest sites are in loops 1700 to 2100. They're quietest because they are farthest from the amenities to the north and the amenities in the middle of the campground where the pool is.
Heat & Mosquitoes
In Florida heat and mosquitoes are always a concern. Just about each campsite is shady, but heat can still be a concern. You'll want to be sure that your air conditioning is in good working order before your stay so you can stal cool and comfortable.
You'll also want to have screens for your RV and make any necessary repairs to those before arrival. Fort Wilderness does an excellent job managing mosquitoes and they greet you with a complimentary pack of mosquito repellant wipes. However, it's still Florida, and you'll want to be prepared.
Booking Your Stay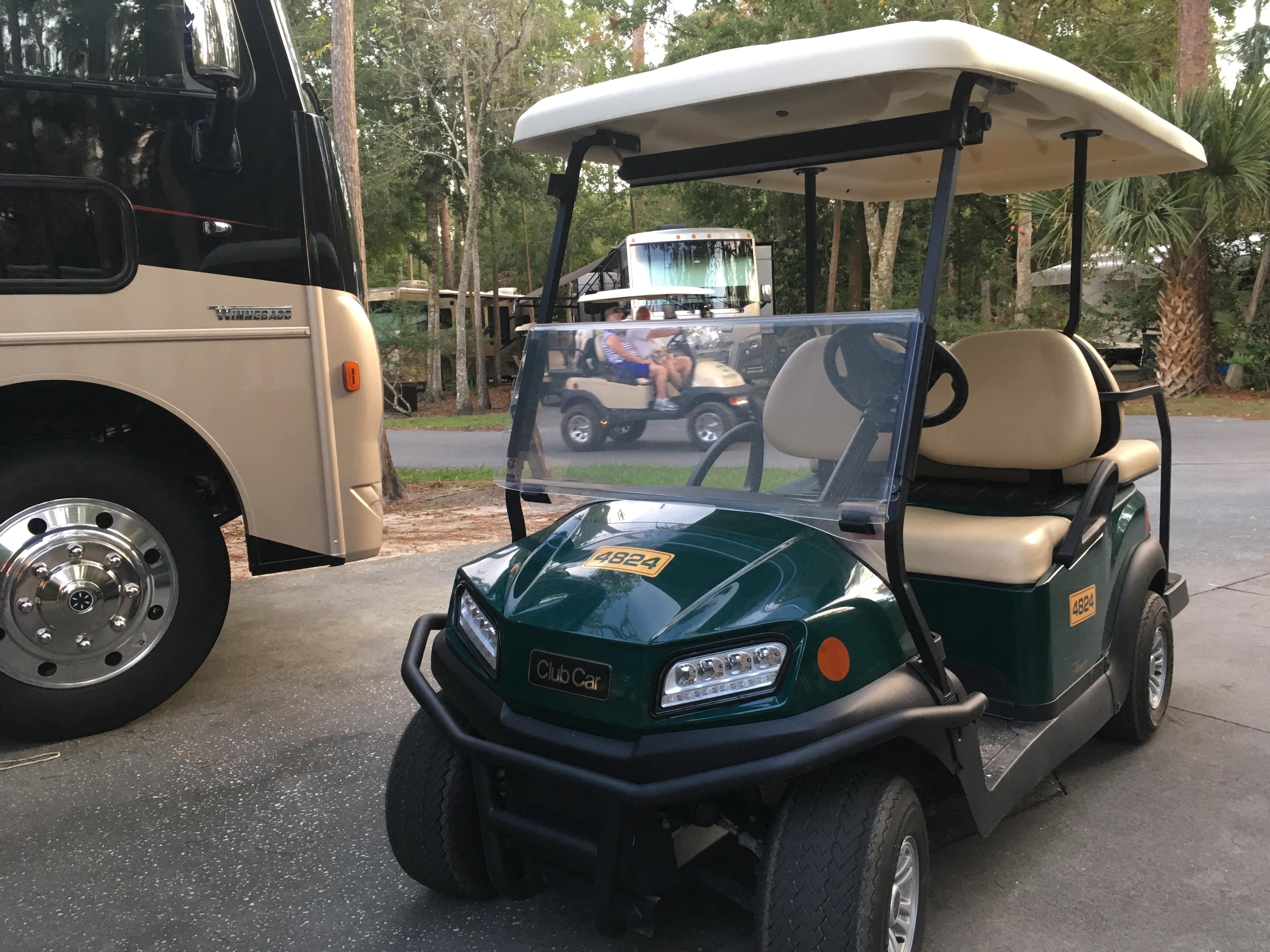 Calling In
Booking your stay will be easiest by phone. Online it's common to find zero availability. When calling, you'll likely find that sites have opened up, or there have been cancellations.
Booking will be the most difficult part of your stay. RVers book their Fort Wilderness sites as far as a year in advance.
You'll also want to keep in mind that you'll likely be more knowledgeable, as far as RVs go, than the person you're speaking to. There's a chance that they won't know if your rig will fit on the campsite. Be sure to know the size of your RV and ask for what you need.
You may also want to know what your RV measures with the slides out. If you have a Class B or small Class C, you will make yourself clearer by using the term camper van. This is important if you'd like to stay in a Tent or Pop-Up site.
Reservations
If you're an experienced RVer, you might be used to having a campground map available to see online. You also tend to expect to be assigned a site or a particular section. Fort Wilderness does not have a map with labeled sites on their official site.
Once you have reservations you won't actually be assigned a campsite or a loop either. You won't find out where you'll be specifically until you arrive. You'll know what type of site you'll have, but that's it. You can request a site or a loop, and they'll make a note of it, but there are no guarantees.
Magic Bands
One thing you certainly won't receive anywhere else you RV is a Disney Magic Band. Once you make your reservation, you'll want to go online and set up your Magic Band.
Staying at Fort Wilderness gives you access to all the benefits that come with staying onsite at a Disney Resort. Your Magic Band (an adjustable wristband that works using Radio Frequency technology) unlocks the Comfort Stations after hours, connects to your park tickets, contains your Fast Passes (to skip lines at attractions), and can be used to charge purchases anywhere at the Walt DisneyWorld Resort to your campsite.
If you're a full-time RVer, just be aware that these are mailed out. So, be sure to tell the person helping you make your reservation if you need your Magic Bands to be waiting for you onsite rather than mailed out to your mailing address. The process will be easiest if you tell them from the start.
---
Have you stayed at Disney's Fort Wilderness? Do you want to? Leave a comment below.
Popular RV Rentals!
Search for RV rentals in your area, just type in the location want to rent in.
What Makes Roamly Different?
Get the best coverage for less, no matter where you and your RV go.
Get smarter insurance you can't find everywhere, like policies that let you rent your RV without losing coverage.
Rest easy knowing your coverage is backed by fellow RV experts.
Learn More about making money renting your RV
What people are saying:
Roamly is 33% less than our previous RV policy with State Farm, with no risk of being dropped for renting it out. Most people I talked to reported similar savings. Plus, I got a multiple-vehicle discount rate for my car insurance :)
Lauren S.