When you think about national parks, there are certain names that come to mind. Yellowstone, Grand Canyon, Zion, and, of course, Yosemite.
Yosemite is one of the earliest and most popular parks in the national park registry. And that's for good reason. The grand views and spectacular natural features in Yosemite are second-to-none.
Ansel Adams spent his life trying to capture the essence of this beautiful landscape, and he did a pretty good job. However, you can't really understand the full glory of Yosemite until you visit it yourself.
History of Yosemite National Park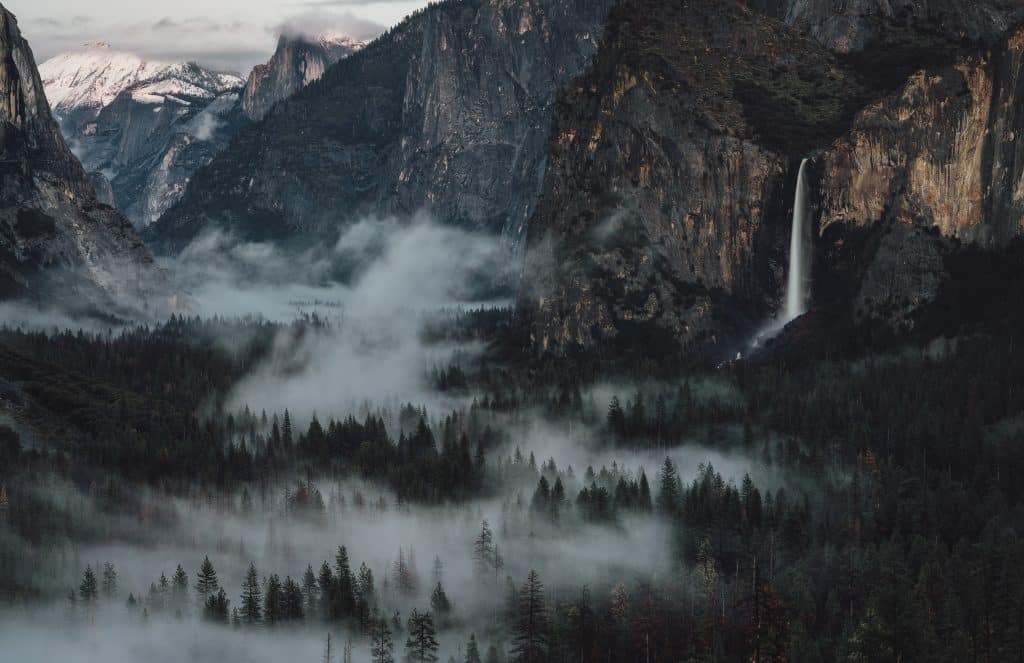 The gem of California's Sierra Nevada mountain range, Yosemite National Park has a storied history. For thousands of years, the Ahwahneechee people called the area home.
The name "Yosemite" comes from the Miwok, a neighboring tribe. They thought of the Ahwahneechee people as violent neighbors because of their fights over land. The word "Yosemite" is a variation on their word meaning "they are killers".
On June 30, 1964, President Abraham Lincoln signed the Yosemite Grant, a bill that set aside money to preserve the land that would later become the national park. Although Yellowstone was the first national park, the Yosemite Grant was signed a full eight years prior to Yellowstone's formation.
In the years following the grant, sheep overgrazed the meadows and logging took down many of the ancient giant sequoia trees. In 1890, after persistent lobbying by explorer John Muir, Congress passed the act that made Yosemite National Park and protected the land from further destruction.
Tourism spiked after the completion of the Transcontinental Railroad and during the California Gold Rush. And since that time, Yosemite has consistently ranked at the top of the list of most popular parks. In 2018, the park saw over four million visitors.
Why Visit Yosemite In Your RV?
There's so much to see and do at this huge park, that taking your RV is a must. Hike the trails all day and enjoy a beautiful campfire after sunset. You can see some of the major features of the park in one day. But it's highly recommended to spend at least a weekend in Yosemite.
Places To Go
There is so much to do here, we could go on and on. We've gathered some of our favorite sites to see in Yosemite National Park.
Yosemite Valley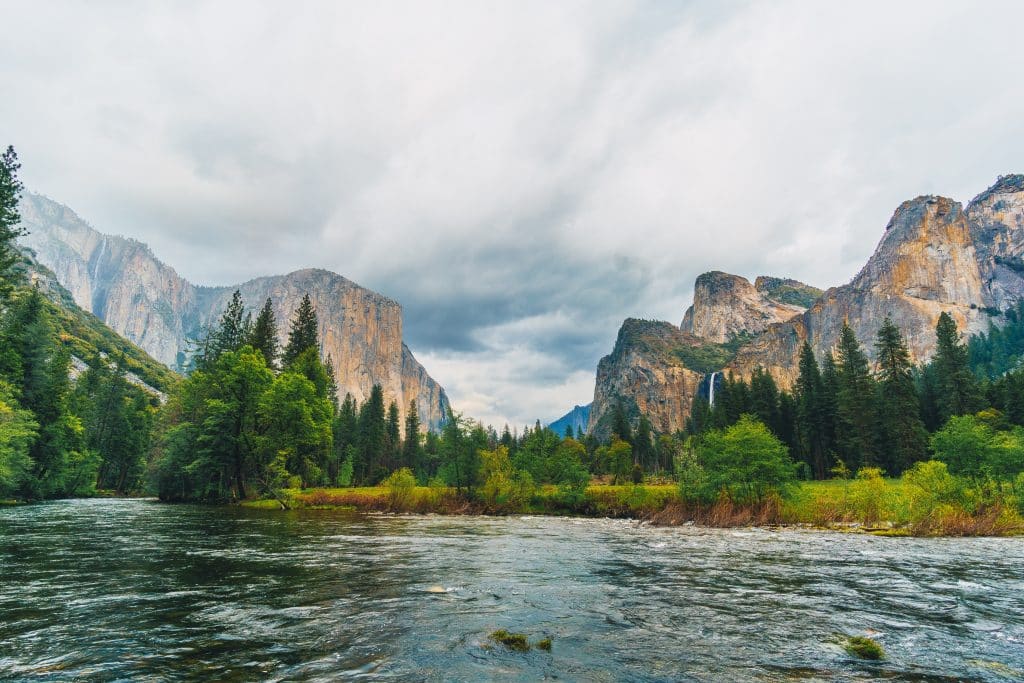 When you think of the quintessential landmarks in Yosemite, you're probably thinking about Yosemite Valley. Tunnel View Outlook is the most popular photo-op in all of the park. In this breathtaking vista, you'll get a photo of El Capitan, Bridalveil Falls, and Half Dome all in one frame.
Down in the valley is Yosemite Village where you'll find all sorts of amenities. There are campsites, hotels, and plenty of shopping.
You'll find dazzling meadows and boardwalks throughout the valley with some of the best hiking in the park. Plan to spend at least a whole day exploring Yosemite Valley.
Wawona & Mariposa Grove
The Wawona area wasn't added to the park until 1932, but it's one of the must-see destinations on an RV visit. Visit the beautiful Big Trees Lodge and the Pioneer Yosemite History Center to learn about the rich history of this former Native American encampment.
Mariposa Grove is an ancient grove of about 200 giant sequoia trees. Visit Grizzly Giant, the oldest tree in the grove, estimated to be over 2000 years old with a circumference of 92 feet at the base.
Wawona is surrounded by some of the most spectacular waterfalls in Yosemite. It's located on Wawona road about 27 miles from Yosemite Valley.
Tuolumne Meadows
The Tuolumne River meanders through this beautiful meadow, set in a basin and surrounded by granite domes. It's less crowded than Yosemite Valley but has wide views of the Cathedral Range and plenty of good hiking trails.
Drive the Tioga Road, which runs through the Tuolumne area, offering a 47-mile drive full of scenic views and turnouts. Tenaya and Siesta Lakes are both located in this beautiful meadow and they offer great swimming and fishing spots. Or take a short hike to Soda Spring, a cold, carbonated water spring flowing out of the ground.
Glacier Point & Half Dome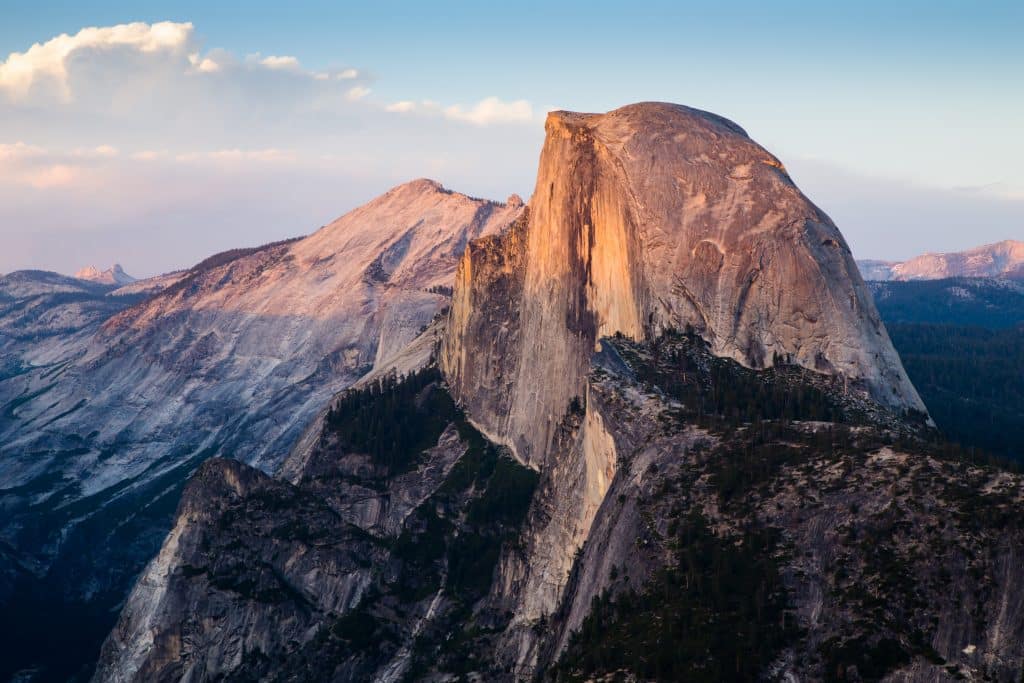 At Glacier Point, you'll find one of the best viewpoints in the park. It has sweeping views of Half Dome and many other granite formations from this view. Plus, you'll get a great view of waterfalls like Yosemite Falls and Vernal Falls.
Half Dome is one of the most recognized features in Yosemite National Park. There are views of this huge, granite dome all around the park. You can even hike or climb to the top.
Visit Mirror Lake to see Half Dome up close. There's a two-mile paved trail that takes you right to the base of the famous rock.
Things To Do
You won't run short on activities in Yosemite. Here are a few of our favorite ways to pass time inside the park.
Hiking
Of course, hiking is at the top of the list. There are tons of beautiful hiking trails for all ages and hiking abilities.
There are 10 hiking trails in Yosemite Valley alone. Bridalveil Falls Trail is an easy, half-mile hike that takes you to the base of this whispy waterfall.
If you're looking for a more moderate hiking experience, take the Yosemite Falls Trail on a two-mile, round-trip hike to Columbia Rock. Or continue on to the top of the Falls. It's a more strenuous hike, but worth it if you want to see the best views of the falls.
Water Activities
Swimming is allowed almost everywhere in the park, with a few exceptions. Enter the rivers and lakes through sandy beaches to preserve rocky shoreline. And beware of swift currents and cold water.
Rent a raft and take a rafting trip down the Merced River. Or take a kayak onto Tenaya Lake to enjoy some beautiful scenery. Fishing is allowed in all lakes and reservoirs year-round. And stream fishing runs from the end of April through the middle of November. You'll need a California fishing license if you're over the age of 16.
Climbing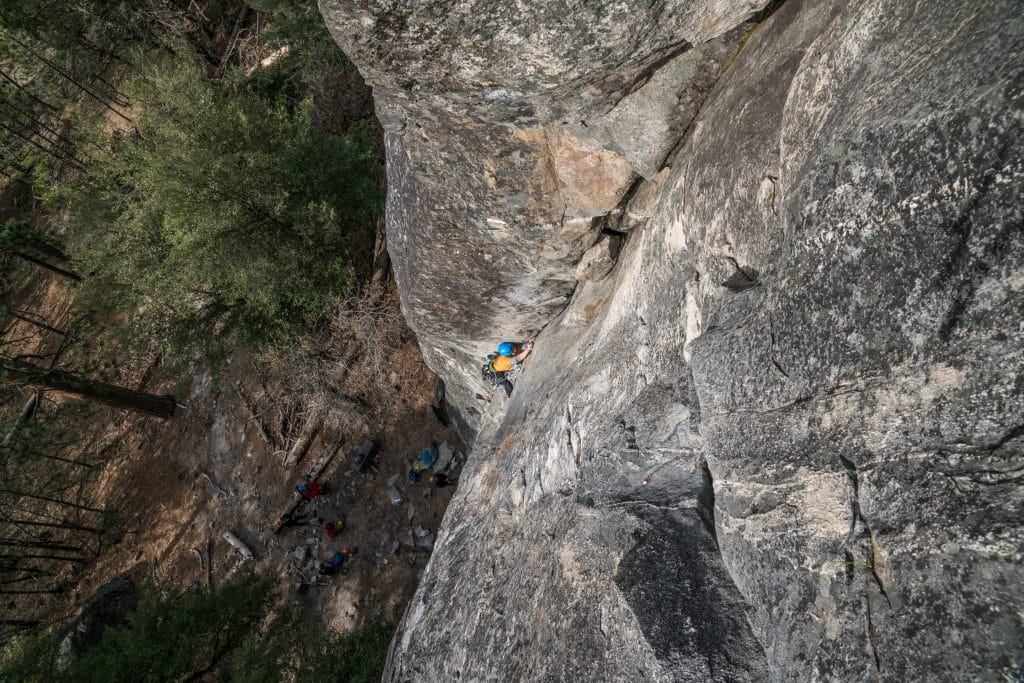 Yosemite is one of the most popular rock-climbing destinations in the world. The solid, vertical face of El Capitan is a favorite of many thrill-seekers. But there are all different types of climbs to be done in Yosemite.
Many of the walls along Yosemite Valley are available for multi-day climbs. Or you can climb the cracks in the walls of the Merced River Valley. And many climbers love to tackle the granite domes surrounding Tuolumne Meadows.
When To Visit Yosemite
You can visit Yosemite any time of year. If you're RVing, it's best to go in the late spring through early fall. You'll find that all of the park areas are open from June through September. This is the busiest time, too, so be prepared to share the roads and parking lots.
Many of the rivers and waterfalls are fueled by runoff from snowmelt. So these tend to slow down or dry out during the late summer months. Throughout June and July, visitors can see thousands of wildflowers blooming in the valleys and meadows.
Where RVers Can Stay
Yosemite has 13 campgrounds and you can reserve sites in seven of these up to five months in advance. Most of these campgrounds have RV sites available for rigs of various sizes. Amenities vary from site to site.
The park offers free wilderness permits for backpacking and camping in the wilderness. Apply for your permit in advance if you plan to camp in the wilderness. These trails are popular destinations for hikers.  
Getting To and Around Yosemite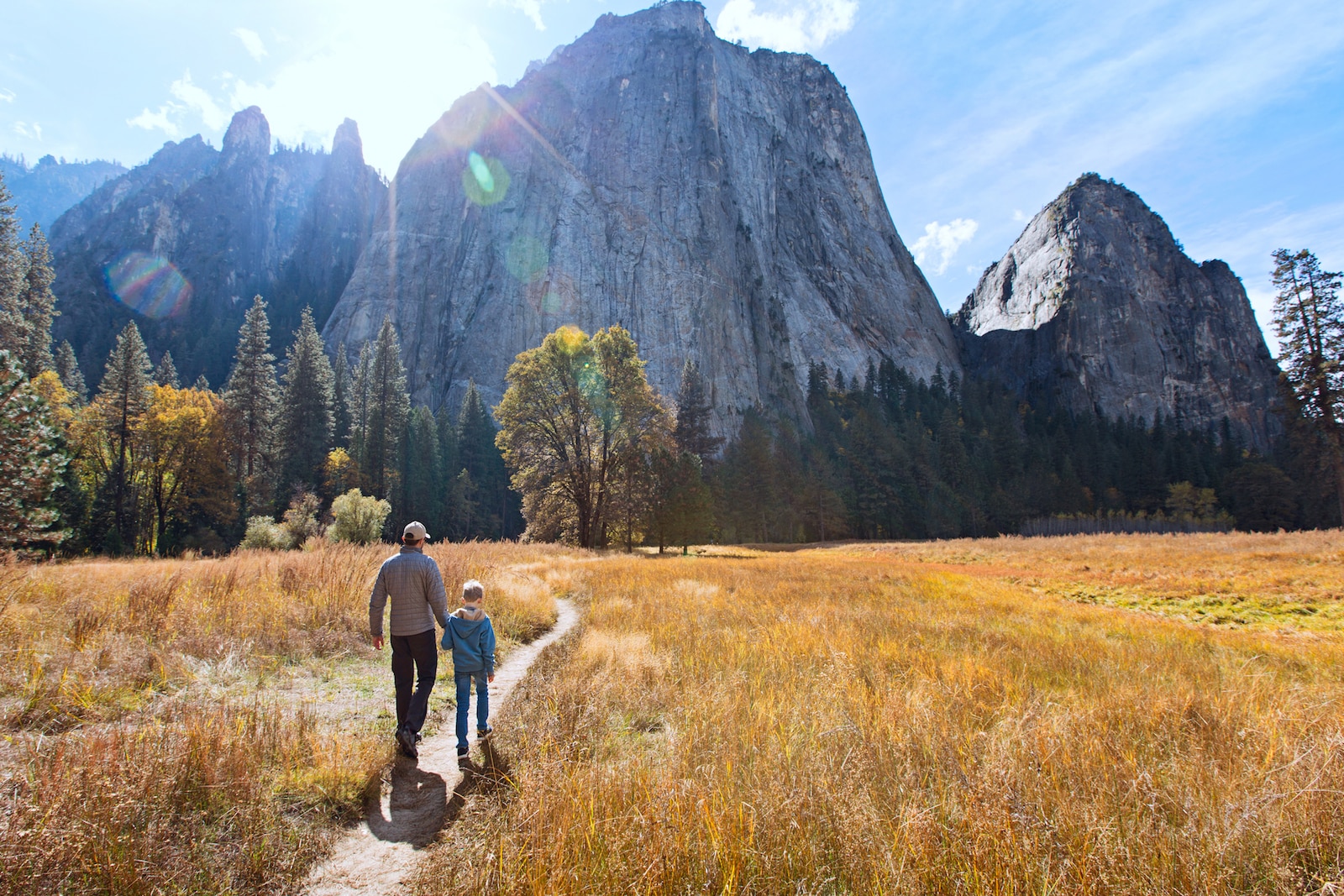 If you aren't staying in the park, it's advised to park your RV outside the park and take public transportation in. Once you're in the park, there are free shuttle buses that can take you around to many attractions.
Most of the roads inside the park are safe to drive on with your RV. But some of them do have restrictions against very large rigs. Check these restrictions before you enter the park so you don't enter these areas unknowingly.
There's limited parking inside the park. And even more so for large RVs. Arrive early to ensure you get a parking spot.
Check out the NPS website for detailed driving directions to Yosemite from major surrounding cities. And to find out all the latest weather and road closure updates, click here.
---
Have you been to Yosemite? What did you think? Leave a comment below!
Popular RV Rentals!
Search for RV rentals in your area, just replace Texas with city or state you want to rent in.
What Makes Roamly Different?
Get the best coverage for less, no matter where you and your RV go.
Get smarter insurance you can't find everywhere, like policies that let you rent your RV without losing coverage.
Rest easy knowing your coverage is backed by fellow RV experts.
Learn More about making money renting your RV
What people are saying:
Roamly is 33% less than our previous RV policy with State Farm, with no risk of being dropped for renting it out. Most people I talked to reported similar savings. Plus, I got a multiple-vehicle discount rate for my car insurance :)
Lauren S.