One of the most popular activities for RV travelers is hiking. What better way to get out and enjoy nature than to hit the trails? To ensure a safe and fun time, be sure to take precautions against some of the dangers of summer hiking.
What kind of dangers are out there? They can include extreme heat and sudden thunderstorms, which bring the risk of flash floods and lightning.
Having the proper gear, paying close attention to your surroundings, pacing yourself, and staying hydrated will go a long way towards keeping the entire family safe and happy on your next hike. Here are some tips and tricks for staying safe while hiking this summer.
Be Aware of the Weather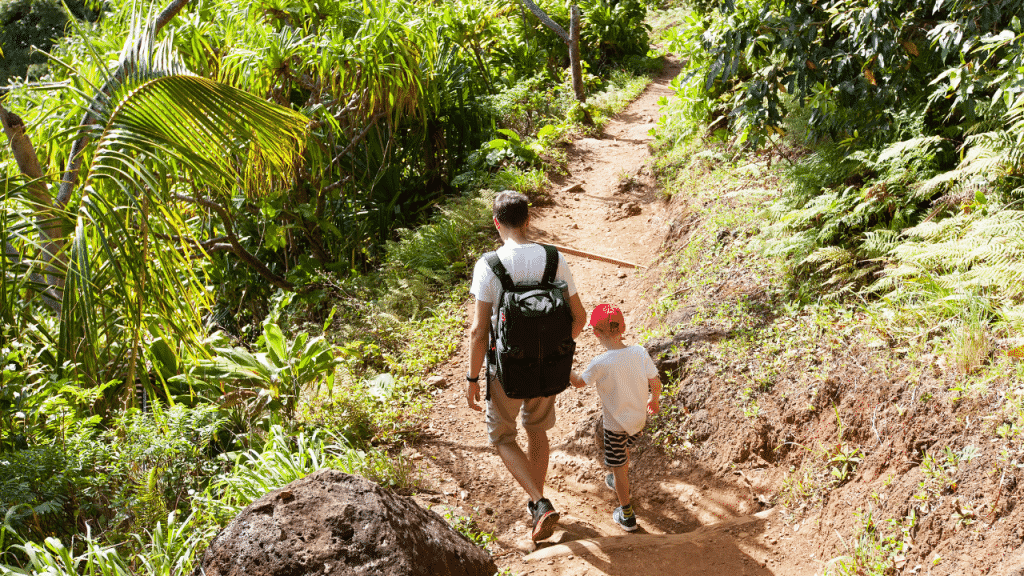 Before you head our check the weather forecast. Even better, talk with park rangers to get a better understanding of local weather dangers from high temperatures to flash floods.
Plan for the worst and educate yourself about what to do in case of lightning. The best approach is to try to avoid it. If you're on the trail and see a storm approaching, descend from ridges, peaks, and elevated areas. If you get caught in a thunderstorm, seek protection in a valley or depression in the terrain.
Always avoid isolated trees or other tall objects. For more information, see the NOAA Lightening Safety website.
Understand the Terrain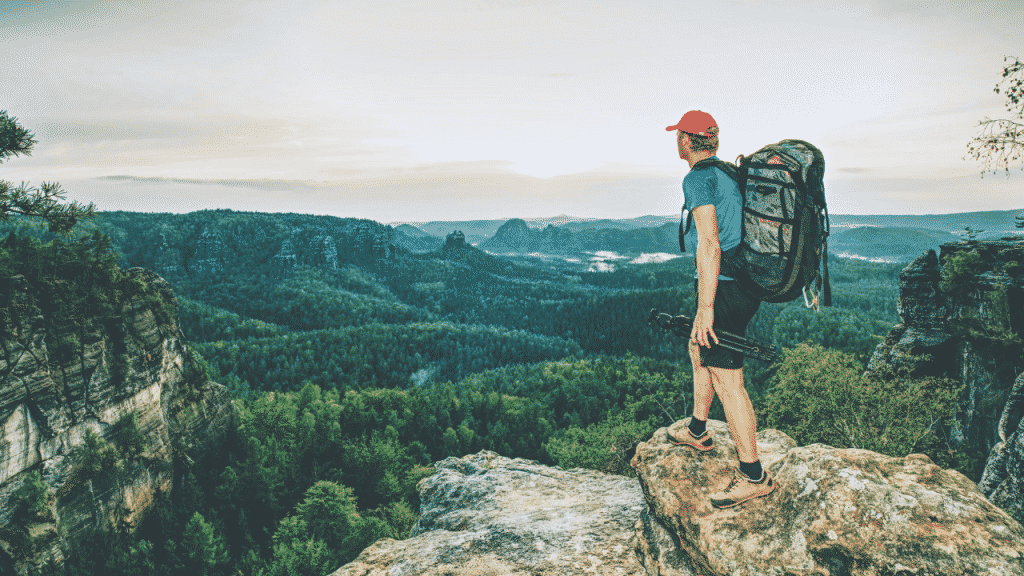 Before you head out on the trail, try to do a little research to determine if the hike will be in full sun or if you can expect some shade along the way. Get a sense for where the hardest parts of the hike will be and try to set a reasonable pace for yourself.
Don't forget, summer provides a great opportunity to explore trails at a higher elevation where it's naturally cooler. Most importantly, no matter where you hike, stop along the way to rest, let your body cool, and enjoy the view.
Get an Early Start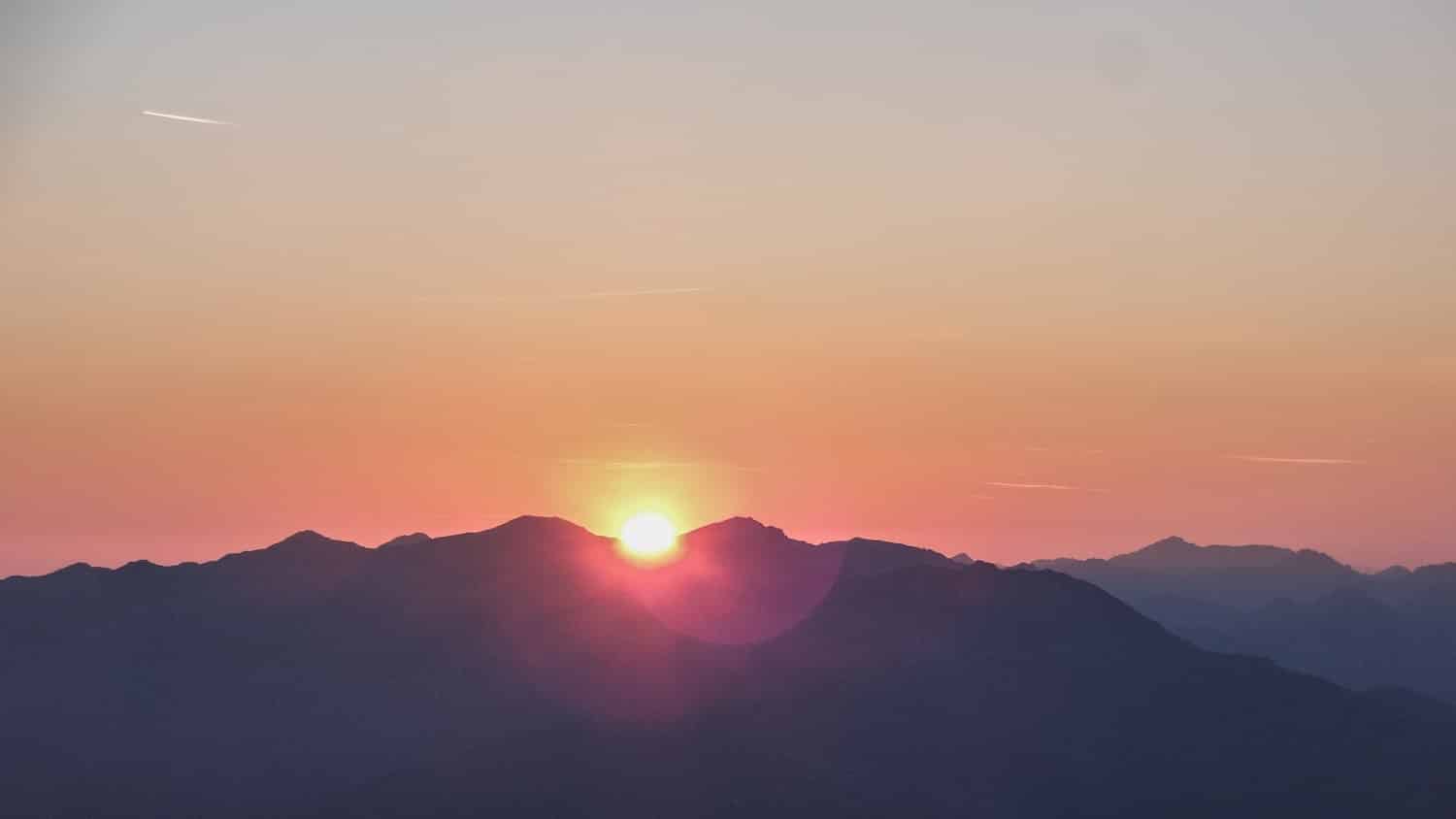 While you might be tempted to sleep in on your summer vacation, hiking earlier in the day reduces your chances of heat exhaustion. In mountainous areas, thunderstorms typically develop in the early afternoon, so hiking early in the day and coming down the mountain by noon is a good idea.
However, there is one thing you should keep in mind if you decide to start early. If the trail is grassy, it will likely be wet with dew. Since few things are more uncomfortable than having wet feet during a hike, you might want to pack an extra pair of dry socks or wear water-resistant hiking shoes.
Dress for the Weather
While tank tops and flip flops are summer favorites, they aren't a good choice for the trails. Even in the warmest weather, covering bare skin is the best tip to avoid sunburn, bug bites, and poison ivy.
You won't regret investing in moisture-wicking long sleeve shirts and pants to protect yourself from the elements. Please don't forget the hat, sunglasses, and sunscreen for any exposed skin.
Bring (and Drink) Plenty of Water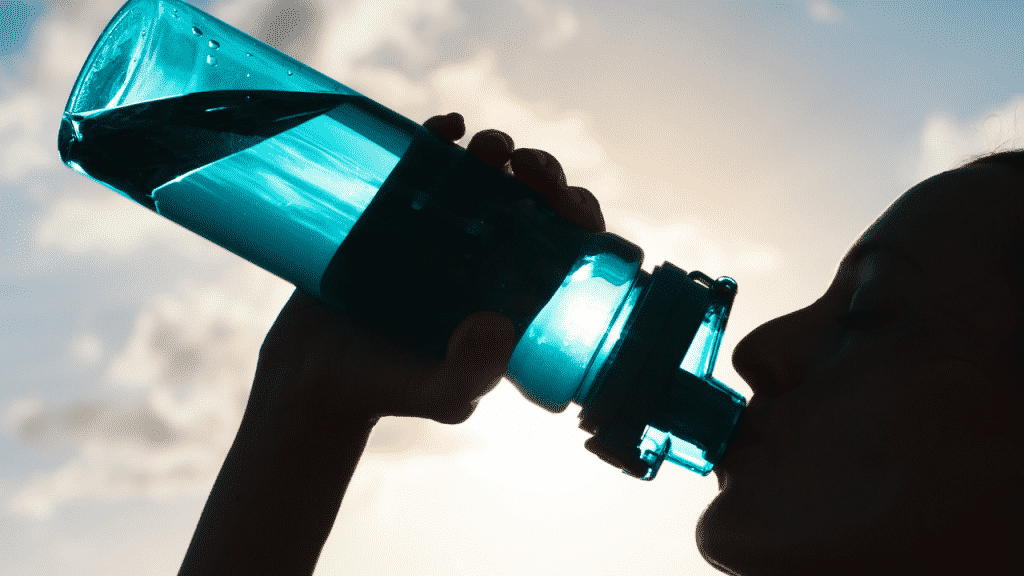 Hiking in hot weather depletes your body of liquids. To make matters worse, the more dehydrated you become, the less efficient your body is at cooling itself down. Be aware that children generate more heat than adults, but they also sweat less increasing their chance of dehydration.
Start your hike hydrated and continue to replace fluids throughout. Drink before feeling thirsty. By the time you feel thirsty, you are already behind in fluid replacement. As a general rule, drink a cup every half hour. Depending on the length and intensity of your hike, you may want to bring along a sports drink. They are specially formulated to help replace fluid and electrolytes lost through sweat.
Know how to Recognize Heat Exhaustion
One of the biggest dangers while hiking in the summer is heat exhaustion. By following all the tips up to this point, you've gone a long way towards prevention. However, it is still important to know the early signs of for heat exhaustion, heatstroke and even hyponatremia so that you can protect yourself and any others who may be hiking with you.
According to the Centers for Disease Control, heat exhaustion is identifiable by heavy sweating, clammy skin, rapid pulse, nausea, muscle cramps, headache, and fainting. If these are present, stop hiking immediately. Focus on moving to shade, cooling down with wet cloths, and slowly sipping water. Learn more about heat-related illnesses here.
---
We hope these tips will help you have a fun & safe hiking adventure this summer!
Popular RV Rentals!
Search for RV rentals in your area, just type in the location want to rent in.
What Makes Roamly Different?
Get the best coverage for less, no matter where you and your RV go.
Get smarter insurance you can't find everywhere, like policies that let you rent your RV without losing coverage.
Rest easy knowing your coverage is backed by fellow RV experts.
Learn More about making money renting your RV
What people are saying:
Roamly is 33% less than our previous RV policy with State Farm, with no risk of being dropped for renting it out. Most people I talked to reported similar savings. Plus, I got a multiple-vehicle discount rate for my car insurance :)
Lauren S.